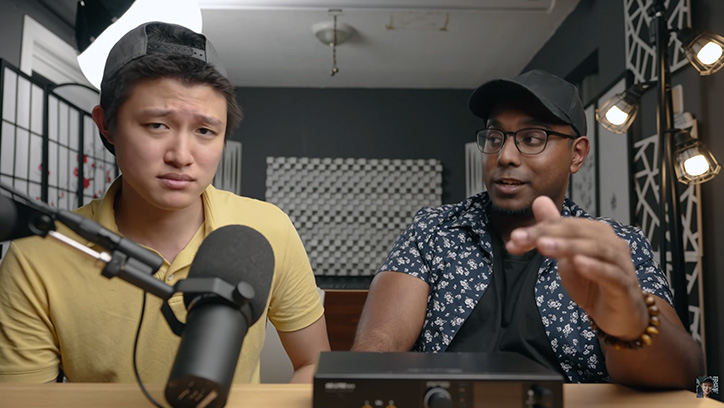 YouTubers Jay Soulsik and Thujan K review the RME ADI-2 Pro FS R for Hi-Fi channel Jay's iyagi ('Jay's Journey')
It's no exaggeration to say that RME's ADI-2 DAC FS and Pro RS FS have caused a real stir in the world of Hi-Fi.
In terms of sound quality both the ADI-2 DAC and Pro FS R offer an exceptional level of detail – rivalling the sound of devices often two or three times the price – and that's before you've taken a look at the remarkable number of additional features available, courtesy of powerful on-board DSP and some classic German engineering.
Needless to say both devices offer very good value for money, from a design team that brings 25 year's of experience in the production of professional audio hardware – plying their trade in the world of studios, live audio and broadcast, alongside commercial product and measurement testing applications.
Both devices also have a long list of highly positive reviews to their name – in fact we've yet to see a negative one! – and a quick search on YouTube will bring up a variety of videos from happy end users and Audiophile / Hi-Fi channels.
"This is the tinkerer's paradise here, this box has so much"
This latest review comes from YouTubers Jay Soulsik and Thujan K, who've provided a detailed discussion of the ADI-2 Pro FS R alongside their enjoyable banter.
Featuring the same sound quality as the DAC but adding an exquisite A-D section for high-end recording, the Pro still offers plenty for Hi-Fi users to get excited about – such as the excellent on-board headphone amplifier, which Jay and Thujan discuss extensively in the review.
"Very clean sounding, very neutral, no real colouration," says Jay of the Pro's headphone amp. "It's detailed, but I don't think it's bright. And with both headphones I was quite impressed."
"Yeah it was very clean," adds Thujan. "And the power is really smart where – we've got both of these headphones are running at low-gain – and as the headphones get more demanding, as you increase the volume, it will automatically switch to high-gain mode, it's really smart that way."
Check out the video below, or watch it on the Jay's iyagi YouTube channel here.
Jay's iyagi review of the RME ADI-2 Pro FS R
See more videos at Synthax TV
Is It The Best HiFi "PRO" DAC Money Can Buy..?
One of the features that Jay was particularly taken with is the ADI-2 Pro FS R's Loudness setting, which is designed to address the changing way our hearing responds to the audible frequency spectrum at different volume levels.
"One of the settings that I really really liked was the loudness setting" says Jay. "This allows you to set the bass and treble at a point where you want it to be at a lower level, and as you increase the volume, the bass and treble elevation drops. So it's like a tone control for very low volume listening."
"If I were to describe it in one word, it's so clean. Absolutely clean.
No matter what volume level, it was just, 'consistent'."
"So that's really cool because we don't have to change the tone control every single time you listen at low volume. You can just have it set, and it will be a consistent sound quality all throughout the volume range you listen at. So that to me is something I would personally use, and I find it very beneficial."
To wrap up the review, Thujan says "If I were to describe it in one word, it's so clean. Absolutely clean. No matter what volume level, it was just, 'consistent'."
"Just as a standalone DAC and preamplifier combination, the preamplifier section is quite good on this unit, and aside from that it's a very good headphone amplifier," concludes Jay. "And you can power two [pairs of headphones] at the same time… Just the DAC alone for HiFi systems, you have that loudness setting, you have EQ functionality, you have bass boost, treble boost."
"It's just a very good DAC, out of the box it sounds good, detailed, great resolution, measures great if that matters to you. But it's also very adjustable to your system if you are looking for something like that."
Massive thanks to Jay Soulsik and Thjuan K for the great review! Check out the Jay's iyagi YouTube channel here.
Find out more about the RME ADI-2 Series
See our list of authorised RME ADI-2 UK dealers