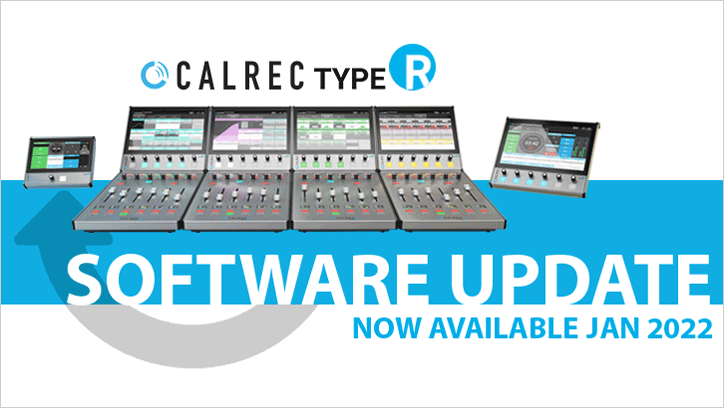 Synthax Audio (UK) are pleased to announce the release of a new software update for the Calrec Type R console, available now as of January 2022.
The software continues to expand the console's extensive, broadcast-specific feature set, and is part of Calrec's program of continuous improvement and development plans for the Type R.
The installer is available on request, so please contact us here regarding the upgrade. If you need any assistance with the installation we will be happy to help.
The Type R is a highly flexible, modular broadcast console based around the latest in audio over IP technology. Designs can be tailored to meet your specification – from the smallest configuration, to multiple consoles on a single processing core, all the way up to highly redundant, large channel count consoles.
For further information or for a demo of the console please call us on 01727 821 870 or use our contact us page. Full demos of the Calrec Type R and Brio consoles can be provided at our demo facility in Hemel Hempstead, virtually, or on site at your location.
Want to know more about the Calrec Type R?
Give us a call on 01727 821 870 or contact us to book a 1-2-1 demo.
Calrec Type R – Modular IP-based Broadcast Audio Console
The Calrec Type R is made up of four main components – 6-channel motorized fader panels, large and small touch-screen control panels, and the Core I/O, which provides analogue and digital connectivity along with connections to the surface elements, AoIP connectivity and GPIOs.
Any number or combination of Fader Panels, Large Soft Panels and Small TFT panels (together with Calrec Assist) can be supplied together, to create a custom, expandable console surface that perfectly suits the user's requirements.
The system can also be fully controlled over IP, making it possible for operators to mix and monitor from a different location to the main production. The Type R is also fully redundant, with an option for automatic and seamless switchover to an additional Core whenever a loss of signal is detected.
Find out more about Calrec Type R
Calrec Assist
The Calrec Type R can also be controlled via a web UI called Calrec Assist, a browser-based interface that creates a fully-featured virtual console environment to compliment the hardware, with automation and interactive real-time control.
Different levels of access can be granted to individual users – an operator can be provided with a basic set of control functions, whilst an engineer can have further access for fine-tuning or making alterations to the UI.
Calrec Type R DSP Upgrades
The Type R can also be upgraded with one of three DSP upgrade options – exapnding the total DSP channel count to 40, 80 or 120 full-featured channels, and offers the ability to operate up to three mix environments from a single Core.
With the largest Type R120 DSP upgrade installed, a single Type R Core can host one (120 channels); two (60 + 60 channels, or 80 + 40 channels); or three mix environments (40 + 40 + 40, or 60 + 30 + 30 channels), all on private networks with no sharing between facilities.
Find out more about Calrec Type R
---

If you'd like to know more about the Calrec Brio, Type R or Hydra2 network, or would like to arrange a practical demonstration, give us a call on01727 821 870 to speak to one of our team.