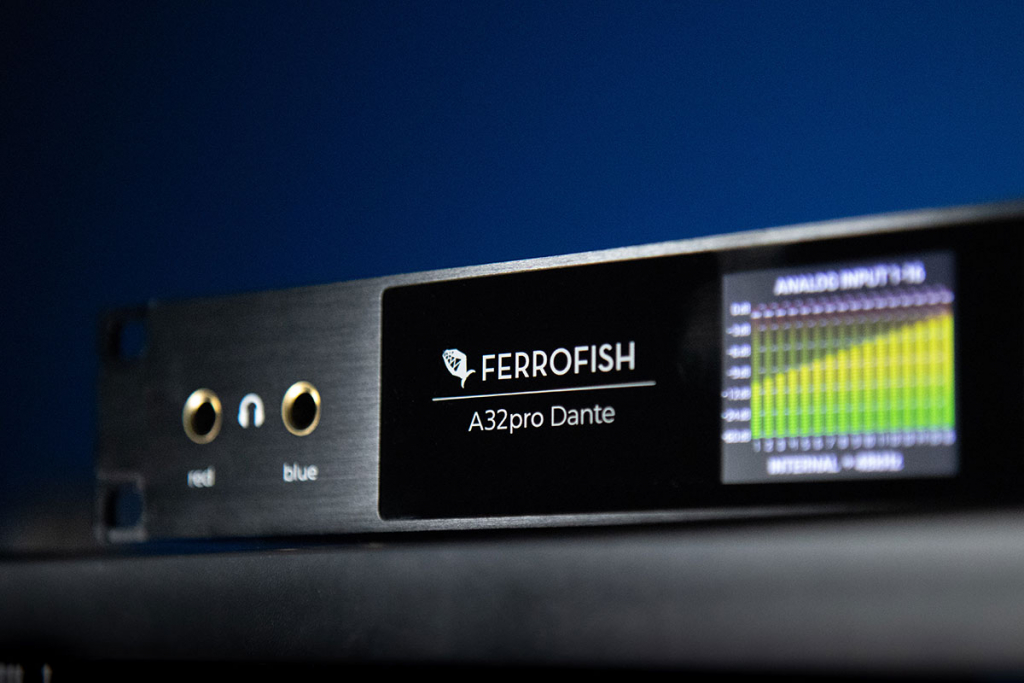 An overview of the new Ferrofish A32pro and A32pro Dante 32-channel AD/DA Converters
In 2017, German Pro Audio manufacturer Ferrofish launched the A32 series, a pair of flexible, highly integrated AD/DA and format converters designed for the demanding workload of professional recording studios, live sound and broadcast audio applications.
Now, Ferrofish have unveiled their next-generation successors – the A32pro and A32pro Dante.
The latest in a long line of multi-channel audio converters from Ferrofish, the A32pro and A32pro Dante build on the foundations of their predecessors with a host of new features and additional monitor controls.
Watch our overview video for an introduction to the most powerful devices yet from German pro audio specialists Ferrofish.
Ferrofish A32pro Dante Overview Video
See more videos at Synthax TV
Overview
Combining 32 analogue inputs and 32 analogue outputs with a selection of the most popular digital audio formats, both the A32pro and A32pro Dante pack an incredible number of audio channels into their space-saving 1U housing.
Powered by the latest A/D and D/A converters from ESS Tech, the A32pro Series adds touch-screen functionality across all four front-panel TFTs; a set of Main analogue outputs; a second headphone output; GPIO for preset control and alert monitoring; and two DSP Slots for planned future expansion.

The new Ferrofish A32pro Dante features an incredible amount of I/O for a 1U box, with 32 x analogue I/O;
ADAT, MADI and Dante I/O; Wordclock I/O; MIDI I/O; 2 x headphone outputs; 2 x Main TRS outputs;
GPIO; 2 x power supplies; and 2 x DSP expansion slots.
Back Panel
The 32 line-level inputs and 32 line-level outputs are offered on balanced, Tascam-configured DSub25 connections, with each channel individually adjustable from -8dBu, to +20dBu, in 1dB steps.
The new MAIN OUT connection offers a quick method of connecting studio monitors and other recording devices directly to the A32pro or A32pro Dante. This output mirrors that of the secondary red headphone output, with level control easily accessible via the large encoder found on the front panel.

Digital I/O and Redundancy
Four pairs of ADAT TOSLINK ports allow all 32 channels to be transmitted via ADAT when working at 44.1 or 48kHz sample rates, with both the A32pro and A32pro Dante capable of operating at up to 192kHz.
Up to 2 x MADI I/O can be fitted via the dual MADI SFP slots. Each Ferrofish device ships with one optical MADI SFP as standard – additional SFP modules, including coaxial MADI on BNC, are available as optional extras.
The second MADI port can be used to provide a backup redundant MADI stream, or alternatively, to send and receive all 32 channels at 192kHz sample rates. Multiple A32pro devices can also be daisy-chained to provide a full 64 channels.
Finally, the MADI connections can also be used to remote control the A32pro and A32pro Dante via MIDI-over-MADI, which as the name suggests, transports MIDI control data over the MADI stream.

Audio networking functionality is provided by dual redundant Dante I/O, providing seamless integration of 64 input and 64 output channels onto any Dante network. Thanks to full network redundancy, the A32pro Dante will automatically switch between the Primary and Secondary port upon detection of a failure.
Remote control can also be achieved via the A32pro Series' MIDI I/O, which is available in the form of twin 3.5mm jack sockets. This connection can also be used for firmware updates, along with the USB B-Type connection port, which also offers remote control when used with Ferrofish's RemoteFish software application, whilst Wordclock I/O is provided on traditional BNC connectors.
Two new additions to the back panel of the A32pro Series are the GPIO port, and the two dedicated DSP expansion slots. The General Purpose Input/Output port, or GPIO, can be used both for the switching of presets and monitoring of alert messages, whilst the DSP Slots are designed to provide additional on-board processing power via future DSP upgrades.
Finally to meets the needs of mission-critical broadcast, live and studio applications, the A32pro Series features dual redundant power supplies with alert monitoring, and automatic switchover upon detection of a failure.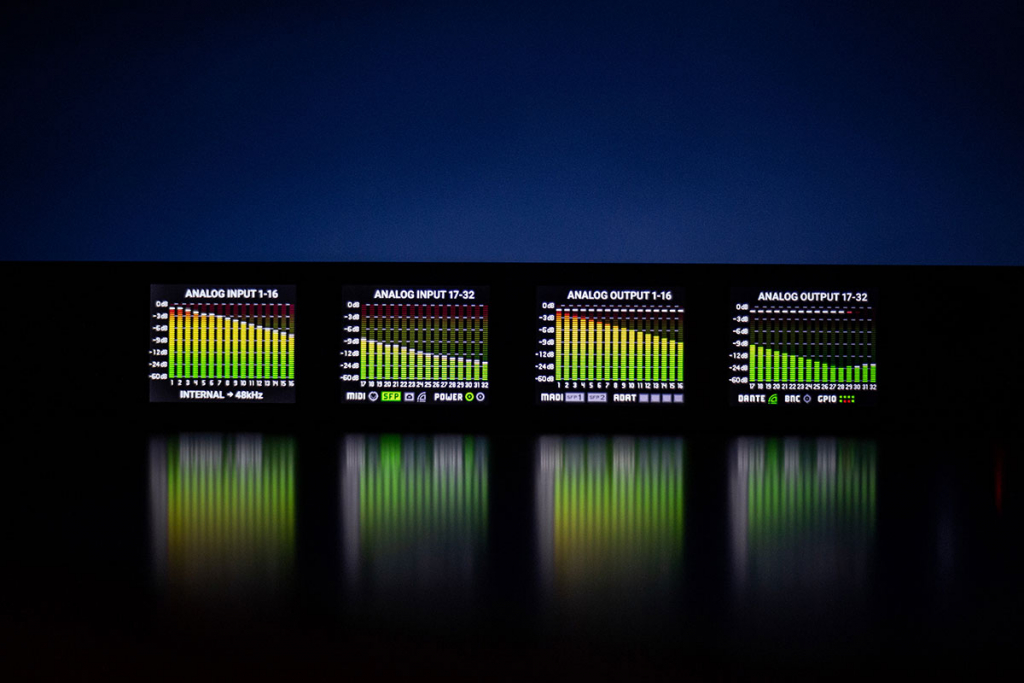 Touch-Screen Front Panel Control
The front panels of the A32pro and A32pro Dante are identical in function, with four high quality TFT displays providing level metering for all analogue inputs and outputs, alongside status information for the clock settings, digital I/O and GPIO.
The front panel is also entirely touch-sensitive, with two buttons and a large encoder that make navigating the menu system easier than ever before.
The four TFT displays are also touch-sensitive, making it easy to create groups for both inputs and outputs – simply select a channel, then drag across the displays to create a group.
The menu items themselves are also selectable with the press of a finger, as is the main encoder, which when touched defaults to the headphone menu, allowing for quick adjustments to monitoring levels and routing via the A32pro Series' dual headphone outputs.
Each headphone output operates completely independently of one another, offering individual source selection and level control for each connected set of headphones. Alternatively, both outputs can be paired together for use with balanced headphones. 
Menu and Settings
The A32pro Series features an intuitive and simple to navigate menu system, providing quick access to features such as Clock settings, headphone setup, Presets, General Setup options, Gains, Levels and Routing.
Up to 8 presets can be saved and loaded directly via the unit, making it easy to recall settings such as input gains, output levels and channel routings. Each preset can also be renamed for easy identification.
A powerful and flexible routing matrix makes it possible to route any input to any output in blocks of eight channels.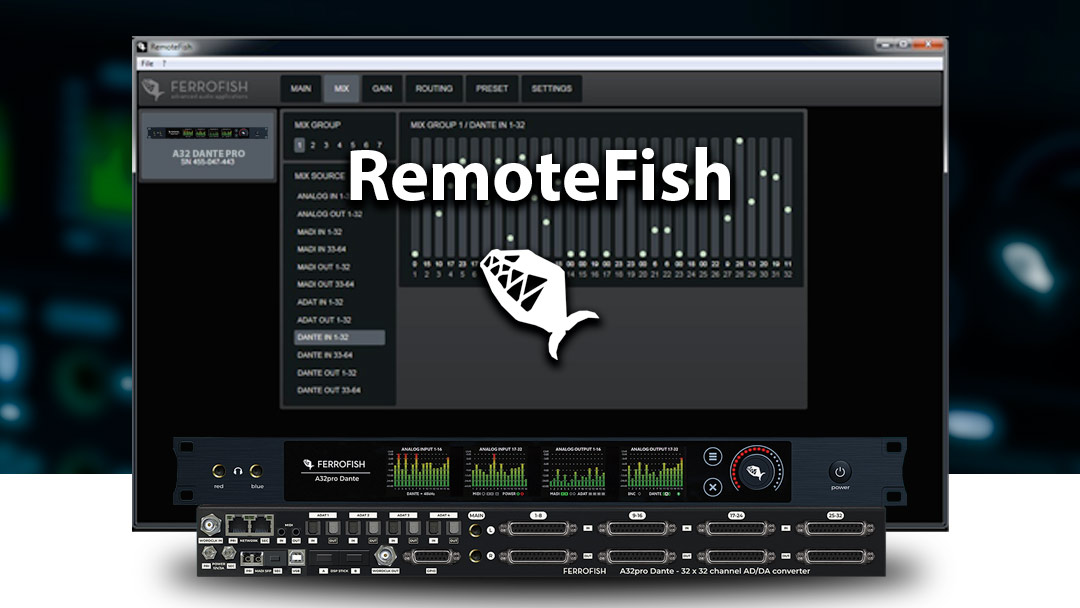 Remote Control – RemoteFish
RemoteFish is a software application that allows users to take control of the A32pro from a connected computer via MIDI, MIDI-over-MADI, USB or Dante.
With RemoteFish, it's possible to remotely control everything from input and output levels, channel routing, as well as saving and loading presets. For a more in-depth look at RemoteFish, watch our full overview video through the pop-out in the video now.
The Future Of Audio Conversion
Representing the culmination of Ferrofish's extensive R&D developments over the last five years, the new A32pro Series embodies the natural evolution of the company's cost-effective and highly flexible A/D-D/A converters.
Combining high analogue channel-counts with substantial digital I/O options and powerful signal routing – alongside options for redundancy and future upgrade paths – Ferrofish's A32pro Series sets a new milestone in high-quality, reliable signal conversion and distribution for modern recording studios, live audio playback systems and broadcast audio facilities.
See the full range of Ferrofish AD/DA Converters
---

If you'd like to know more about Ferrofish AD/DA and format converters, give us a call on 01727 821 870 to speak to one of our team or to arrange a demo. You can also contact us.