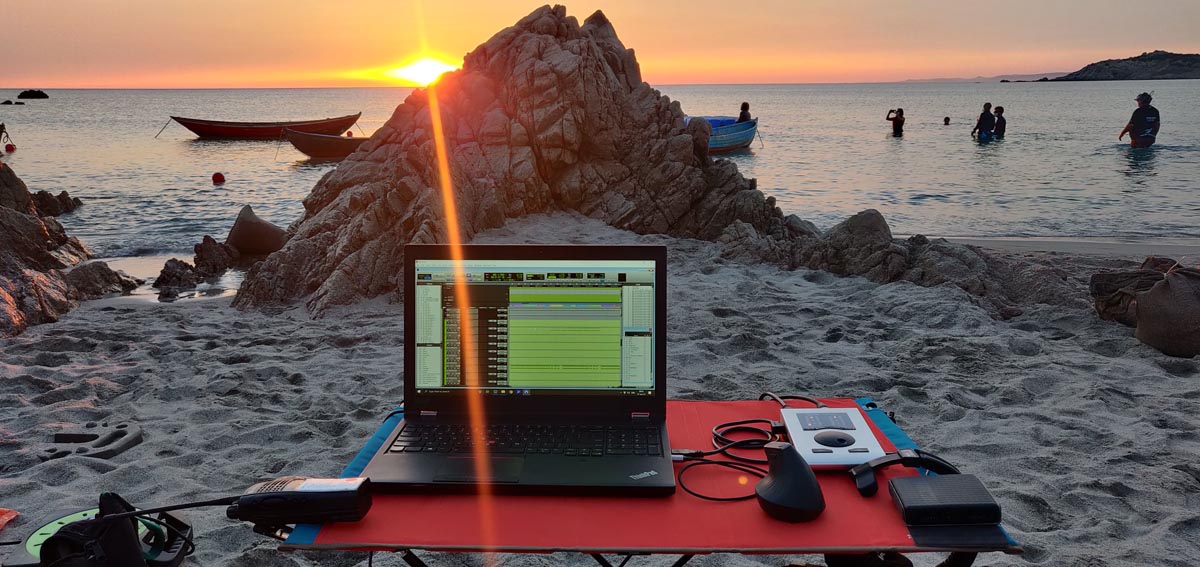 Composer and Music Editor Victor Chaga speaks to us about recording live music for Hollywood blockbusters with RME MADI interfaces and the DirectOut Prodigy Series.
Victor Chaga is a composer, recording engineer and on-set music editor who works primarily in the film industry. Originally from St. Petersburg, Victor studied music and engineering in Chicago before moving to California, working alongside some of the top composers in Hollywood. He currently resides in the UK, operating mostly out of Pinewood Studios and specialising in live, on-set music recording and playback.
A long-time user of RME Audio interfaces and converters, we sat down with Victor for a lengthy chat about his career, and to find out more about a recent recording venture to the beaches of Sardinia for an upcoming feature film, with a rig that also featured the DirectOut Prodigy Series.
Getting started in film
"I studied piano since I was about 6 years old," Victor tells us about his route into audio production. "Then once I got to the States I continued playing, but also started getting more into the recording side of things. I think my first program was Sound Forge, and Acid Pro, as well as Propellerhead Reason when it first came out, version 1.0!"
"Funny story about Reason – I remember when I was just starting out, I was playing around with the delay effects a lot. And at the time having just started getting into it, I didn't really understand the effect mix (dry / wet) knob, so I used to move all of my MIDI by hand to make the delays in time haha."
"So yeah me and a couple of buddies in high school got into making music. I was making a bit of electronic stuff, a lot of hip hop. Later, we formed a band in Chicago and did some shows – got paid enough to have a meal and feed our friends after the show. Those were good times!"
"That continued on when I was at the Art Institute of Chicago, which at the time didn't have a music program per se, but they did have one studying 'modern music / sound art'; guys like Cage and Alvin Lucier."
"I got to know the professors and the rest of the department there and asked them if I could tech for them, and what that gave me was regular access to a recording studio. The school was open 24 hours, so once classes were over, I'd get in there, record our band, and get my hands on the equipment – the desks, mics, along with a lot of old school synths and decks."
"Then from Chicago I ended up in California by chance really. I applied to a few different schools and ended up at Columbia College, which had a relatively new film scoring programme. The last semester of the school was in Los Angeles, where we had to score a short film for our thesis and did a bit of recording at Capitol Records. I know a lot of people will say it's been their dream to score films since they were young. I just loved making music, but once I got into film, I found I really enjoyed it."
"I guess the dream path for a lot of people, or at least what we're often told, is to get in with a composer of their choice, stay around them, learn how that person operates, and then break out on your own. Mine caused me to move around a lot early on, which in a way was a curse and a blessing. It introduced me to a lot of different people, all really amazing composers and musicians, and I never really became locked into one way of thinking; Learning from la crème de la crème."
"When I moved to LA, I managed to get an internship with composer John Powell. After a while I got decent enough to start assisting him on the technical side. Every now and again, the man would throw me a bone and let me do a bit of writing. My interest in synths and my experience with them at the Art Institute of Chicago led to working with Henry Jackman, which is how I ended up with Remote Control (film score production company led by Hans Zimmer). I worked with Henry for quite a long time, and then James Newton-Howard, spent a couple of years with him."
"All the while, I was very fortunate to be around very talented people and use all kinds of different gear and technology. Staying quiet enough, allowed me to be a fly on the wall and a sponge for different writing styles, tech approaches, people skills, management & admin (equally as important). That was extremely useful. I got to learn and use an incredible amount of skills – editing, mixing, writing, designing and building rigs for recording, mixing, and composition. The experience forged me into a bit of a swiss-army-knife. And then, I decided to keep forging my own path, which led me over here to the Old World."
"In the UK I met Karen Elliot & Becky Bentham, amazing music supervisors, who recommended me to Simon Hayes for on-set production. Simon very kindly took me under his wing – and kept me out of trouble ever since haha. I managed to hang on and we've done a few different movies together."
Victor Chaga on recording with RME interfaces
Having built up a wealth of experience using a variety of equipment, Victor is a long-time fan of RME audio interfaces and TotalMix FX, which he's used extensively throughout his recording work. This has continued over to his current work with Simon Hayes, a Production Sound Mixer with over 50 feature film credits to his name, and whose work on Les Misérables won him an Academy Award for Best Sound.
"I first got into RME at Remote Control," continues Victor. "Hans has been using it on his kit for a very long time, along with everyone working with him. It's been so flexible since the early days of TotalMix, especially for working with extreme channel counts."
"On Cats I started out with a Fireface UFX+, mainly because of the connectivity, and the flexibility of TotalMix FX. I think I've been using that for the last four years now. Just being able to plug into anything and have it show up anywhere. (Nowadays, I use a DirectOut ExBox.MD to convert the MADI stream to Dante for a complete I/O package.) Plus, TotalMix is so useful for quickly finding solutions to problems, which in our world can arise out of nowhere."
"TotalMix is so useful for quickly finding solutions to problems,
which in our world can arise out of nowhere"
"The approach to Cats was to record all of the singing live on-set, as the actors were performing. That was very much a part of how that film was made. So in order not to lock them into a specific tempo, we made decisions about which sections could go live, or sort of 'half-live' – we'd still run a click-track for the pianist, who would then play along and try to keep everyone in tempo. Or they'd go completely free-hand, and then we'd drop back into the track when we needed to. That was quite an interesting challenge, coming up with a system to make all of that work."
"Then for this latest film we started off with the same setup. I quickly ran out of analogue outputs, so I added a Fireface UCX II which had just been released, and which I set up as a digital to analogue converter tacked onto the UFX+ via ADAT."
"On these productions there's usually a set of tracks that goes to the production sound mixer: there's a vocal stem, an instrumental stem, a mix of the two, and Playback TC, linear timecode, which we use to line up shots to the music. That same set of stems is sent to the picture and/or music editor. And, using that timecode, they can spot the shots to the timeline, so everything's in sync. Having done a bit of music editing myself, I'll send a click track to the production sound mixer as well, just to help the editors down the road, or as a treat for myself if I'm doing post. This allows one to be able to cut on the grid, without having to second guess anything."
"All of the above usually takes up to 10 outputs. Then you've got holes for the main PA, local speakers, in ear monitors, and any other requests that might come up. These are controlled with an Icon (Platform M+), as you can have each one on a fader and a mute button. Just think about all the things you wish you haven't said, wish you could take back. In life, there's nothing more important than a mute button. Fact."
The Icon Platform M+ is a compact USB-MIDI controller designed for mobile use. With 8 motorized faders and light-up buttons for solo, MUTE and record arm, plus a transport section, the Icon is a cost-effective solution for mobile recording and mixing, and even features support for Sound Devices' Scorpio.

The Icon Platform M+ (and Platform X+ expanders) are a set of light-weight DAW controllers.
"I'd seen them around," Victor says of the Platform M+. "For a very long time I'd been interested in a small, motorized fader controller without too much bulk, something programmable, because they're actually quite hard to find."
"The Icons are actually pretty rugged, and at that price-point it's easier to swallow a replacement if something goes terribly wrong. To me there's no point in spending several grand on a shiny piece of kit when you're doing outside recording, in all sorts of unpredictable conditions and terrain, all over the place…".
Setting up mixes in TotalMix FX
As mentioned above, Victor is a big fan of TotalMix FX, RME's FPGA-powered digital mixer and software controller that's included with all RME sound cards and interfaces.
Providing full control over analogue, digital and software I/O, RME's TotalMix offers extensive audio routing and mixing capabilities for creating unlimited submixes, with built-in EQ and Dynamics on every channel, plus Reverb and Delay for enhanced monitoring.
"On this latest project, there was a lot of speech playback from the animated characters," Victor explains. "That's all coming out of smaller, localized speakers on-set rather than the main PA, in place of where the main animated characters would be. And then we'd have a couple of IEM outputs as well going to transmitters, so you could do separate mixes to the artists if they wanted to sing live. In that scenario we'd obviously mute the PA and just have playback going to the in-ears, and the actors can sing along to that."
"For example, one actor might not want to hear the vocals but another doesn't; one group might want to hear the lead vocals louder, another – background vox. The Production Sound Mixer might want everything, but someone else in the crew needs a different mix; and the PA will only have the music but not the vocals etc."
"Again, with TotalMix allowing us to set up separate mixes for different outputs, whether they want to hear themselves or certain tracks, separately from the DAW.  It's just so useful. I do a combination of routing in Pro Tools – which was about 32 tracks, and where I can do automation and editing – and TotalMix where I can set up mixes for all the outputs for that specific set-up on that specific day."
"Every physical output will have probably three-four-five buses going to it – say music, vocals, Fx, cues – so you can adjust that with faders on those specific outputs and do the overall levels. I honestly think I wouldn't be able to do what I have to do, as quickly as I have to do it, solely in Tools."
Recording with the RME M-32 AD Pro
Alongside his selection of RME interfaces, Victor has also been using the RME M-32 Pro – RME's high-end 32-channel AD and DA converters with MADI and AVB connectivity – for multi-channel A-D, which Victor describes as "flawless".
"Yeah, they're amazing! We had them set up with four 12-channel mixers, custom Audio Developments AD149s, all going into the M-32 and then into the UFX+ via MADI."
"Like I said earlier, I first got into RME back at Remote. And back when the RME MADI cards came out was around the time we'd started looking at smaller rigs."
"Then when the RME MADI Router was released, that just blew our minds. With the ability to route individual channels across 3 MADI streams, we could convert everything to MADI and finally get rid of racks and racks of (RME) ADAT interfaces."
"Large channel counts and the routing flexibility covered the digital world, although of course we still had plenty of analogue gear, particularly in the studio with synths, instrument inputs and microphones."
"And so we've been using RME D/As for many years, including the original M-32s, which allowed us to take 32 channels of analogue inputs and convert them into MADI, to be able to pipe them into the system. And then with RME interfaces and TotalMix, send those channels out again easily and with minimal latency."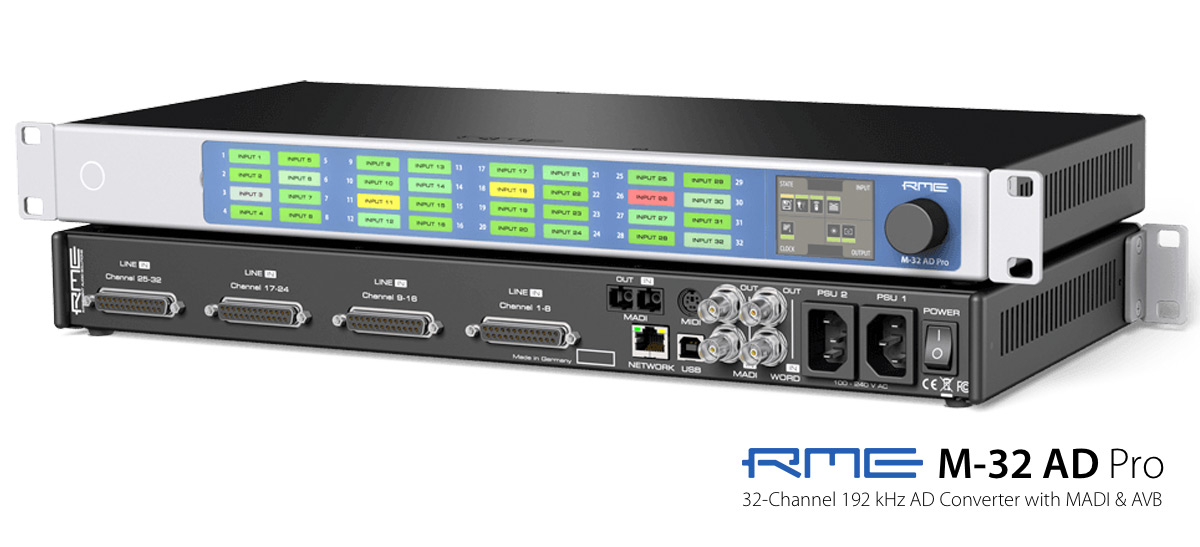 "Then on the project with the AD149s, we ended up recording the same musical numbers live as well, during shoot. So the main challenge there was to capture a recording with a transparent signal chain which we could match sonically, weeks later."
"And that's the thing with the RME – sometimes you might want a piece of kit because of the way it sounds of course, the way it colours the material – but as far as these technical recordings go, in the environments and scenarios we work in, really you want the kit to be as clean and as neutral as possible."
"And I think the M-32s really allow us to do that and keep that consistency throughout, due to their accuracy. If you want to be able to capture clean audio or match a previous recording without introducing colour, then these M-32 Pros are ideal."
"If you want to be able to capture clean audio or match a previous recording
without introducing colour, then these M-32 Pros are ideal."
On recording with the DirectOut Prodigys in Sardinia
Alongside RME gear, Victor Chaga and Simon Hayes also made use of 2 x DirectOut Prodigy.MCs for their location recording trip to Sardinia, in the summer of 2021.
A highly flexible modular converter, the DirectOut Prodigy Series can be easily re-configured to include any combination of its wide range of analogue and digital I/O – line and mic, as well as AES-3, MADI, Dante, Ravenna and Waves SoundGrid – with comprehensive mixing control offered by the included GlobCon software.
The Sardinia trip presented a variety of unique challenges for the sound crew, including the possibility that locations could be changed around the rugged terrain at any moment.
"DirectOut seems to be popular in broadcast, but is relatively unknown on a film set," Victor continues. "On set, there's a lot of AES happening, a lot of analogue, but Sound Devices seems to be one of the only companies that's diving into things like Dante at the moment."
"On this trip, we knew we'd have a few different issues to overcome – treacherous terrain, huge distances, inaccessible recording locations, and we'd need to be able to adapt quickly too, because on these location shoots things change all the time."
"So after talking back and forth with you guys at Synthax UK, we managed to devise a system that would be relatively lightweight and mobile – which at first I'd planned to use for my setup – a laptop and an RME MADIface Pro on a camping table, allowing me to send everything I need over to Simon via MADI."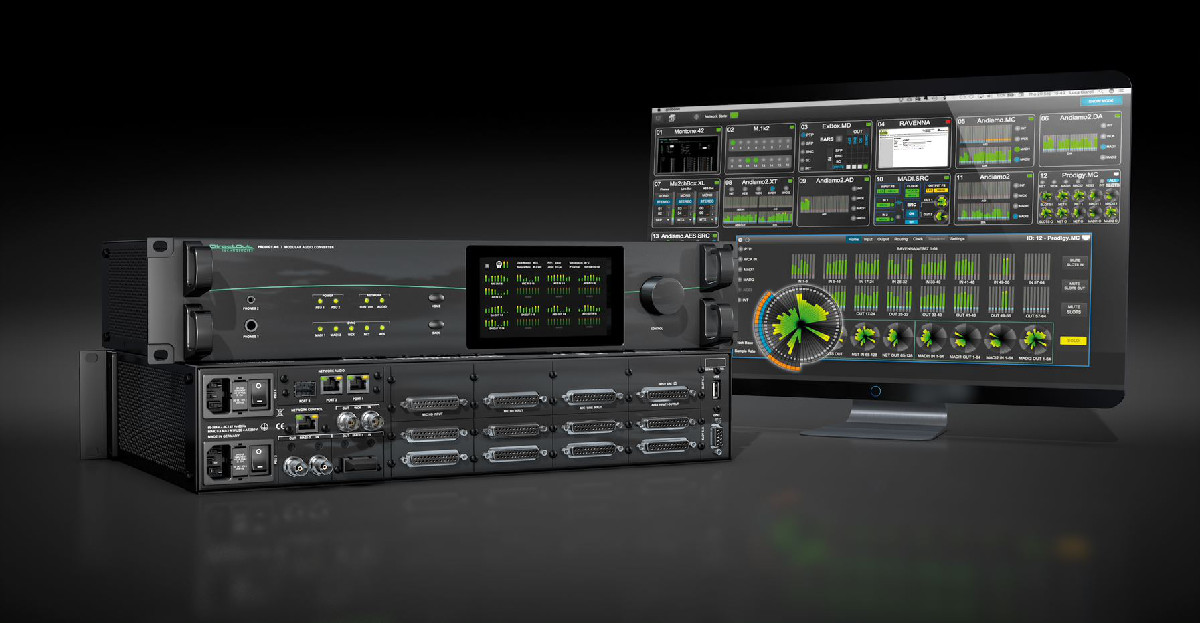 "And then we quickly realised, because of the large channel count of the MADI format, we would be able to have everything, all of my tracks, microphone feeds, comms, all of it run down a single MADI cable, rather than quite literally tons of copper. So we started looking for a converter that could manage multiple analogue and digital formats and also interface with Simon's equipment."
"That became the challenge – A, the number of inputs and outputs we were working with, both analogue and digital, and B, to find a single converter that could preferably do it all!"
What is MADI?
MADI (Multi-channel Audio Digital Interface) is a digital audio format that allows the transfer of up to 64 channels over a single cable (at 44.1 kHz or 48 kHz), at distances of up to 100m on coaxial cabling, or 2km via optical. Channel counts are halfed each time the sample rate is doubled – 32 channels at 96 kHz, and 16 channels at 192 kHz.
MADI remains a popular format in professional audio primarily due to its simplicity, with a wide range of support from manufacturers. Multiple AD/DA converters and microphone preamps can be connected in series, and devices like RME's MADI FX card or MADIface XT interface can accept multiple MADI streams in a single device.
"Thankfully we stumbled onto the DirectOut boxes – the Prodigy.MC and Prodigy.MP. The great thing about them is that they're modular shells, so you can just put whatever you want into them, and they'll just sit there and do the job, which is what you want. You can stick two MADI cards in them, you can stick Dante cards or AES. And then on the analogue side you can do mic pres and/or line level I/O, basically anything you could think of."
"So instead of having all this kit that we'd need to lug around, a converter for each format, we could just have one box that's A to D on one end, with all of the radio mics and all of the analogue stuff going into it, and a D to A (& more D) on the other that can receive this MADI stream and split it back out into AES and analogue, to interface with Simon's equipment."
"The setup allowed us to eliminate racks of gear that would have otherwise had to be lugged around. It worked out beautifully. Honestly, the Prodigys really go above and beyond. We only ran them for 6 weeks, but every day we were in poor conditions – outside all day, not in a studio, not in temperature-controlled environments – we were in 30 or 40 degrees of heat. Not to mention the dust! I mean layers and layers of the stuff, and they just kept chugging along."
"The DirectOut Prodigys really go above and beyond!"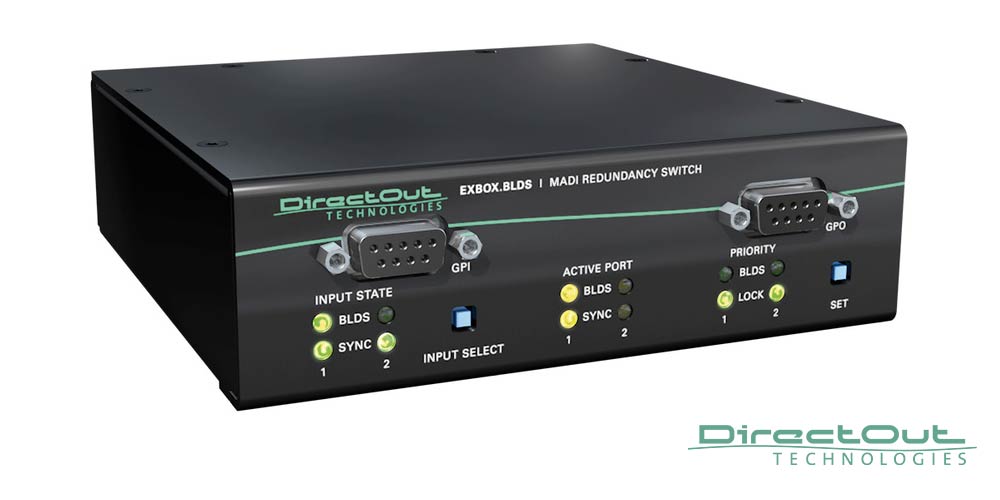 "The modular aspect is also incredibly useful for us working in film. Because unlike a recording studio, where once you'd design a setup based on long term requirements, for 5-10 years ahead, the requirements on a film set could vary wildly from day to day."
"And to be able to have a box like that, where you can say 'okay, today we'll be going MADI! Never mind! Someone's chewed through the optical cable! Dante it is! Or we can go analogue, or digital, or morse code, or smoke signals! I can swap out or include whatever card I want for this particular aspect of the job, this particular day, this particular scene, this particular shot', yeah that's super useful."
"I should also mention that I've been using a couple of DirectOut's EXBOXes too, which have also been SOLID!"
See the full range from DirectOut Technologies
On MADI cable runs
Despite the variety of different digital audio formats currently available, the tried and tested MADI format remains popular with many sound engineers, particularly when it comes to long cable runs. To help overcome the potential obstacles for the location recording shoot in the Med, a unique method of using optical MADI was suggested by Synthax UK's Mark Cull.
"This was us tapping into Mark's wisdom. We originally wanted a backup MADI cable drum in case someone severed the precious fibres. But Mark recommended we get a couple of drums that could be used not only for backups, but to act as extenders, and allow us to go the extra mile if we needed to."
"And recording on beaches with a load of kit – definitely called for that extra mile! We could be climbing over boulders or carrying gear waist deep in the surf, moving to a cliff-top, or into a different cove because we decided the weather/light would be favourable there. Or the schedule would change on the day, we'd need to shoot something that we hadn't previously planned for, and we'd have to quickly figure out how we were going to set up for that new location."
"So having multiple drums of MADI cabling that could be pre-run in advance, switched or extended allowed us to easily set up a "network" with multiple access points around the location, rather than a single cable run. That way when the time came to move, we'd just daisy-chain two drums together, carry our kit over to the new location and plug in on the other end. A single fibre cable and a single connection made it incredibly easy to set up and allowed us to focus on the creative aspects of the job. And so whilst everyone was running around trying to figure out how they were going to move, the sound crew would be set up and sorted haha."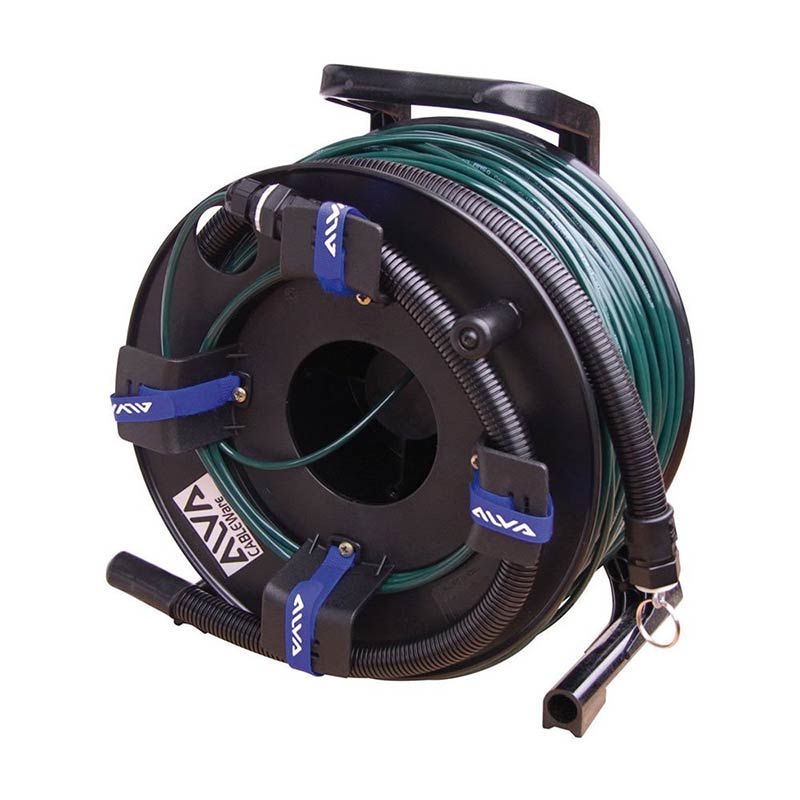 "There were actually two playback operators on this shoot. Myself for music, and Robin Johnson, who was doing all the dialogue playback that I mentioned earlier, because a lot of the time while the music was playing, the dialogue lines would be played in response to the action in front of the camera."
"So I would play everything on the timeline, but we needed a very talented human and a second rig to play back the pre-recorded audio for the scene, based on the timing of the actors and so on. This MADI "Network" approach facilitated moving and connecting the 2 systems. With Mark's help, we created a MADI loop that could be broken and extended in any of the 3 patch points. We could leave Robin in one place, and extend over from his rig to mine with a drum. Or extend both of us to get us closer to the action, or leave one of us with Simon and extend a run from there. This proved to be a very modular and flexible system, and it definitely made our job a lot easier!"
Victor Chaga on slimming down his recording setup
To finish off, we asked Victor for his thoughts on how the recording landscape has changed in recent years, particularly in the wake of the Covid-19 pandemic.
"My general approach to life these days is to slim down," Victor tells us. "I know it probably doesn't look like it right now thanks to the lockdown! Shout out to 'Quarantine 15'! But when it comes to kit, I try to keep it light where possible."
"My aim in recent years has really been to have less bits of kit, but without losing any of the functionality I need. So the things we're doing in TotalMix for example, you'd need an interface with 32 outputs, and a 32 channel mixing console to achieve that. You'd need to send all your outs into the desk, mix, bus, sum everything before you could send it to a few mono outputs. Tonnes of equipment, wiring, headaches. I don't really agree with that! I can do it all inside an RME interface."
"I can do it all inside an RME interface"
"That's why I tend to recommend RME to other people, when they're asking me to help them design or build a studio or rig. TotalMix may look intimidating at first, but the things you can do with these interfaces and this software, in my experience you can't really do with anything else. The separation of the virtual and physical outputs, it's just unparalleled in my opinion."
"And of course, having a smaller setup makes it possible for you to work and collaborate anywhere. Personally, I think the days of everyone having their own huge studio – buying massive amounts of kit and everything – are on their way out. Today, with a bus powered Madiface Pro, with a few concessions, I can do most of what I needed a 1U UFX+ for 3-4 years ago, and a whole lot of extra gear 5-10 years ago. This means half the time I can get away with a lightweight camping table, laptop, and an interface half the size of a frozen meal box; shedding racks, battery backups, cabling, carts… With half a backpack full of gear, I can reach locations that back in the day would require a van. For me at least, I much prefer being able to get on a plane and end up somewhere in the States, Canada, Europe, New Zealand, in a studio, a hotel room, cabin or tent, still have my full setup and be able collaborate with people either directly or virtually."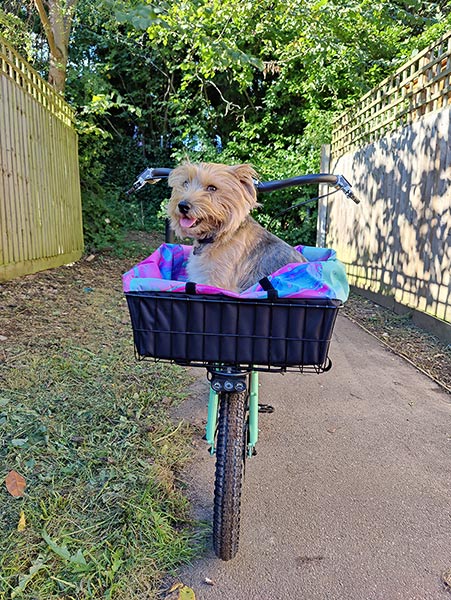 "For example, I can sit in a cabin on Mount Taranaki, send my mix to a drummer that I really get on with, who already has everything she needs and is probably a lot more enthusiastic about recording drums than I am. She can give me the sound that I've heard on her previous work, and I can focus on doing the things that I want to do, like writing more music. Then, two days later, the stems come back and slot into whatever mix I sent her."
"There'll always be a place for larger studios, but for me, the days of individuals collecting huge amounts of gear and instruments, digging out another level in their house to build a live room… then having no one come because another pandemic sneaks up! Yeah, those days are over."
"I think I'd rather rent out a house for a week in the Lake District – get a good sounding AirBnB, get some talented humans up there, a couple of interfaces – I think that approach is much more attractive for me right now."
Thanks Victor, we'll see you in the Lake District! To see what kind of projects Victor's been working on recently, check out his imdb page.
See the full range of RME Audio Interfaces
Find out more about the DirectOut Prodigy Series
Find out more about the DirectOut EXBOX Series
---

If you'd like to know more about any of the products supplied by Synthax Audio UK, give us a call on 01727 821 870 to speak to one of our team or to arrange a demo.
You can also contact us here.