DirectOut PRODIGY.MPs power the Eurovision Song Contest 2022 (ESC2022)
Broadcast in over 50 countries, Eurovision remains one of the most popular televised events of the year, with an estimated 200 million tuning in for 2022.
This year's performances included winners Kalush Orchestra of Ukraine, as well as the U.K.'s own Sam Ryder who finished second with his song 'Spaceman'.
A huge part of the show's audio infrastructure was built around DirectOut's modular Prodigy Series, with a large number of units deployed throughout the system, providing a seamless integration between multiple disciplines within the production – FOH, Monitoring, Playback, Patch Rooms and Broadcast.
Naturally a live TV event of this calibre requires maximum protection against potential audio drop-outs – as such, the system was designed to ensure that a failure of any kind would never interrupt the signal flow for more than 3ms.
In order to achieve this level of failsafe, one or more backups were required for each device, with the first level of redundancy also needing to be independent of operator response time. Another requirement was that all tasks and signals had to be synchronized bi-directionally to within a single sample, whilst glitches and digital noise were to be completely avoided.
In total, 14 PRODIGY.MP units were used as a central interfacing and distribution system, offering huge flexibility in a diverse ecosystem that involved multiple digital audio formats, as well as equipment from a variety of different manufacturers.
As an interface between different parts of the system, the PRODIGY.MP worked with DirectOut's FastSRC™ in bypass mode to actively intervene within a single sample, allowing the exchange of asynchronous signals bi-directionally without any problems.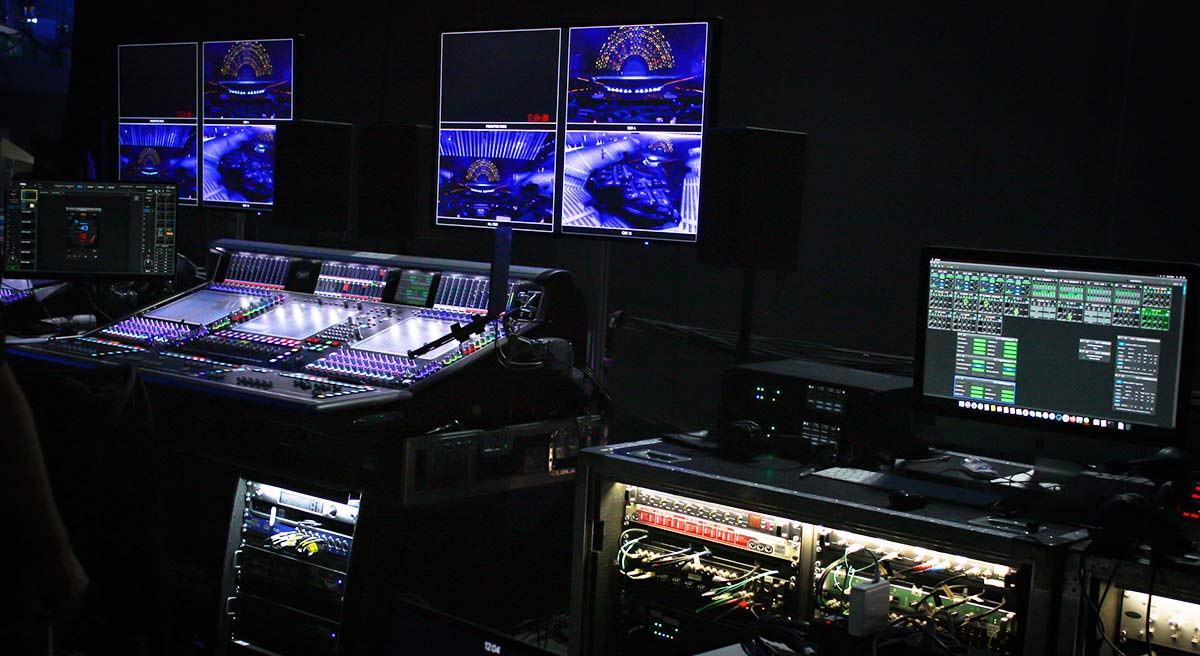 Within the playback system, DirectOut's unique EARS™ technology (Enhanced Automatic Redundancy Switching) was also fully optimised for maximum security – not only detecting whether the audio stream of a playback system is received or not, but whether the playback system (in this case, Pro Tools) is in a buffer loop state. In the case of a signal failure or loop detection, EARS™ automatically switches the entire port or multi-channel stream to the backup after checking its functionality.
In addition to the two main and backup sources, a third parallel source was also made available, in case of a simultaneous failure of both the primary and secondary systems. System stability was further increased with an Input Manager, as well as an 'Automator', a completely new feature that provides triggers and actions, and which successfully survived a baptism of fire during the ESC2022.
"The PRODIGY.MP was the perfect solution because it is able to perform several complex tasks in parallel," explains Luca Giaroli, Signal Distribution Designer and Manager for ESC2022.
"It was even able to increase the security of lower performing system components, due to its redundancy strategy and supporting features. Thanks to the globcon software, I had the whole system always under control, with all devices interacting whenever needed."
DirectOut Prodigy Series (MC/MP)
The DirectOut Prodigy.MC and Prodigy.MP are modular, state-of-the-art audio converters and signal processors designed for use in professional live sound, broadcast, installation and recording applications.
With extensive multi-channel analogue (Mic/Line) and digital options – including formats such as MADI coaxial, MADI optical, Dante, Ravenna, AES-3 and Waves SoundGrid – DirectOut's Prodigy Series are highly configurable, fully redundant, and feature advanced technologies like the Buffer Loop Detection System™ (BLDS), Enhanced Automatic Redundancy Switching™ (EARS) and FastSRC™.
Extensive remote control is offered by globcon, a global remote control software for Mac, PC or Linux, and with support for device connections via network (as well as USB, DO.Net and MIDI, ensuring compatibility with legacy devices).
Both the DirectOut Prodigy.MC and Prodigy.MP are available in three different versions – Essential, Advanced and Unlimited – and can be pre-configured to meet your precise requirements. As such, we highly recommend getting in contact with us before making a purchase, to ensure your device is correctly specified.