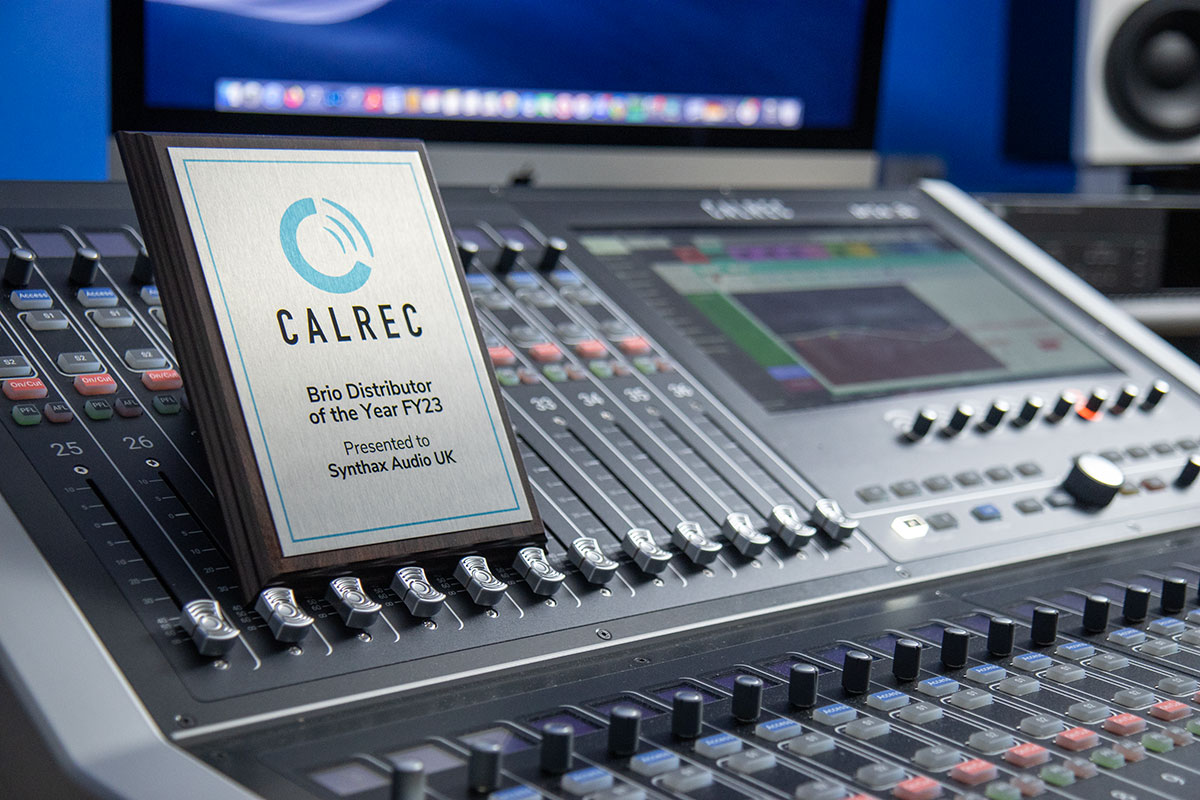 We're delighted to have been awarded Calrec's top Brio distributor for FY23.
As the UK point of contact for all things Brio, we've been supplying and supporting customers throughout the country for several years now, and it's always gratifying to see our work acknowledged by one of our major suppliers.
Synthax Audio UK's Simon Roome (Broadcast Sales Manager) says "It's fantastic to receive this recognition for the work and success we've had with the Calrec Brio. This is no doubt in part due to the console's versatility – it fits into so many applications!
"Calrec is obviously highly respected worldwide throughout the broadcast community, and we look forward to continuing working with them for many years to come."
Anthony Harrison (Sales Manager, UK & Ireland at Calrec) says "We're happy to see this award go to our local Brio distributor Synthax Audio UK. They're a very dedicated and professional outfit, and we've collaborated with them on several UK events – such as MPTS (and previously BVE) – as well as hosting training days at their demo space just north of London.
"This is also recognition of multiple successful projects and maintaining good stock levels during challenging times. Well done the Synthax Team!"
Calrec's biggest tiny console
The Calrec Brio is used around the world for high-profile live televised and sporting events. In the UK we've seen them used for coverage of the Common Wealth Games, World Cup and the Rugby World Cup, as well being chosen by a number of OB Trucks.
Several prominent universities have also selected Brio for their audio production courses. Its compact design is perfect for students to learn on and gain practical experience, serving as a true-to-life console they will no doubt come across again in their careers as broadcast audio professionals.
What's more, familiarity with Brio can also ease the transition for students when they start working with larger Calrec mixing desks – such as the Argo, Apollo, and Artemis – which they are bound to also encounter post-graduation.
Find out more about the Calrec Brio Broadcast Console
About Synthax Audio UK
Synthax Audio (UK) Ltd. is the UK distributor for RME, Ferrofish, Calrec, Dynaudio, DirectOut, Appsys ProAudio, TIERRA Audio, and Lauten Audio Microphones.
Supplying and supporting a nationwide network of specialist pro audio resellers, Synthax Audio UK offers the highest level of service to its growing customer base in the broadcast, recording, production and live sound markets.
---

If you'd like to know more about the Calrec Brio, Type R or Hydra2 network (or would like to arrange a practical demonstration), give us a call on 01727 821 870 to speak to one of our team, or contact us here.