Electronic music wizard Phaeleh gives us an insight into his musical universe and the role of RME Audio for production and mastering.
Matthew Preston, aka Phaeleh is a Producer, DJ and multi-instrumentalist based in Bristol, UK. Known for combining ethereal, atmospheric soundscapes with DJ-friendly beats and powerful basslines, his music frequently carries an introspective, often dreamlike quality, seamlessly transitioning between high-energy dancefloor anthems and more introspective home-listening.
We sat down with Phaeleh – pronounced 'fella' – for a chat about his music and career to date, and why he chooses to base his studio around RME audio interfaces.
DJing, Dubstep and Ableton Live
"I'd probably describe it as emotive and atmospheric electronic music, with its roots in dubstep, garage and ambient," Phaeleh reflects on his sound. "It does tread a fine line between the dancefloor stuff – with weighty subs and heavier beats – and also more cinematic chilled out tracks, which are definitely more suited to home listening."
A classically trained musician, Phaeleh has been producing since 2006. Despite being an accomplished grade 8 guitarist, his commercial releases tend to sit very firmly in the electronic camp: expertly crafted synth sounds coalesce with heavily processed FX loops and tight drum samples, weighty sub bass, and often haunting vocals.
First coming to prominence as part of the UK's emerging dubstep scene in the late 2000s / early 2010s, critically-acclaimed releases like 2010's Fallen Light album and 2011's The Cold in You EP provided a blissed out counterpoint to the heavier and dissonant sounds that the genre would increasingly become more known for, with tracks like Afterglow and In The Twilight finding their way into many a dubstep-purist's DJ set.
"I first started hearing dubstep around 2005," Phaeleh says of the then fledgling genre. "Mostly from friends based in London at the time, who were experimenting with their own takes on the sound. I think by 2006 I was listening to a lot of mixes, and catching DJ sets where I got to experience it on a proper sound system, and I was very much hooked. At that point in time, the tracks were so heavy, but had so much space. I loved that combination and it really resonated with me."
"the tracks were so heavy, but had so much space"
Whilst the word 'dubstep' would eventually become something of a meme – with teenagers around the globe flooding SoundCloud and YouTube with in-your-face LFO wobbles via a cracked copy of FL Studio – in its heyday the genre was more of an umbrella-term for producers experimenting with 140bpm 'half-time' beats; dark and melancholic soundscapes; and heavy use of sub and 'dread' bass.
An unmistakeably British phenomenon – with strong influences from the Jamaican and Caribbean sounds of roots and dub-reggae, as well as UK favourites like Jungle and drum n bass – the style would quickly spread to global appeal. As a result, Phaeleh's popularity as a producer led to DJ bookings around the world (including a legendary set at the Outlook Festival in Croatia back in 2011), with another US tour stapled for 2024.
"99% of my sets are DJ sets, using CDJs and a DJ mixer, which are obviously the least stressful in terms of setup," Phaeleh tells us of his live shows.
"My early Phaeleh sets from 2006 to 2009 were all on Ableton, as I only started playing on decks in 2009. But I've also done more intense setups with guitar loopers, synths and drum machines with Ableton running a lot of stuff I've put together in Max/MSP alongside it. This briefly included a live drummer and keyboard player alongside me.
"I actually have the most fun doing full hardware sets, but sadly it's not really viable for touring as there isn't really the budget to do it without losing a ton of money.
"I learned to mix on vinyl, and used to play out using Serato, as it meant I could play my music and that of my friends without needing to wait for things to get a vinyl release.
Phaeleh – Afterglow (feat. Soundmouse)
"I moved over to CDs when my laptop died, and found myself enjoying it a lot more. I tried mixing on vinyl for the first time in years recently, and it was fair to say that I had lost all ability to do so haha.
"At the height of dubstep's popularity I was incredibly lucky to visit some beautiful places – I think New Zealand was probably the most beautiful place I visited. In terms of shows, my favourite sets I've played were probably at Envision festival in Costa Rica in 2015, and my first trip to Russia where I played in Chelyabinsk and Novosibirsk back in 2011. 
"I've also got a place in my heart for one of my first overseas shows, when I played in Lithuania for the first time back in 2008. The promoter was expecting about 20 people due to some other events going on the same night, but the place was absolutely rammed. That was quite crazy for me as it was busier than any show I'd played in the UK up to that point."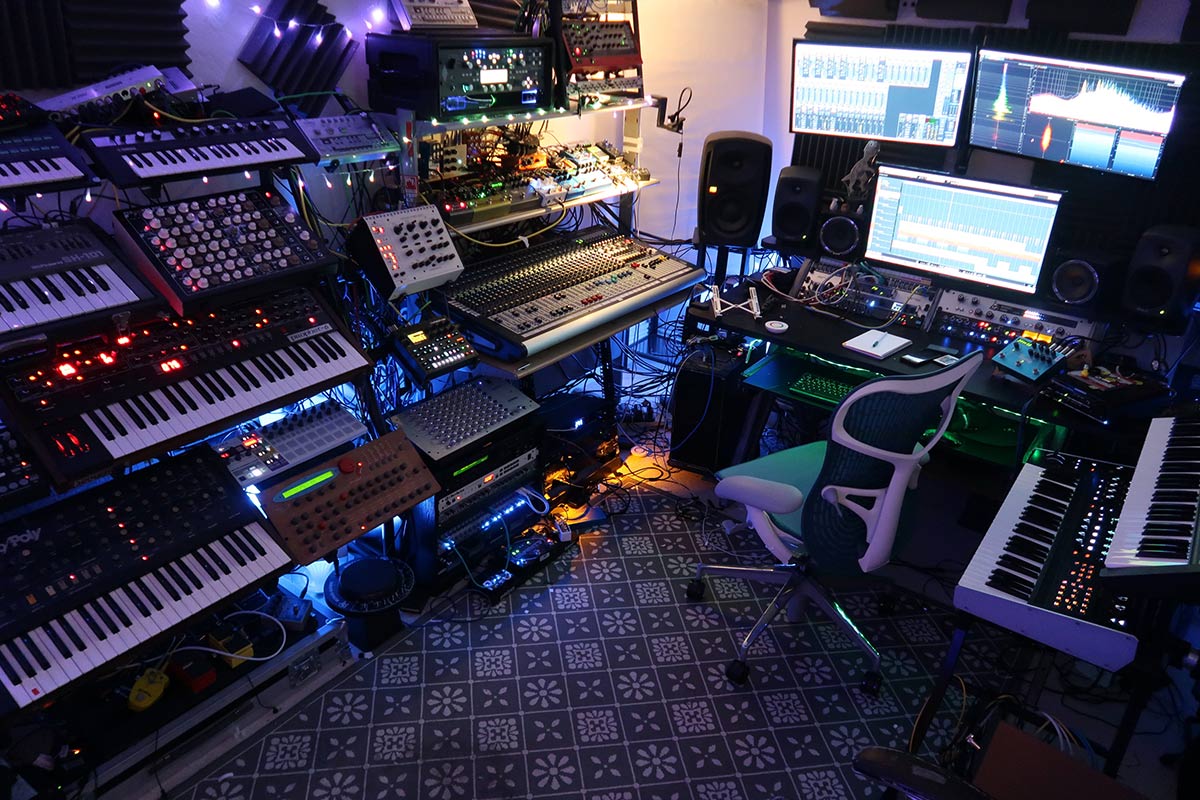 The Bristolian
Phaeleh is based in Bristol in the South-West of England, a city well-known for its vibrant art and music scenes.
Close enough to London to keep an ear on the latest underground sounds coming from England's capital – yet far enough away to remain its own creative island – the home of Banksy and Roni Size is responsible for many genre-defining artists and bands, often with their own unique takes on popular UK genres (and giving rise to the term "the Bristol Sound").
When it comes to Phaeleh's music, the usual comparisons have been wheeled out over the years – with music journos of course mentioning Bristolian go-tos like Massive Attack and Portishead – but that would arguably be something of a lazy comparison.
Location and heavy use of reverb notwithstanding, his tracks are better classified alongside other 'post-dubstep' contemporaries such as Burial, Clubroot, Synkro or Mount Kimbie, or the diverse electronic works of creators like Bonobo, Fourtet, Calibre or Floating Points.
Like many of those producers, Phaeleh's music has always felt like it sits somewhat on the peripheries of the dubstep scene. Maybe it's the contemplative and self-reflective nature of his productions, or the fact that he is himself a multi-instrumentalist, but he comes across as an artist who's unafraid to stray from the potential confines of a genre.
"I think when I first moved here in 2007 and dubstep was still quite popular, I was a lot more involved in the scene," Phaeleh says. "I was playing at least 3 or 4 shows a month, so I was meeting a lot of other producers and DJs and getting to know all the clubs. 
"It was a very inspiring time"
"It was a very inspiring time and all I wanted to do was make music whenever I'd been out at a show, so I was very much influenced by a lot of the sounds I was hearing. These days I don't really go to clubs socially any more, so I'd say I'm very out of the loop with what's happening in Bristol right now, and honestly I don't really have too many outside influences when it comes to my own music.
"I think I definitely contributed my own take on the sound back when I started out, but over time it's become a lot more insular. I've found I tend to enjoy the process more by being quite detached with what's happening elsewhere. I still enjoy just listening to music when I get the chance, but it's normally something instrumental or ambient."
On Ambient Music
Speaking of ambient, Phaeleh's mastery of soundscapes led him to releasing a number of beatless ambient productions, with 2016's Illusion of the Tale being particularly well-received by those into headsy, post-club chill out sessions.
Although atmospheric and evolving sounds have always been woven into his music, releasing an album in a different style was always going to be something of a bold move, and one with the potential to alienate his existing fanbase.
Yoga halls aside, the nature of ambient music also means it's not exactly a style with a defined scene or location – we were curious therefore how one finds an audience for that kind of music?
"It's a bit of a tricky one," he contemplates. "I was told by several people in the industry that it would be a career killer prior to dropping my ambient albums.
"there's definitely an audience for those types of sounds"
"It certainly confused a few people, and probably didn't help me get as many shows. But people reacted so positively to them, and for me it was something I really needed to do at the time, as I was struggling a bit with my relationship with the music industry, and just needed to do something a bit different. 
"The only ambient release I promoted properly was Illusion of the Tale, and that did fairly well. A couple of the tracks on that album have the highest play counts of mine on Spotify, but I think that was due to getting lucky with making it onto some playlists at the time. But there's definitely an audience for those types of sounds."
On songwriting and working with vocalists
Whilst much of Phaeleh's catalogue clearly works well on the dance floor, many of his tracks are noticeable for featuring a more traditional song structure, with the evolving atmospherics often providing a backdrop to floaty and dreamy lead vocals, complete with verses and choruses.
As the chat turns to production, we wanted to know more about Phaeleh's role in song writing – how do these collaborations come about, and how does he know when a track is finished?
"It's changed a lot over time," he says on his work with vocalists. "Originally it would just be friends, or friends of friends, although as I got a bit more known people would approach me about collaborations, and we'd try some ideas out. 
"In terms of the writing, I'll always leave the melodies and lyrics to them, although I'll often rearrange things in Cubase once I have them. If I'm recording the singer myself, rather than getting the parts over email, I'll be a bit more involved, making suggestions about phrasing or potential harmonies, things that I think could work well with the song. I never really have a set approach, and it varies a lot between tracks."
"I'd probably still be messing around on a 4 track with my guitar and a drum machine like I was doing as a teenager"
"When it comes to beat based music, it's usually when I stop hearing things that annoy me," Phaeleh advises on the finishing process. "Sometimes I let the deadline I've set dictate when a tune is finished, for better or worse. That way I don't spend a year turning a single sound up and down again until I'm totally sick of it, plus I normally just want to make some new music by the time anything is at the mixdown stage.
"Ambient stuff is a bit different – I want to be able to listen from start to finish and feel like it's taken me somewhere. I'll often be looking out for any nasty sounds or distractions in the field recordings, or anything that takes me out of the moment. 
"I guess the usual tunes are more scientific in a way, and the ambient stuff is more about how it makes me feel.
"Music really does feel like a part of who I am. Whilst I don't write as much as I used to, I still find myself feeling quite low if I've not worked on anything for a while, and spending a few days making new music will always put me in a super good mood.
"I've always just loved making music, and if I wasn't doing this I'd probably still be messing around on a 4 track with my guitar and a drum machine like I was doing as a teenager."
In the studio with Phaeleh
Phaeleh's studio is based around Steinberg's Cubase, a DAW he says he's been using since his school days which "just feels like home".
Like a lot of modern producers, software is only one part of the equation. A hybrid-system featuring a formidable selection of synths, guitars and FX pedals, Phaeleh's studio is a veritable playground of gear for coming up with new sounds, tones and textures.
"I've definitely been collecting a lot of stuff since I started making music," he says of his outboard and hardware collection. "In terms of synths, my favourite is probably the Roland SH-101, I've just always had a soft spot for it, and love how emotive it can sound. I also love playing the Sequential Prophet 10 which has featured on more recent releases."
"In terms of hardware, I'm totally in love with my Louder than Liftoff Silver Bullets and a pair of recently acquired Miad LCPQ 4040 EQs."
When it comes to his choice of audio interface, Phaeleh is a long-time RME fan, which he's used extensively throughout his studio work and live performances, as well as for the live streams he regularly performs on his YouTube channel.
"I actually started using RME Audio back in 2013, when I was looking for a suitable soundcard for a live tour I was doing in North America," he says.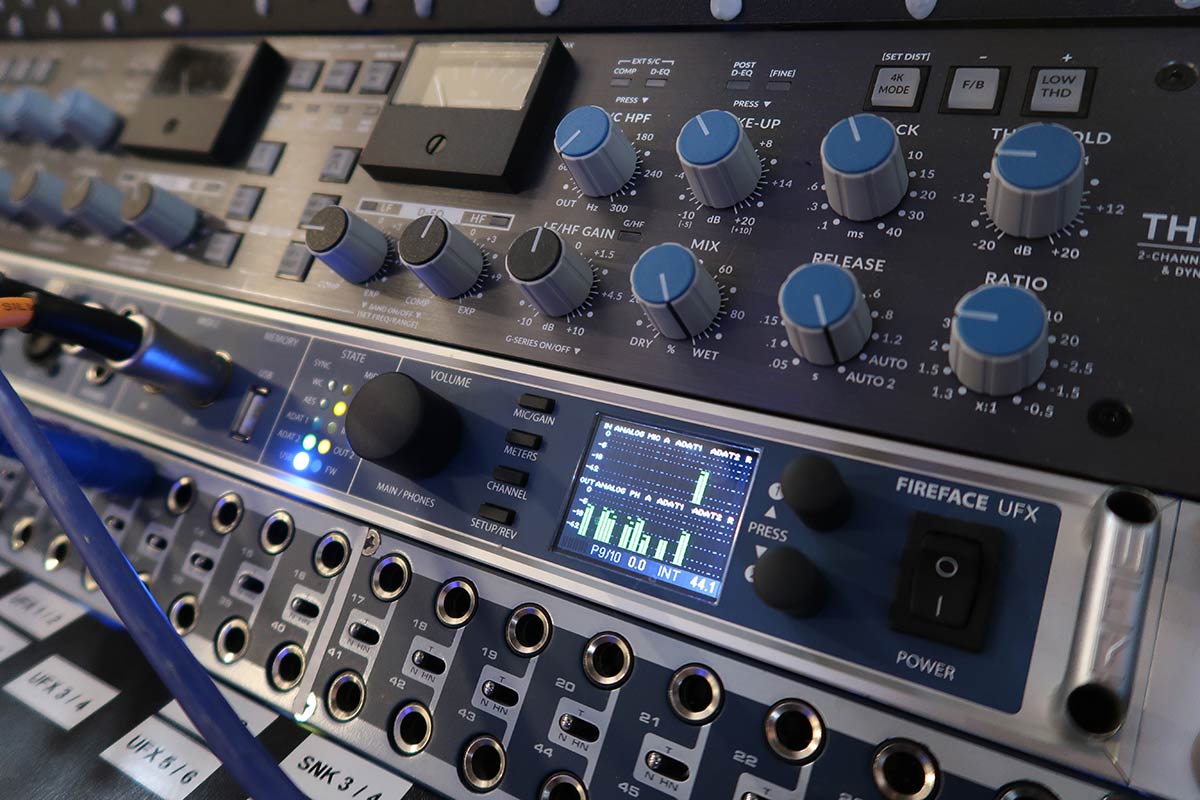 "After months of looking, I opted to go with an original Babyface, which was perfect for the setup. I was so impressed with how it did on the tour that I ended up changing my studio interface to a Fireface UCX when I got back from my travels. 
"I then got a Fireface UFX for a band show I was doing in 2015, which ended up being used alongside the UCX in the studio. The UCX is now used on my streaming computer and I have a Babyface Pro for my live setup too. The most recent addition is an ADI-2 FS." 
It turns out that RME's TotalMix FX software controller also plays a big role, with Phaeleh citing the mixer's routing flexibility and easy creation of submixes as a big draw.
"I absolutely love TotalMix," Phaeleh says of RME's FPGA-based mixer. "Whilst I got into RME for the incredible driver stability and reliability, I stayed for TotalMix. I use it to connect my whole studio, whether that's routing audio out to my stream computer or recorders whilst streaming, or sending audio from Cubase out to my hardware or FX setups. 
"I just love the flexibility it offers, and I honestly don't think I could live without it now. It feels so intuitive and natural to the way I work, it's really made having a hybrid setup so much more flexible and easier to manage."
"Whilst I got into RME for the incredible driver stability and reliability, I stayed for TotalMix"
For a full tour of Phaeleh's studio, check out his video tour on YouTube.
Mastering with the RME ADI-2 Series
The final piece of the music production puzzle is of course mastering. A role viewed by many as something of a 'dark art', this stage is often passed to a dedicated mastering engineer for their specialist expertise, or even just for the benefits of a 'fresh set of ears'.
Phaeleh may be slightly unusual therefore in that he's not averse to mastering his own music, identifying the need for a top-tier converter to facilitate this part of the process.
Once again he found the perfect device in one of RME's ADI-2 Series, a range of high-end mastering converters designed for when you need to hear absolutely everything – perfect for giving a mixdown that one final polish.
"I've been doing a lot more mastering of my tracks for my Patreon, and have been enjoying doing it," Phaeleh explains. "So it's the push I needed to start venturing into mastering my commercial releases too, which I'll be doing moving forwards. 
"I wanted a dedicated device for mastering – I spent a long time looking into different options, and I just kept coming back to the ADI-2 FS. And I've been really impressed since my initial testing of the unit, it sounds incredible.
"I'm about to start work on mastering an instrumental/ambient album I've got coming out, and I can't wait to get started now the ADI-2 FS is in the setup. I already really trust it and enjoy working with it, it does sound glorious! 
"It sounds incredible!"
"I think I'd be emotionally scarred if I couldn't use RME anymore, it's been such a significant part of my journey. I've never had a single technical issue with any of my RME soundcards in the 10 years I've been using them, and I almost forget they're there as they've become such an integral part of my setup. I honestly couldn't imagine making music without TotalMix."
The Space Between Us
Our thanks to Phaeleh. For an introduction to his music, check out his iconic albums on Spotify.
His latest EP The Space Between Us is out from today, available to buy and stream here.
To check out his live shows, head over to his web site for tour dates in 2024.
See the full range of RME Audio Interfaces
See the full range of RME ADI-2 Series Converters
---