We take a look at how upgrading to the RME Fireface UFX+ audio interface can vastly increase your music production and recording options.

The Fireface UFX+ is RME's most comprehensive and flexible audio interface to date. Whilst some manufacturers seem to release a new version of their interface every other month, RME's philosophy has always been to create quality products that are built to last. This is backed up by their commitment to support, with RME continuing to provide updates for long-discontinued devices, including devices over 10 years old*, and reflected in the recent 10 out of 10 review from MusicTech.
*Not to mention the fact that many of the company's older interfaces still fetch a high price on ebay!

More so than with any other RME device, the UFX+ has been designed with the express intention of allowing users the ability to grow their setup over time. With a massive 188 channels, the Fireface UFX+ features analogue, ADAT, AES/SPDIF and MADI I/O, plus USB 3.0 and Thunderbolt connectivity. The Thunderbolt and USB 3.0 connections provide compatibility for Macs and PCs both past and present, although it's worth noting that these connections have been included primarily to address the bandwidth requirements of the UFX+'s huge channel count.
The real standout feature of the UFX+ however is the inclusion of MADI I/O! With this in mind, we thought we'd take a look at some real-world applications for the UFX+, and discover why this interface is not just the most powerful RME audio interface ever made, it's also an investment in the future.
What is MADI?

MADI is a purpose-built digital audio format that allows for the transfer of up to 64 channels of audio via a single cable each way. The connection is made over coaxial cabling terminating in BNC connection, or via optical fibre. The range of the MADI transmission over coax is up to 100m, whereas with optical fibre, you can transfer over distances up to 2km! This occurs with no deterioration in sound quality, and with minimal latency. MADI is also unaffected by interference, so you don't need to worry about power supplies or cables causing problems with your signal. The cabling itself is also far cheaper than traditional analogue multicore cabling, not to mention incredibly light-weight by comparison.
The Fireface UFX+ features both MADI coax (shared with the Wordclock connection) and MADI optical I/O, making it a brilliant solution for use in live, studios and broadcast. By providing a simple and elegant solution for transferring high channel-counts from one location to another, the need for bulky analogue multicore cables and patchbays is removed. The two optical and MADI coax connections can be used at the same time to provide redundancy, automatically switching if there's a problem with the connection.
"It's just such an easy solution to these super-complex jobs."
Phil Rowlands, producer and engineer

RME Fireface UFX+ In the studio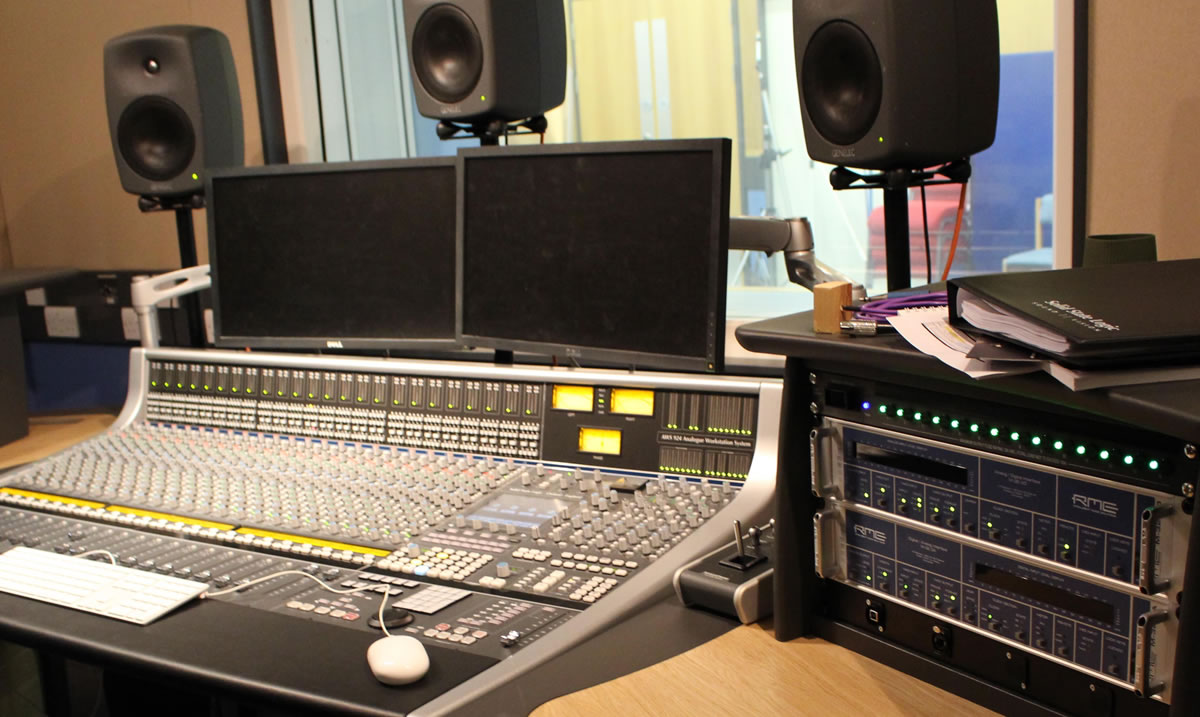 The cost of setting up and running a studio has been greatly reduced in recent years, and these days you can acquire everything you need for a relatively low cost. This is one area where the Fireface UFX+ really excels.The ability to create your dream has never been more accessible. A large variety of relatively low-cost hardware can be bought second hand – AD/DA converters, beautiful 64 channel consoles, vintage mic preamps – all are within the budget of anyone looking to set up a powerful and modern studio, whether for commercial or project use.
Of course with a Fireface UFX+, you don't even need a console in your studio. If you're familiar with RME's TotalMix FX, you'll know that this software controller can operate as a full blown mixing desk in its own right. Everything you need is at your fingertips for recording and mixing incoming signals. You also have the option to route anything to anywhere, setting up submixes and headphone mixes for example, with latency-free effects on every channel. If you choose to add the optional RME ARC USB, you'll be able to control all of the most used functions of the UFX+ from a compact desktop remote control.


"Having a UFX+ simply helps sell my studio to clients, as it gives a recognised and reassuring stamp of quality – they know that they are going to get a pristine, professional sound."
MarcJB, producer and remixer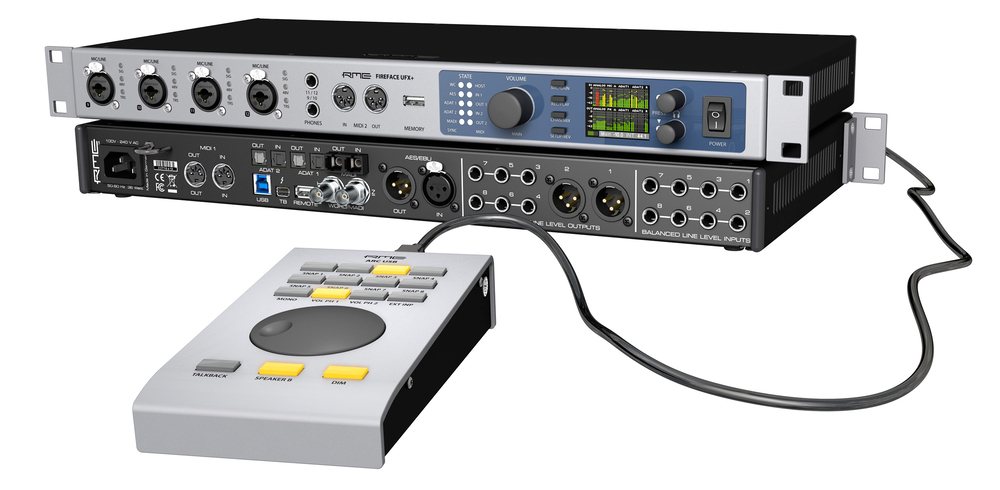 By using the UFX+ as your mixer, you could have a set of mic pres in your live room, then send everything to your control room via a single MADI cable. RME's MIDI over MADI feature allows control of other supported RME devices via MADI, and unlike with some other manufacturers, this is achieved without reducing the channel count. With a set of RME Octamic XTC preamps, you could control the gains of each mic directly from your control room.
Equally, if you've decided to treat yourself to a high-end digital console, many desk manufacturers (such as Allen & Heath, Yamaha, DiGiCo, Soundcraft, SSL, Neve and many more) feature MADI I/O. The Fireface UFX+ would then provide you with the perfect method for transferring all of your channels to your DAW for recording. When it comes time for your mixdown, you could then send everything back to the desk via MADI so you can mix with your desk, then print the mix back to your DAW. Again, this is achieved via a single MADI cable (well, one for each direction).
The UFX+ is the perfect central hub for your studio. For the budget-conscious studio build, the money saved on cabling alone from switching to MADI over analogue will be huge! Build your dream studio for a fairly small amount of cash, impress your clients or band mates with your extensive recording and mixing setup, and spend the money you've saved on other studio items such as that boutique microphone you've always had your eye on.


"Students using both Macs and PCs, old and new and with a wide variety of audio software
have been able to simply download the RME drivers and get straight into using the full functionality of the SSL."
David Prior, Associate Professor of Music at Falmouth University

We've seen this kind of setup utilised by the music technology departments of two UK universities, at both De Montfort in Leceister and Falmouth University, with lecturers from both institutions quick to point out the simplicity of a MADI-based.


Live sound – recording and mixing with the Fireface UFX+

Another situation which MADI is perfect for is in live, for both playback systems and for recording. If you want to record (and even mix) a live performance, the UFX+ is perfectly equipped for smaller setups, or integrating into a larger system. In bigger venues, you'll likely find you're able to take a feed off the front of house desk no problem. As previously mentioned, most high-end digital consoles feature MADI I/O, so you can run a single cable from the FOH directly to your UFX+ for recording.
Another new feature unique to the UFX+ and ideal for live, is the improved DURec. Previously only found on the original UFX, DURec (Direct USB Recording) allows you to make simultaneous recordings to an external USB hard drive via the USB port on the UFX+'s front panel. Along with giving you the option of making a backup recording when you're on a session, this also gives you the option of using the UFX+ as a standalone hard disk recorder and playback device. The UFX+ also features a set of comprehensive controls and a display on the front of the unit, so you can control levels, effects and routing all from the front the unit itself. DURec means that you'll never have to worry about you can also create a time-stamped, multi-track backup of the show.
We've previously written about MADI's use on the tours of several commercially successful artists as part of their backline. MADI played an important role in the production behind Lily Allen's "Sheezus Tour", where a MADIface USB was used in conjunction with AD/DA converters from Ferrofish, and we've also spoken to the band Disclosure, who are taking advantage of the flexibility of MADI in their live setup. In Disclosure's case, not only are they using MADI as a concise way to route their sounds to the venue's front of house desk, they're also using MADI to send sounds to each other's laptops whilst performing!
Using the Fireface UFX+ for multi-channel location sound recording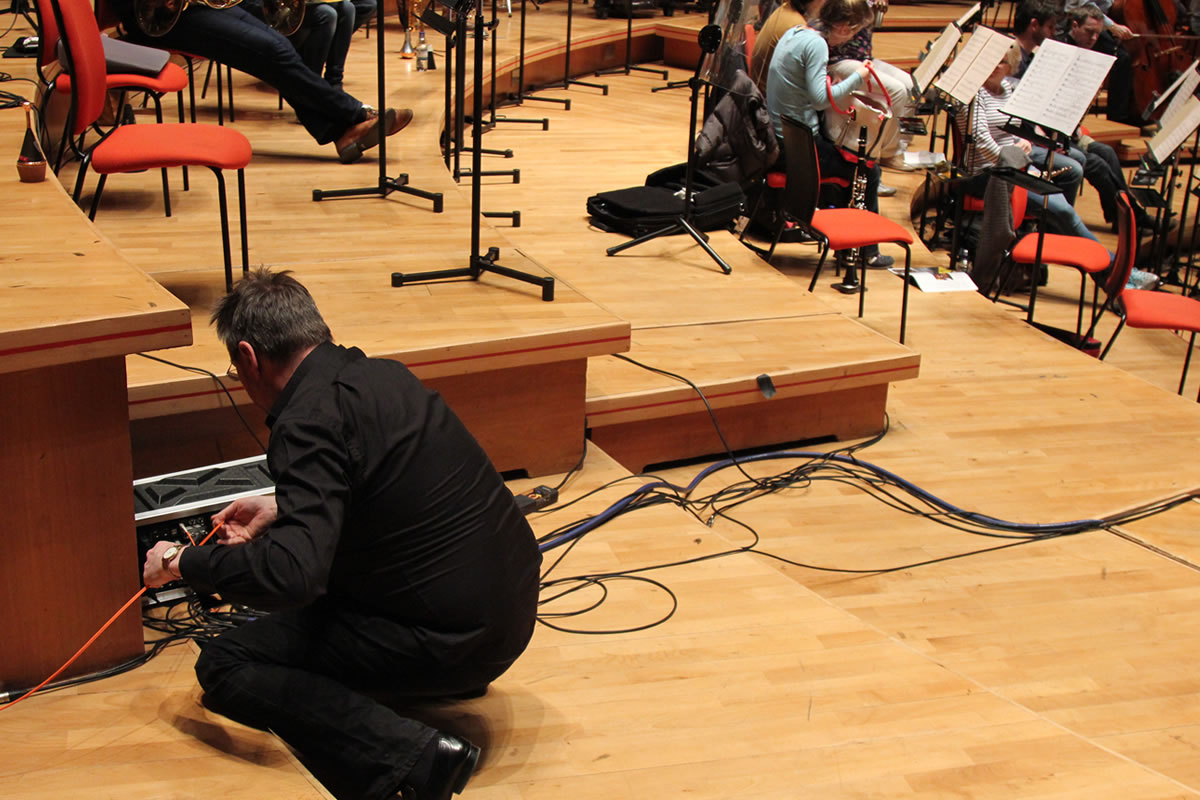 Location sound is another potential application that the UFX+ could certainly be useful for, particularly in regards to recording music.
Concert halls, churches and venues without a system, plus more unusual environments such as abandoned building – the natural acoustic properties of these kinds of spaces are regularly used for the unique character they impart on a recording. Armed only with a laptop, a UFX+ and a couple of Octamic XTCs for example, you'd have an incredibly powerful portable recording studio and playback solution at your disposal in only 3U of rack space. With the DURec function, you also have the option of recording direct to a hard drive, or using it as a failsafe. As mentioned above, the files recorded with the UFX+'s DURec can also be time-stamped – a useful addition for both editing and syncing to picture.
One example of someone who's regularly using MADI for recording on location is classical producer and engineer Phil Rowlands (pictured). We've previously spoken to Phil about how MADI has helped to streamline his workflow, for example in his work with the Hong Kong Philharmonic Orchestra.
The Fireface UFX+ for running an audio installation

Another use for the UFX+'s MADI I/O is for installations that require a high-channel count. Whether this be for recording or playback, the creative options here are endless. If you're someone who works in surround sound, the UFX+ has you covered for a 5.1 or 7.1 system out of the box. With the MADI I/O, you have a simple and concise method of transferring your audio from one location to another, recording or supplying audio for performance arts pieces, interactive media, or technologies such as 3D sound installations.
One example of this is the installation designed by engineer Marco Perry, who we previously spoke to about his work with the artist Bjork for an installation at the Museum of Modern Art in New York. For that project, Marco used MADI as part of his spatial audio rig that comprised of 43 speakers!
Broadcast and live TV possibilities with the Fireface UFX+

Unless you work in broadcast, this may not be a main consideration for you when choosing an audio interface. Still, it's worth noting that professional broadcasters are using MADI on a daily basis, such is the trust in its capabilities.
MADI has been used in broadcast for a long time, and the format has remained popular over the years thanks to its reliability, in an industry where reliability is of the utmost importance. The cabling is cheap, easy to test and replace. For OB trucks, where weight and simplicity are of vital importance, as well as the ability to feed audio in and out, MADI continues to be a format of choice. Running a huge number of analogue cabling into and out of patch bays is expensive, physically difficult to operate and maintain, and just far too cumbersome in comparison with the simplicity of a MADI cable.
"We can send MADI feeds to other OB trucks, which are increasingly using MADI. It's fundamentally important that it's reliable and that it doesn't change the signal in any way, and pretty much every signal goes through it as the whole truck is MADI-based – so very very important!"
Conrad Fletcher, broadcast engineer

Sporting events, live TV, festivals – all of these benefit massively from the MADI format. Depending on your needs this may not be something you're likely to be covering, but it's worth noting that professional broadcasters are using MADI on a daily basis, such is the trust in its capability as a format that won't cause you problems when you just need everything to work. The Fireface UFX+ also features 1x AES/EBU I/O, which is another format widely used in film and broadcast circles.
For an example of MADI use in broadcast, check out our article with outside broadcast specialist Conrad Fletcher (pictured above) who's OB truck the 'MixBus' is kitted out with several bits of RME MADI gear.

The RME Fireface UFX+: Transparent sound, flexible connections and compatibility

Hopefully this article has given you some ideas about the possibilities of the Fireface UFX+'s MADI connections. By basing your setup around the UFX+, you'll have an extremely powerful, flexible and versatile audio interface to provide you with years of high-quality recording. If your background is mainly studio (or live) and you fancy turning your hand to any number of alternate audio applications, the RME Fireface UFX+ will continue to provide you with options in this regard. With flexible routing, connectivity, monitoring and playback options, plus the ability to record directly to a thumb drive – the UFX+ really is the most comprehensive RME audio interface to date, and gives you plenty of scope to add more equipment to your setup as your needs grow.
If you'd like to know more about the RME Fireface UFX+, give us a call on 01727 821 870 to speak to one of our team or to arrange a demo, or order yours today here.
Find out more about the RME Fireface UFX+
Find out more about the RME ARC USB