Laurie Jenkins, playback tech for Kasabian, speaks to us about using RME hardware for the band's playback and keyboard rig.

Laurie Jenkins is a seasoned session musician and playback tech who's worked with a host of well-known rock and pop bands. For the last 9 years he's been working and touring with Kasabian, performing various backline duties including programming, drum and keyboard tech, playback tech and systems design.
Laurie is also a musician himself, playing in bands such as Mint Royale and Candyflip, and depping for the likes of Röyksopp and Muse. His company Playback Systems, which he runs with fellow tech Paul Eastman, specialises in the creation of custom playback rigs (as well as having several rigs available for hire too), and between them they've worked with the likes of Depeche Mode, Doves, The 1975, The Who, Blossoms and many others.
Synthax UK caught up with Laurie at Quad Studios in Leceister to find out more about the role RME is playing in the Kasabian rig, whose current tour includes dates across the UK, Europe and North America, and to learn more about Playback Systems, which also regularly features RME hardware as part of their live solutions.
Playback Systems

"Playback Systems is me and my friend Paul Eastman. We build and design playback and keyboard systems, and also rent them out to people if they need them. We've got 4 systems at the moment which we rent out, and they come pre-loaded and pre-programmed, and if they need someone to run it we can help with that too. There's a little network of us playback chappies and we're all very friendly, so if you need some cover you can get some, but most bands sort that out themselves. And we build custom systems too of course. Loads of custom stuff, quite a few really, which are primarily built for individual bands. We take an idea and make it work."
Laurie then went on to tell us a bit about On Stage, the purpose-built software that Playback Systems uses for their rigs. "Paul's a bit of a genius bod with that. He came up with the idea. We say 'this is what we need to do, can you do it?' And he makes it work. It bypasses the Pro Tools buffers and it has an auto-load. Once you've got your gig sorted, my main aim is that I'll hit the intro and it'll auto-load to the next. Ian Matthews (drummer for Kasabian) has a button so he can start it, so theoretically I can go and make a cup of coffee. No, not at all!" (laughs)
"The point is though, everything is ready at the right moment and it can just be triggered to go. I mean its 0.3 of a second to load a session, so it's quick! There are sometimes some operator errors – people might get a bit trigger happy – and once you've got video on timecode… If that happens I'll hit stop, and it automatically goes back to that point."
Kasabian keyboard and playback rig

For the Kasabian rig, Laurie needed something that could provide high quality sonics whilst also withstanding the rigours of life on the road. "Half of it's for playback, and then the other half is all keyboard based. It's a complicated keyboard rig, with 5 controllers on stage, and then three analogue synths, plus a bunch of pedals. It all runs off of Macbook Pros. Each Macbook is going into an RME MADIface USB, which is connected to an RME M-16 DA doing the outs."
"We have various versions of the same thing, as we have A, B and C rigs, so then I only have to take the four laptops. It's all fully redundant, with both the keyboard and the playback rigs fully redundant. With this particular gig we have 68 inputs onstage, and the band like the way it all sounds. We don't actually run that many outputs – left and right pretty much and then clicks, that's it."
RME M-16 DA – 16 channel DA converter with ADAT & MADI

As Laurie explains, Kasabian's keyboards and synths are fed into the MacBook Pro, which then outputs over MADI via an RME MADIface USB, which in turn feeds into an RME M-16 DA. Part of RME's high-end M-Series of AD and DA converters, the M-16 DA's features include ADAT I/O and both MADI optical and coax connectivity, which can be used simultaneously for automatic switching in case of a failure. There's also MIDI I/O, which allows the M-16s to be controlled remotely over MIDI (as well as via RME's MIDI over MADI feature). For setups using multiple M-16s, each unit can be given a unique ID, allowing for separate control of each device via a single MIDI channel.
RME has a well-earned reputation for equipment that's both super-reliable and rock-solid in performance, and as such the RME M-Series are perfect for live setups. "I like the M-16 DA's a lot," Laurie told us. "And I like the RME drivers, they're very very stable, which is always a plus when you're banking your house on it! Yeah they're very nice, and they sound good, which is the other thing. We A/B'd quite a lot of stuff, and for strings especially they sound very good. We noticed as soon as we played this setup, compared to what we were using before, it sounded much sweeter. Three people in the band turned round and went 'this sounds really good!'"
"Three people in the band turned round
and went 'this sounds really good!'"

RME Fireface UC

Laurie also told us that RME have been a go-to for several of their hire rigs, and for setups they've specced for other bands as well. "Yep we have Fireface UCs, and we've been looking at the Ferrofish A32 as well – trying to come up with a really small system for lots of outputs. Blossoms have UCs on the keyboards, and The 1975s have UCs too. And Zak Starkey. He's got one on his own project, so it's just a small playback rig for him, for some shows he's doing out in Austin, Texas."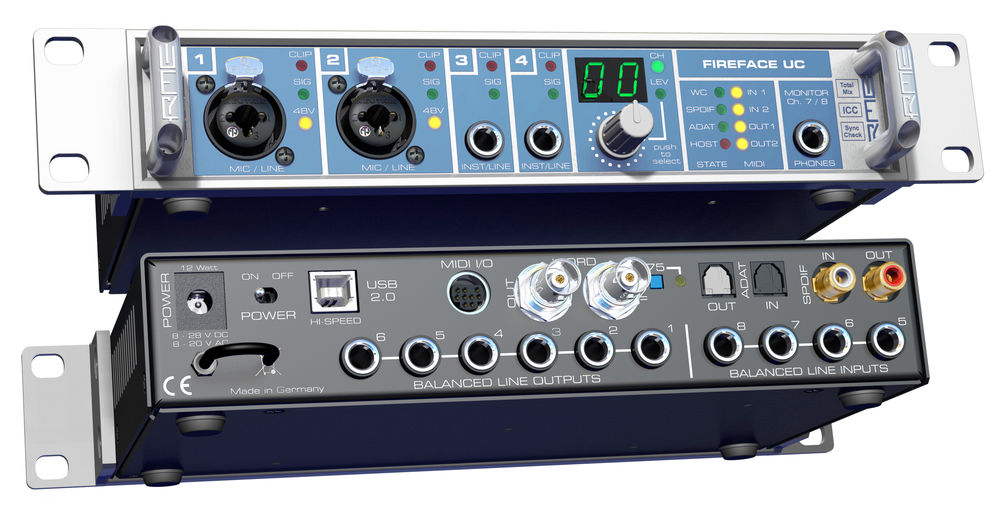 The RME Fireface UC audio interface
Our thanks to Laurie Jenkins. If you'd like help in designing your playback rig, visit the Playback Systems homepage here.
For the latest news, releases and tour dates from Kasabian, visit the band's official website here.
Find out more about the RME MADIface USB
Find out more about the RME M-16 DA
Find out more about the RME Fireface UC
---
If you'd like to know more about RME's pro audio solutions, give us a call on 01727 821 870 to speak to one of our team or to arrange a demo.
You can also contact us here.