MTV Sound Recordist and Supervisor Pete Cowasji discusses his mobile recording setup for TV shows Geordie Shore and Single AF, which includes a selection of pro audio gear from RME and Ferrofish.

Pete Cowasji is a professional Sound Recordist and Sound Supervisor from the UK. His production credits include a variety of well-known British TV programmes such as Top Gear, The Gadget Show, Rude Tube, Dirty Sanchez and Geordie Shore. A long-time RME user, he recently contacted us about fulfilling an audio brief for his latest project, MTV's Single AF.
Pete's requirement was one of the more unusual specifications we've had at Synthax Audio UK, with a need for 64 channels of audio to be passed through to various members of the production team for monitoring. Each individual could potentially be in any number of different areas around the filming location, so the solution needed to be light and compact, simple to operate, and of course feature excellent sound quality. In order to fulfil the brief, we suggested Pete take a look at the RME MADIface Pro, RME's 68 in, 68 out desktop audio interface.
With every member of the team equipped with their own MADIface Pro, plus an iPad running RME's TotalMix, each individual has complete control over their monitor mix. Having used the system for several months now, Synthax caught up with Pete to find out why he regularly chooses RME for location recording, and why he favours using MADI for high-channel counts.
"I started off working on lifestyle shows and travel shows, BBC Holiday for example, Lonely Planet, stuff like that," Pete tells us. "I then kind of veered towards what you might call 'trashier' shows. I did a lot of Dirty Sanchez, and then started working on lots of reality TV shows, where I became more of a Sound Supervisor than a Sound Recordist. Geordie Shore, Ex On The Beach, Just Tattoo Of Us and Single AF, which is what I primarily bought the RME equipment for. I'm also using RME on Geordie Shore and Just The Two Of Us, plus a new documentary about gender-fluidity for Channel 4. For these projects, the dialogue and conversations I'm looking to capture could be anywhere in the house and at any time, so I use a combination of radio and fixed mics, depending on the time of day. And it's all ready to go, anytime."
Using an RME MADIface Pro and TotalMix FX on an iPad

Due to the nature of location recording, Pete was on the lookout for something with a small form factor. "That's where the MADIface Pro really came in handy, for the monitoring side of things. I've got up to 20 radio mics, and up to about 40 fixed-rig mics, dotted around in corners of rooms and the like, going into an RME OctaMic XTC, which runs down MADI cables into an RME MADI Router, which is then supplying sound to a Sound Devices 970 recorder. So that's all our isolated sound."
"For monitoring we have a Soundcraft Expression, the 32-channel MADI desk. After that what we need to deliver sound directly to story producers, loggers, all different types of people who need to have access to all 64 tracks, which we would find difficult to give them individually as they're all working in different rooms, different locations, different parts of the house. So we came up with the MADIface Pro design – everyone's got an iPad, everyone's got a Pro Tools mixing desk, and the MADIface Pros are then daisy-chained to one another but removing the outputs using TotalMix. So then everyone's got their own individual control over their own mix, but with the outputs missing, so nobody can accidentally mess with what's being fed to the next person."
TotalMix is RME's comprehensive routing and mixing software that's included with all RME audio interfaces, along with RME's set of analysis tools DIGICheck. TotalMix essentially turns each audio interface into a full-blown mixing desk, complete with a 3-Band EQ plus Reverb and Delay on every channel, and unlimited routing functionality. Different sub-groups can be set up very quickly, providing individuals with their own personalised mixes, and can even be used with an iPad via the TotalMix app.
"With TotalMix I found that I got used to it incredibly quickly, it's really good. It has so many useful features built-in, things like talkback. I worked with a company that needed something similar, and they were using another manufacturer's personal monitoring system at the time. Once they'd had a look at mine, they looked back at their own setup and said 'that is a much better solution!'"
"One of the things that I was originally worried about is that you're giving runners and loggers, young guys, access to 64 tracks of audio, and that can be quite scary! But actually, by giving them an iPad to work with, they were totally comfortable from the start, they weren't fazed at all. And even if, say they accidentally tapped a tool bar, they instinctively knew how to get rid of it. It was great to see how instinctively they knew how to use the system, because they've grown up using tablets."
"None of the guys using it are necessarily technical audio guys either. We had one person by the mixing desk, two guys behind as Loggers, and then it was going about 150m to the production office, where the Exec Producer and the Story Producer could both listen as well. So all we did was daisy-chain them, but the beauty of MADI is that you have this incredible distance you can reliably transfer audio over."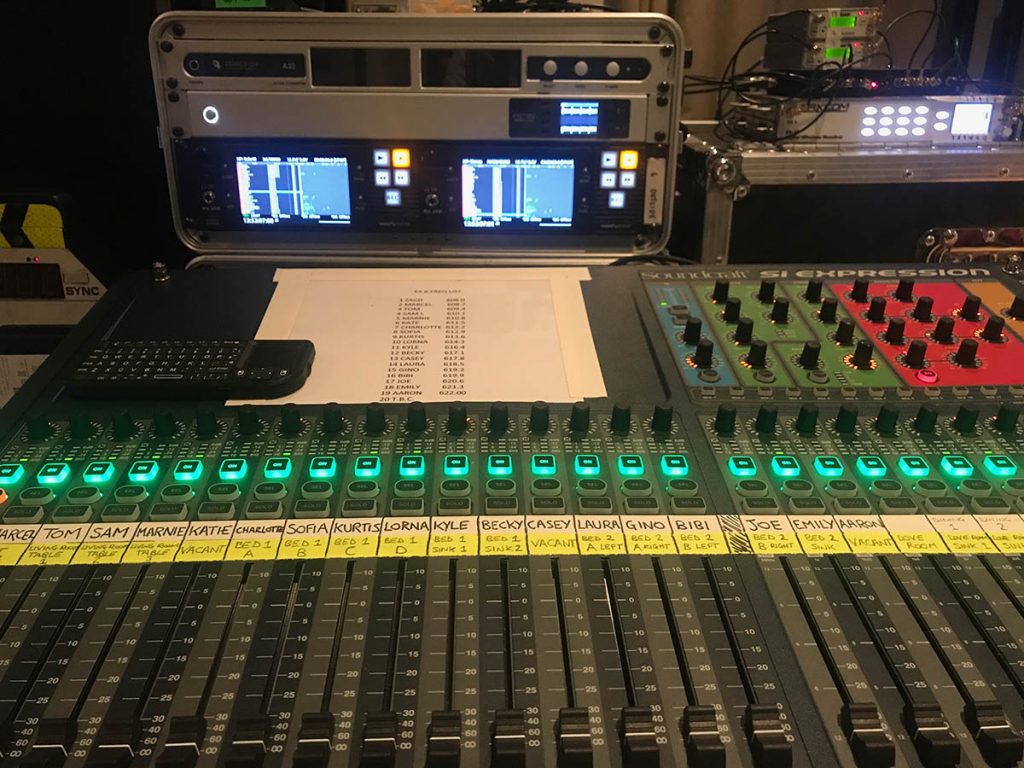 Pete's setup also includes the RME MADI Router
and the Ferrofish A32 AD/DA Converter.
"I'd been in contact with you guys at Synthax Audio UK before for a couple of technical questions. I actually called RME (in Germany) first for this setup, and they said 'you should speak to Synthax UK, they know everything about our products'. The production team actually love the solution so much that the first thing they said was 'how did you find this setup?' And of course I said 'I invented it…' No, seriously though I told them I'd had a chat with you guys at Synthax and you'd come up with this solution in response to my questions."
"I called you guys, and then you guys called me back about an hour later and said 'we've got a solution for you'. Then you explained it to me, and I think I pretty much committed on the spot because I remember thinking 'I've cracked it'. I mean it's a complicated solution to give, not just 5 different sources, but 5 different sources in different areas. As far I'm aware, it's the first time anything like this has been used in TV. It's the first time you've got 5 different people who need to monitor the same MADI stream, and no ones got a computer."
What is MADI?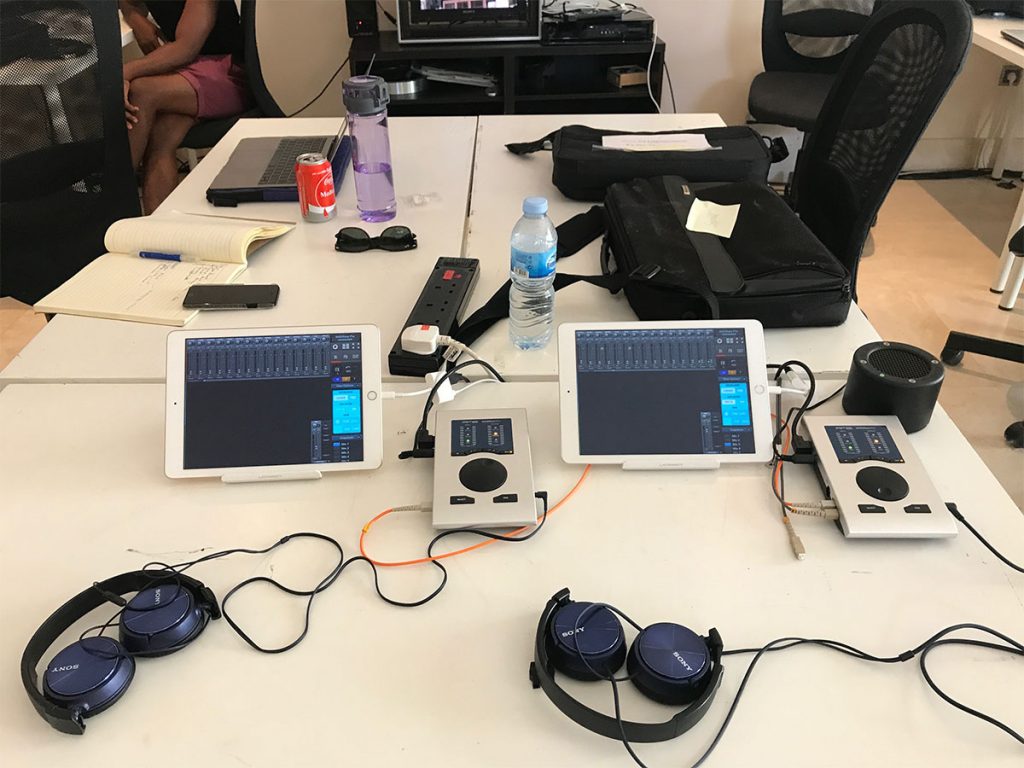 MADI is a purpose-built digital audio format that allows for the transfer of up to 64 channels of audio via a single cable each way. The connection is made over coaxial cabling terminating in BNC connection, or via optical fibre. The range of the MADI transmission over coax is up to 100m, whereas with optical fibre, you can transfer over distances up to 2km! This occurs with no deterioration in sound quality, and with minimal latency. MADI is also unaffected by interference, so you don't need to worry about power supplies or cables causing problems with your signal. The cabling itself is also far cheaper than traditional analogue multicore cabling, not to mention incredibly light-weight by comparison.
"I find myself use MADI now over copper wire as a preference, even over short distances. First of all because if you're lugging stuff abroad it's so much lighter. Secondly, we've often very little time to address particular issues – we're crossing lighting, we're crossing cameras, we're crossing power – and with MADI there's no interference from any of the other equipment! That's the other beauty of MADI. The guys I work with all love it – it's also much thinner, so it's easier to hide out of the way and out of shot, behind corners or sofas or anything like that, and of course it weighs so much less than analogue cabling. Plus if I'm using a duplex cable, if I ever get a problem with the cable, as I'm only recording inputs I can just swap it round and use the other side."


Pete Cowasji on RME

"When I first started using RME I was using the RME OctaMic II preamp, and also the RME QuadMic before that. That was great for in-car setups. I used to work on Top Gear and we used to use the QuadMic for that, with the battery-power option. That was amazing, just a really solid bit of kit."
"So after that I moved on to the OctaMic II, and what was brilliant about that was that first of all it sounds a lot better than most of the competitors' offerings, and then secondly it was really, really simple to use. I like stuff that I can operate from the front, and that's what's great about RME, you don't need a computer to operate it – the buttons are all just there in front of you on the front panel. I always operate from the front, it's just the way I've always worked. I've kind of mastered it from the front, rather than a central position."
"What I love about RME is the simplicity of it. It's easy and instinctive to use, and to me it looks good as well! The internal clocks are brilliant too, they're really really reliable. After it's all set you never feel like you might have problems with jitter – once it's set it's really reliable. I've had problems with other manufacturer's equipment in the past, where we've had a power cut and all the settings have changed. Then when it comes back on, you have to plug in a laptop and set everything up again. I might be at home and get a call, and then I have to come in and go through everything again, and then just hope we don't get another power cut! That's never been a problem with RME, especially as a lot of RME's gear is designed to work standalone too. Whatever I go for, I always look at RME products first, because they've just always been so reliable in the past."
Our thanks to Pete Cowasji. You can catch the first episode of Single AF on MTV at 10pm, Tuesday 24th October.
Find out more about the RME MADIface Pro audio interface
Find out more about the RME OctaMic II preamp
Find out more about the RME OctaMic XTC preamp
Find out more about the Ferrofish A32 AD/DA Converter
---
If you'd like to know more about any of the RME pro audio solutions mentioned in this article, give us a call on 01727 821 870 to speak to one of our team or to arrange a demo.
You can also contact us here.