The RME Fireface UFX+ receives a review from music production magazine FutureMusic / Music Radar and picks up the 'Platinum Award'.
The Fireface UFX+ is RME's flagship audio interface, a 188-channel powerhouse with crystal clear sound quality, comprehensive routing and mixing with TotalMix FX, Thunderbolt and USB 3.0 connections, equal performance on both Mac and Windows, and unique features like standalone hard disk recording (DURec).
The latest review comes from FutureMusic magazine / MusicRadar, who also took a look at the optional RME ARC USB (Advanced Remote Control). Having spent some time with both devices, reviewer Stuart Bruce comments that "the UFX+ allows you massive flexibility in recording and monitoring multiple digital and analogue sources, all within one single U box." Stuart was also equally impressed with the ARC USB, describing it as "a solid, well-built little unit and is a very worthwhile addition to any RME-based studio setup, as it's backwards compatible with all interfaces using TotalMix."
"The Mic and Line Amps and DI inputs sound excellent,
crisp and clean with great depth of field and clarity."
To cap off another solid review for the Fireface UFX+, FutureMusic also chose to award the interface their 'Platinum Award'. This adds to the growing number of positive reviews and awards from other well known publications, including Sound On Sound, who described the UFX+ as "exemplifying all of the qualities we've come to expect from the German manufacturer", as well as MusicTech Magazine, who gave the UFX+ a score of 10 out of 10 and included it in their Gear Of The Year Awards at the tail end of last year.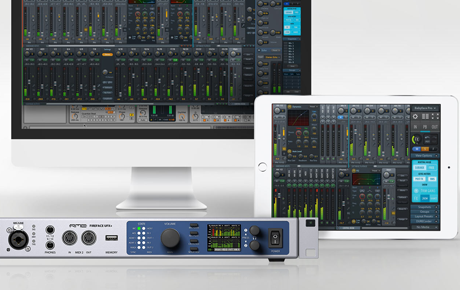 Wireless remote control with TotalMix Remote
One of the standout features of all RME audio interfaces and PCI/PCIe soundcards is the inclusion of TotalMix FX. TotalMix FX provides a real-time mixing interface for control over all incoming and outgoing audio signals on RME devices, along with EQ and Dynamics on every channel, plus Echo and Reverb sends.

What's more, RME also released TotalMix Remote earlier this year, an additional control software which enables RME users to control their audio interface over any network (and free to all RME users). This means that the Fireface UFX+ can now be controlled wirelessly with the dedicated TotalMix FX app for iPad over WiFi, for mixing from another room in a studio, or for sound-checking from any position in a venue. This is true for any RME device that supports TotalMix, including devices dating all the way back to 2001! TotalMix Remote can be downloaded from the RME website here.
"Multiple analogue and digital sources
in one incredibly flexible, high-quality device"

Read the full FutureMusic review on MusicRadar here
Find out more about the RME Fireface UFX+
Find out more about the RME ARC USB (Advanced Remote Control)
---

If you'd like to know more about any of the RME pro audio solutions mentioned in this article, give us a call on 01727 821 870 to speak to one of our team or to arrange a demo.
You can also contact us here.