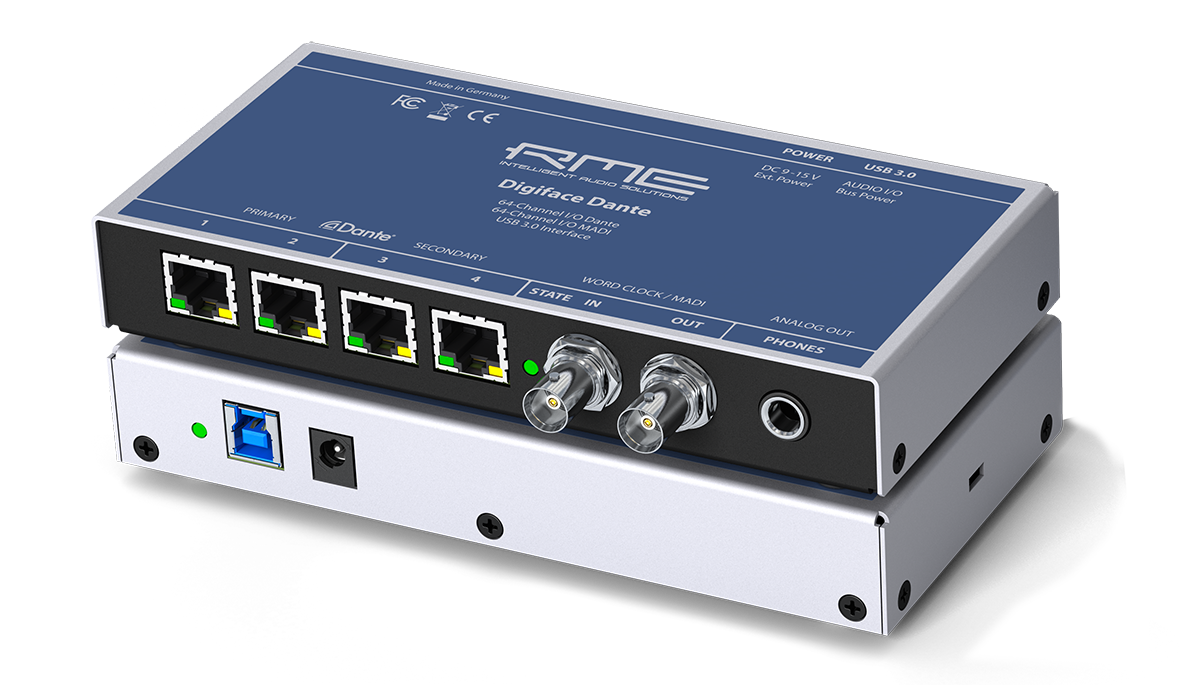 Audinate's Dante protocol combines with the industry-renowned reliability of RME devices
The RME Digiface Dante is RME's latest audio interface and mobile format converter, a hassle-free, cost-effective Dante and MADI interface for use in modern audio networking, live, recording studios, broadcast and audio installations.
With a total of 256 channels over USB 3.0 (plus 1 x stereo headphone output), the Digiface Dante supports both Mac and Windows, enabling users of both platforms to connect to any existing Dante network. Using RME's award-winning USB driver technology, the Digiface Dante achieves incredibly low-latency and very high-channel recording and playback simultaneously.
Like all recent RME interfaces, the Digiface Dante also includes RME's TotalMix FX software, providing you with full control over all incoming and outgoing audio channels. Summing, routing and mixing can all be managed via TotalMix FX, with highly accurate metering for all audio on the network. It's like having an enhanced Dante Controller with the addition of metering and faders, which can be operated via Mac, PC or even wirelessly on a tablet (when used with RME's TotalMix Remote software).
With the on-board headphone output, you can also monitor any channel, or even plug in a set of wireless IEMs and monitor from anywhere within the venue (especially when used alongside TotalMix Remote!).

The RME Digiface Dante also has an optional power supply, for using the interface in standalone mode. This means you can set up all your routings in TotalMix FX ahead of time, and simply insert the interface into the system to act as a digital mixer when needed.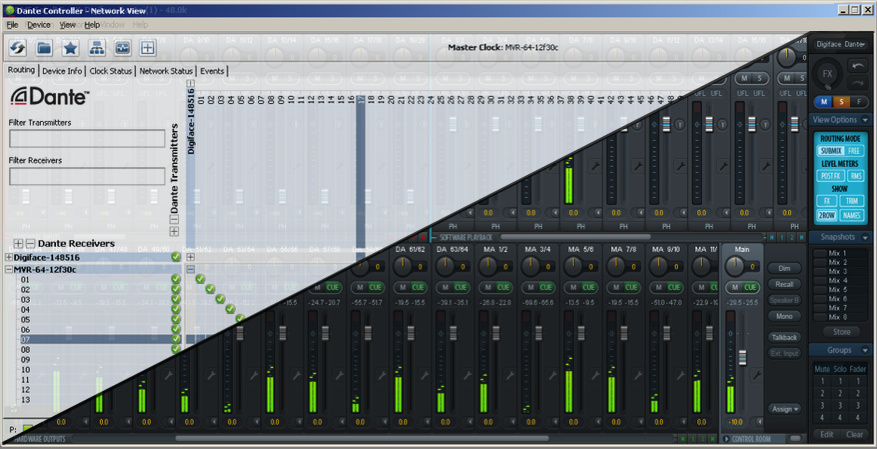 Audio networking flexibility with RME reliability
With the Digiface Dante, RME have created a Dante device that offers you complete piece of mind, featuring the rock-solid reliability that has made the company so popular with professional engineers, musicians and production companies, along with in scientific applications and education.

RME has always remained flexible in regards to connectivity and format options, producing agnostic devices that support a range of operating systems and audio protocols. At the same time, the company only release a new product when they are completely confident in its capabilities.
Masters of MADI
Along with the 64 channels of Dante I/O, the Digiface Dante can also transmit 64 channels of MADI each way (via coaxial on BNC connectors). This allows for the easy creation of hybrid setups, or merging existing MADI or Dante-based setups with one another. For example, if you want to connect your MADI-equipped desk to a selection of Dante-equipped outboard, the Digiface Dante provides a simple and reliable method of doing so.
There are currently a wide variety of audio networking formats available, with different manufacturers opting for different methods of delivering networked audio. As a company, one of RME's strengths has always been the ability to communicate with other manufacturer's equipment, and frequently where others cannot. As such, RME devices are often employed as a bridge between equipment from different manufacturers, and the Digiface Dante will no doubt continue this trend as the de facto option for combining equipment from various manufacturers, or for adding further connection flexibility to an existing setup.

TotalMix Remote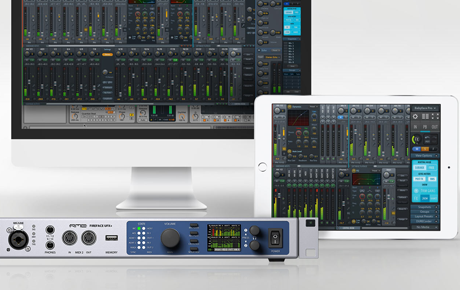 New to 2018, TotalMix Remote allows for the control of all RME audio interfaces (that use TotalMix FX) over a WiFi network. Whether you're looking to control your interface wirelessly from another computer, or a Windows or iOS tablet; provide musicians with the ability to control their own individual monitor mixes; or simply need a separate display for metering all inputs, outputs and software playback channels, TotalMix Remote opens up a world of new possibilities.
What's more, this new network capability can be used with any RME audio interface or soundcard that's compatible with TotalMix FX, including devices dating all the way back to 2001!
TotalMix Remote is available as a free download to all RME interface owners, with support for Windows and Mac OS computers, and Windows and iOS tablets.
Click here to read our Quick Start Guide and Download TotalMix Remote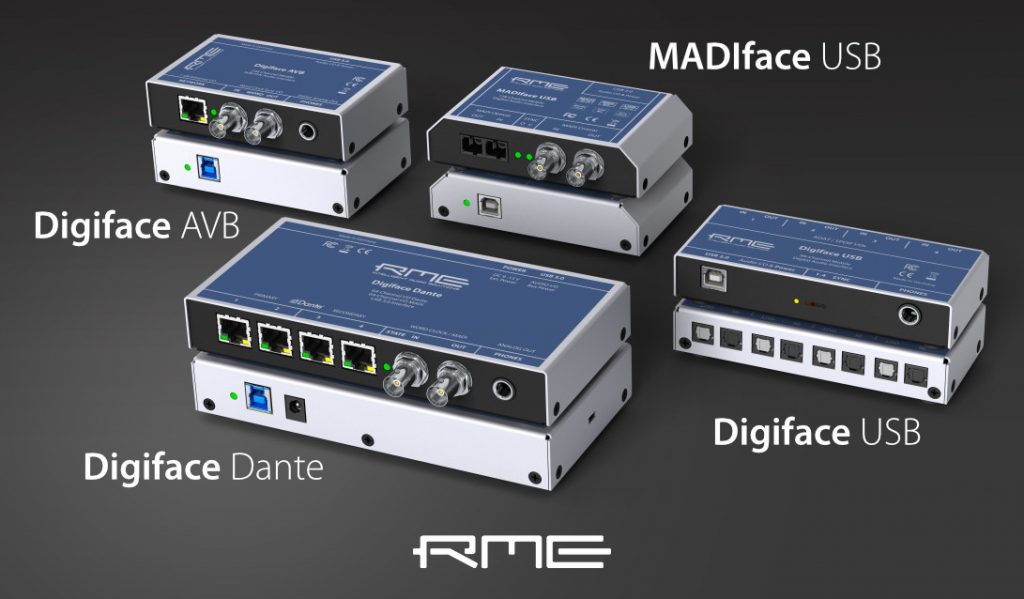 RME Digiface and MADIface Series
The Digiface Dante is part of a growing series of mobile format converters from RME, designed to provide simple, low-fuss and extremely reliable methods of transmitting and converting digital audio. The Digiface and MADIface Series now covers a range of formats that stretches to ADAT, MADI, Dante (with support for AES67) and AVB, offering a variety of options for flexibility with the growing trend towards audio networking.
What's more, RME also recently added the M-32 Pro AD and M-32 Pro DA to the line-up – two brand new, multi-channel A/D and D/A converters featuring both MADI and AVB. And take it from us – these are some of the best sounding converters to date!
Find out more about the RME Digiface Dante