University of Surrey upgrades its TV and Film studio with the Calrec Brio
The University of Surrey is well known throughout the audio industry for its Tonmeister course, a specialist and highly regarded audio engineering degree that has produced countless graduates over the years, and kickstarted the careers of many successful audio professionals.
The university recently expanded their range of programmes to include courses in Film and Video Production, offering undergraduates the opportunity to learn a variety of skills beneficial for a career in film and broadcast. In keeping with the high standards set by the other courses on offer, the campus facilities include a multi-camera TV studio (located on the main Stag Hill campus), equipped with industry-standard technology for producing audio and video.
It was for this reason that the department looked to the Calrec Brio 36 as a replacement for their previous audio console. With the Brio forming the new centre-piece of their audio rig, students can now train on a class-leading, broadcast-specific console used by a large number of production companies worldwide.
The university's Television Studio Manager, Andy Attwell, explains. "To support the introduction of this new programme, we took the opportunity to give the television studio a major infrastructure upgrade, including cameras, a vision mixer, signal routing, audio, IT networks and fibre optic connectivity to the wider campus. The previous sound desk couldn't keep pace, and we needed something which provided increased flexibility and capacity. The Brio met all our requirements."
"we needed something which provided increased flexibility and capacity.
The Brio met all our requirements."
Professor Tony Myatt, Head of the Department of Music and Media, also felt that speccing the Brio made for an easy decision, describing Calrec as "the obvious choice as industry leaders in the field," and highlighted the on-going level of support on offer as an additional attraction.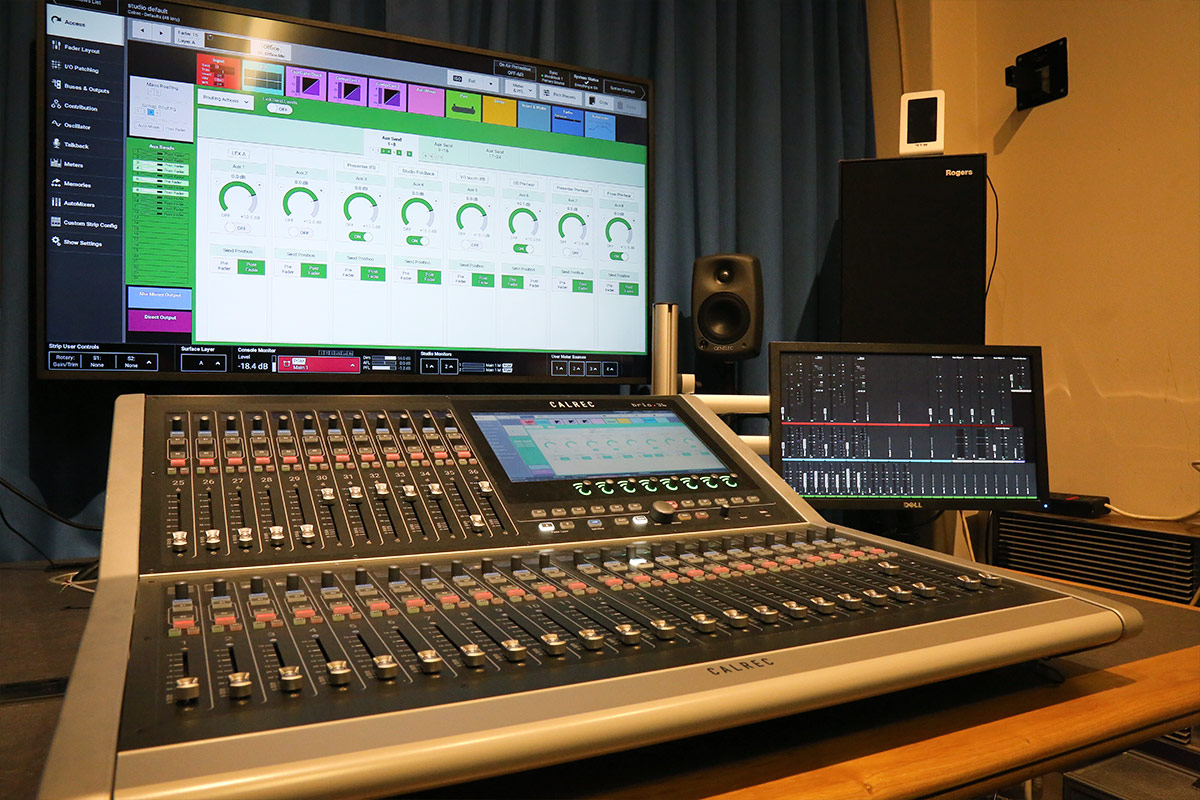 Flexible Audio Networking with the Calrec Brio
One of the university's requirements was for a broadcast desk with multiple options for AoIP. With audio networking becoming increasingly popular for both location and studio broadcasting, the Brio's many options for I/O expansion provides further technical and educational opportunities, and allows students to gain experience working with a variety of audio networking protocols.
With this in mind, the university chose to equip the Brio with optional MADI and Dante I/O cards, along with a Calrec Br.IO rack module. Housed in the university's adjacent TV studio, the Br.IO communicates with the Brio via Calrec's own proprietary Hydra 2 network, which allows for interfacing between multiple Calrec consoles and hardware, and which the university is using for RTS talkback and Comms.
Programme Director of the Film and Video Production Technology course, Alan Haigh, describes the need for a network capable system with flexible routing options. "The Brio fits perfectly within our needs; it's designed very well both in usability and audio engineering terms. Having the external I/O box allows our students to see the Hydra2 network in action and set up their own routing and clean feeds. This takes them into the professional world and clearly illustrates the teaching we do in signal flow, processing and routing. We also love the labelling on the aux send meters, the configurable layout, and the large number of faders."
Calrec Brio distributed by Synthax Audio UK
As the exclusive UK distributor for the Calrec Brio 36 and Brio 12, the University of Surrey's console was supplied by us here at Synthax Audio UK. Synthax UK's Managing Director, Martin Warr, commented on the importance of students obtaining practical experience with industry-standard equipment. "As is widely known, there's a real need to encourage students into the broadcast world in the widest sense," Martin explains. "The University of Surrey is known for its audio degree, and we're delighted that Calrec's Brio is preparing its students for real-world experience and careers in broadcast audio engineering. We think it's this type of versatility, coupled with a budget-friendly price point, that gives Brio an edge in what's a very competitive market."
If you'd like to know more about the courses and facilities offered at the University of Surrey, visit www.surrey.ac.uk
Find out more about the Calrec Brio 36 by visiting the Overview Page.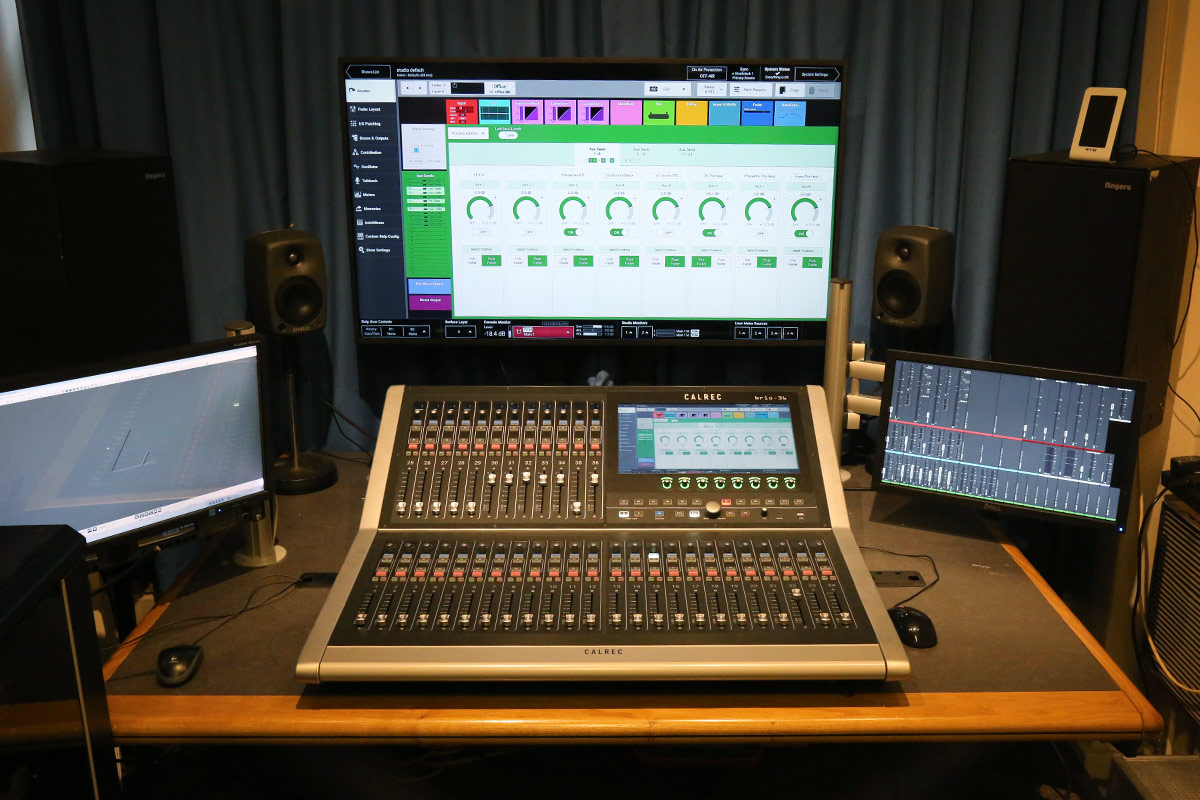 Calrec Brio – Yamaha Trade-In Deal (ends 31st March 2019)
Calrec is also currently running a trade-in deal for Yamaha desk owners. If you're the current owner of a Yamaha console and would like to upgrade to a desk with a comprehensive, broadcast-focussed feature set and options for expandability, feel free to contact us for details and pricing.
Offer ends 31st March 2019.

Find out more about the Calrec Brio 36 by visiting the Overview Page.
---

If you'd like to know more about the Calrec Brio and Hydra2 network, or would like to arrange a practical demonstration, give us a call on 01727 821 870 to speak to one of our team.
You can also contact us here.