Recording the London Children's Ballet with RME, Ferrofish and Lauten Audio
Kevin Porée is a London-based producer and recording engineer with over thirty years of experience in the music industry. Best known for his work with artists like Paul Young and Brian Mcfadden, and for running the Berry Street Studio (Elton John, Freddie Mercury, Barry White, Radiohead), he also records and produces cast albums and music for the theatre, with clients including the National Theatre, The Arts Council, The BBC, Universal Music, Atlantic Records, Sony BMG and Nokia.
In this article, Kevin discusses his approach the recording project he took for the London Children's Ballet at The Peacock Theatre last April – who performed a stage adaptation of Oscar Wilde's The Canterville Ghost – working alongside outside broadcast and video production company Advision TV to produce a video of the show.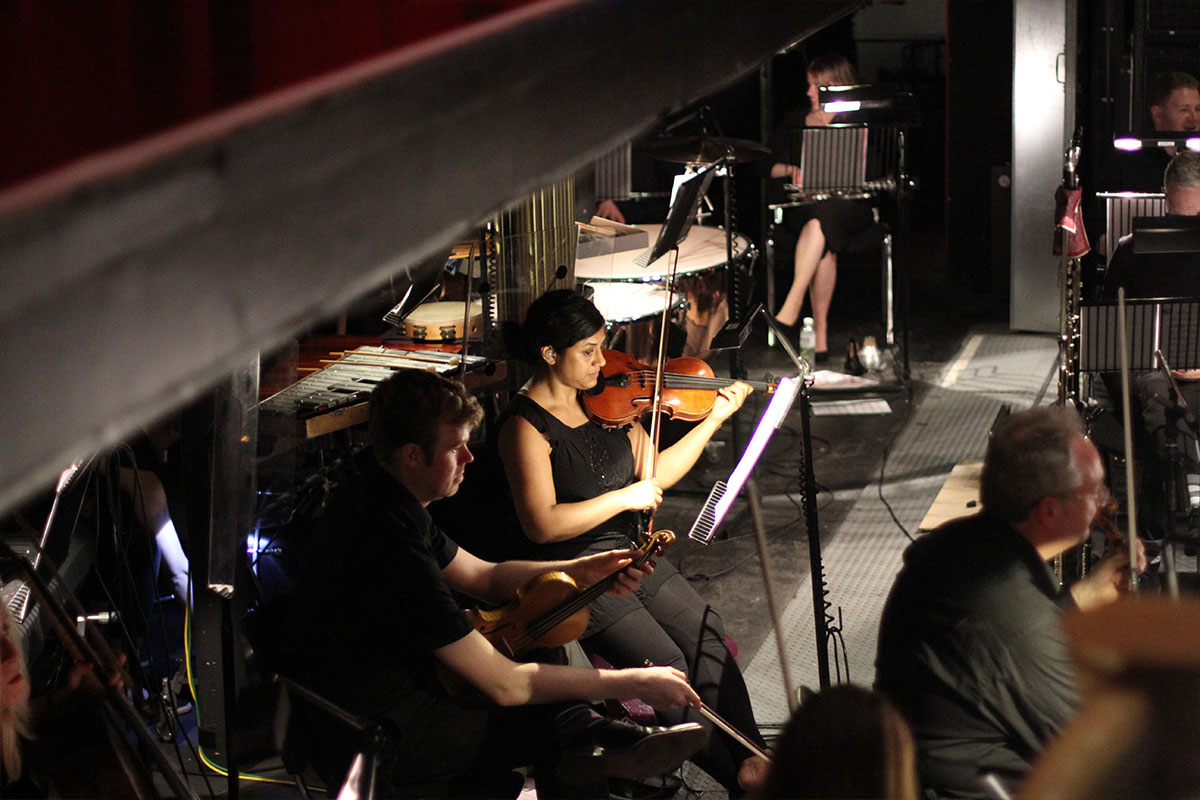 Recording with RME, Ferrofish & Lauten at the Peacock Theatre
"The recording was made on the 21st April at the Peacock Theatre, London. The Peacock is Sadler's Wells's 'other' theatre. Because of the size and construction of the stage, it's suited to dance and ballet, and is the West End's premier dance theatre."
"Advision TV were to film the London Children's Ballet 2018 production, The Canterville Ghost. The annual London Children's Ballet production at the Peacock is a prestige production, involving a large cast of dancers, an orchestra, and production team. Matt from Advision had asked me to take care of the audio."
"This started with a site visit a few weeks before the show. It was immediately evident that, unlike many London theatres, the Peacock hadn't had any investment in sound for a few decades. The orchestra pit was very wide, very shallow, and cramped. There were no tie-lines in the pit – there were about a dozen in a storage area behind the pit, but nobody was very sure how reliable they were, and they didn't terminate anywhere remotely useful to me. There was no MADI. There was a single network port, though, behind the conductor's platform. Again, nobody could assure me that it was actually connected anywhere, but apparently "it should be"…"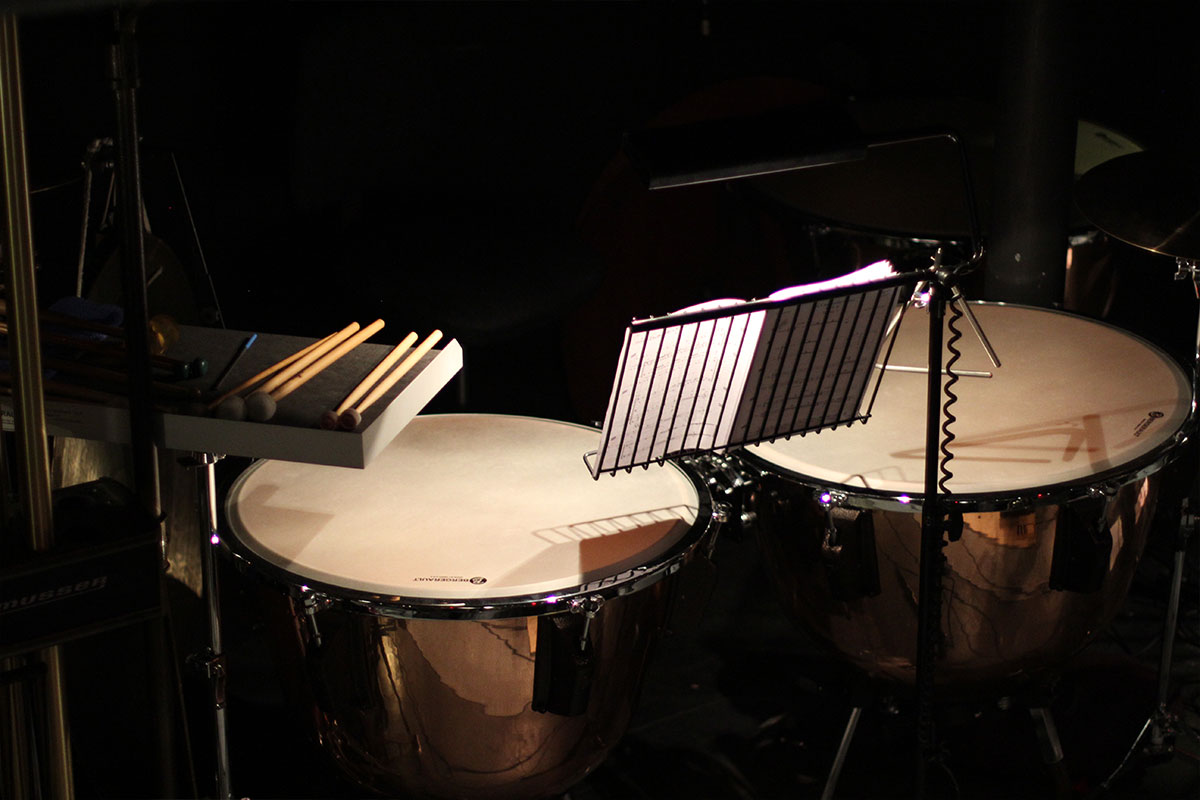 "A short digression. Many years ago, I recorded a one-night West End gala for a very good client of mine at the Cambridge Theatre. It had involved a whopping 120-something tracks of audio. I'd been sent two MADI feeds from the FOH, which I recorded via two RME ADI-648s to six standalone 24-track recorders. There was no real way of monitoring the whole thing, so I recorded the dress-rehearsal in the afternoon, checked it back (it was perfect), and then recorded the actual show in the evening."
"It wasn't until I'd transferred the files to my computer the following day that I found out that, between the dress-rehearsal and the performance, the clown on FOH had altered what he sent me so that my second bank of 24 channels were a mirror of my first, and instead of channels 25-48 being guitars and strings, I had the same 24 channels of drums and percussion that I had on 1-24. Remember that this was a one-off gala performance which involved about forty musicians, forty stage performers, and one of the biggest theatres in the country, with over sixty staff and crew – there was no option of going back in and recording another performance."
"Having to call my client and tell him what had happened was the worst moment of my professional life, and one which is tattooed into my psyche. I was left with the painstaking work of editing in instruments from the dress-rehearsal (none of it played to click), and of overdubbing/filling in – largely at my expense. Consequently I've never taken anything for granted when recording on location."
"Back to the current task. These jobs are all about the planning, and speccing the right gear. In this case I couldn't rely on anything in the theatre: I'd have to be completely self-contained. I'd need equipment that was simple, quick to set up and, above all, reliable. Ideally, I'd want some redundancy, too. The downside of all of this was the budget. I had to think long and hard as to whether the job was worth doing, given that I'd need to hire in some gear, and also buy some bits and pieces. I'd need to pay a colleague on the day, and there would be a few days of editing/mixing afterwards. If I could borrow some gear instead of hiring it, the budget would just about fit."
"Synthax didn't owe me any favours, to be sure, but I asked anyway, and was very generously loaned three pairs of Lauten 120s microphones and a Ferrofish A32 Dante A/D and D/A converter. I hadn't used the 120s before, but am a very happy Lauten user, having a Lauten Atlantis and an Eden LT-386. Having only heard demos, though, I was taking a lot on trust with the 120s: they would be the sound of this recording, and I'd never had any first-hand experience of them."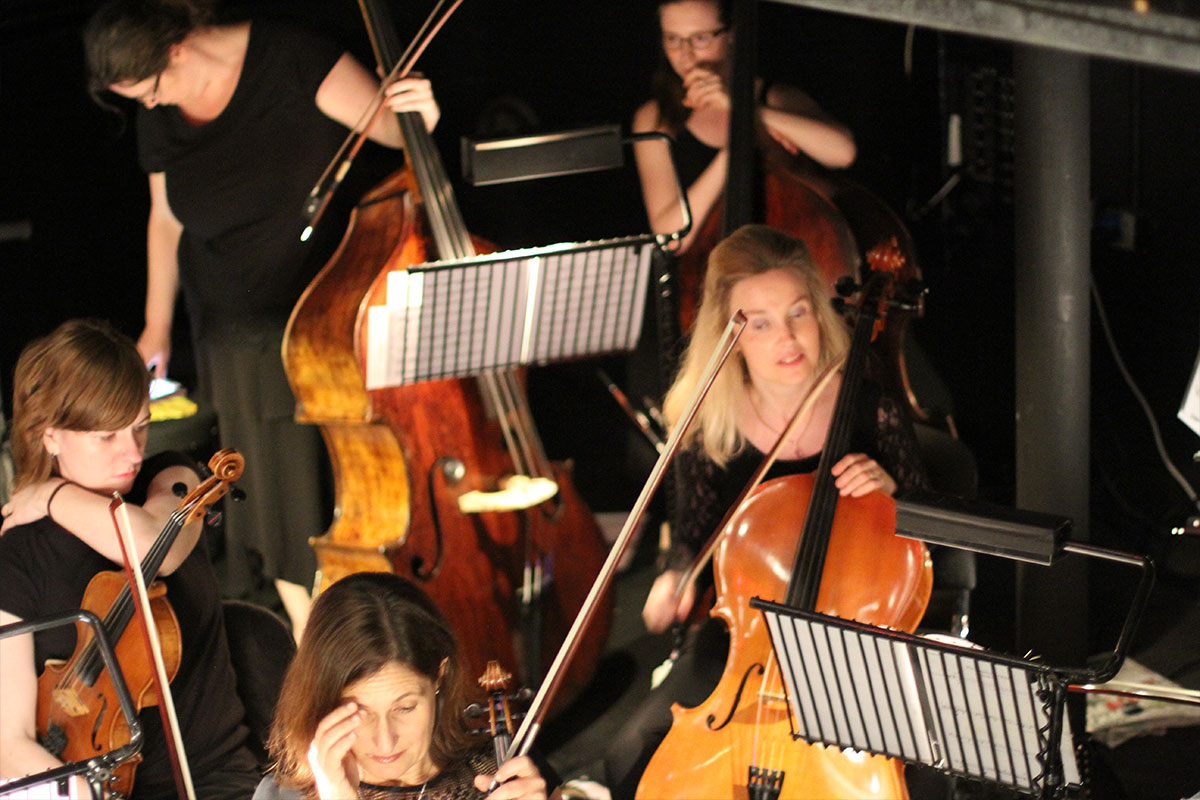 Ferrofish A32 Dante
I was completely confident in the choice of the Ferrofish A32. I have one in my own setup (the non-Dante version), and it's always just worked and been rock-solid. The A32 is a great unit, it's the kind of thing I really like from converters – it just does its job perfectly, never gets in the way, and you can basically set it and forget it. In this case, I figured that I could use both the MADI and Dante outputs of the A32 Dante to record to two MacBook Pros running Pro-Tools. I would be taking the Toslink outputs of the Audient ASP800 mic pres to the Ferrofish."
"you need stuff that just works, and the Ferrofish and RME MADI stuff always does"
Setting up to record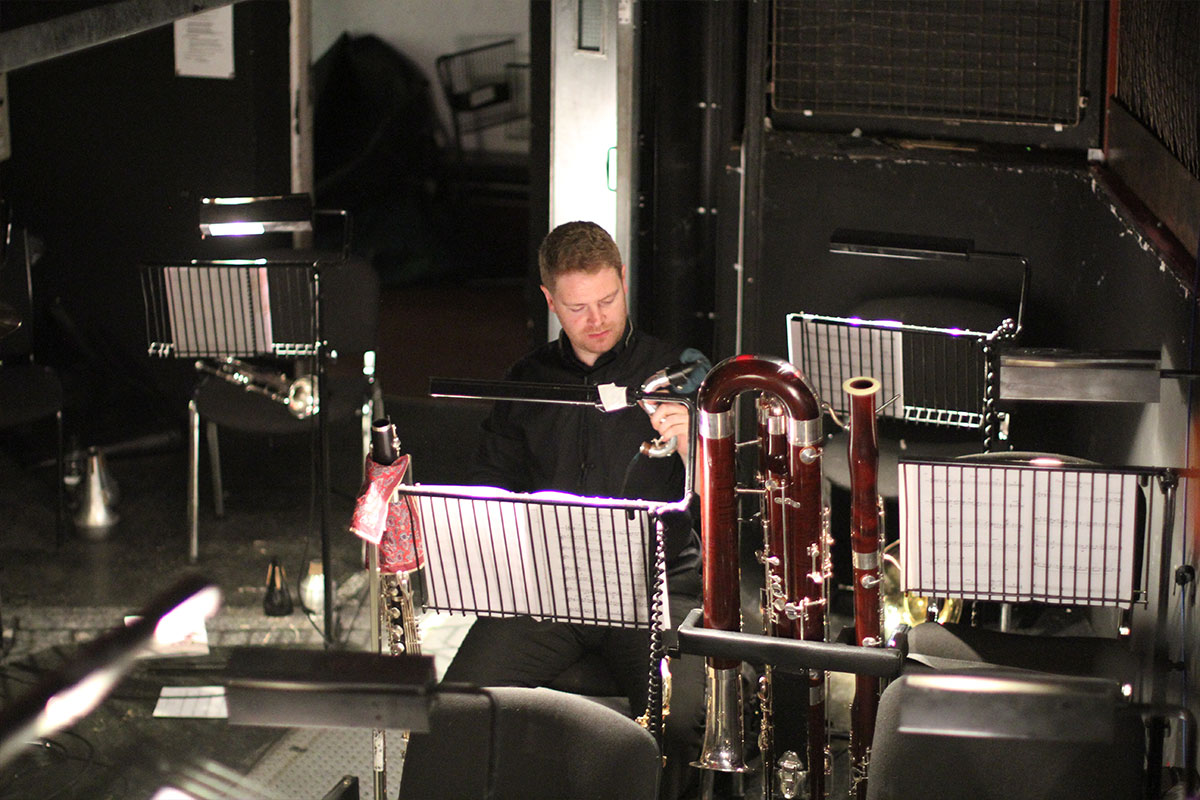 "Because the orchestra pit was so cramped, and because the front row of the audience was quite close to the pit, I decided during my site visit not to use any mic stands at all. Mic stands are a pain in the arse at the best of times. The lack of space in the pit had also tipped me into the sonic direction I'd been leaning towards anyway: no close-mics. I wanted the sound of the orchestra as a whole: not a collection of close-mic'd instruments with potentially incoherent phase."
"The orchestra pit had a rail along the edge of it, and I planned to have a stereo pair of 120s clamped to the rail just behind the conductor – with an extra 120 on each side of the wide pit, as fills. I took the third pair of 120s and hung them from the ceiling of the pit, half-way back, one on each side, in Omni mode. This is where the interchangeable capsules were really valuable: with both cardioid and omni capsules the 120s were two mics in one. I also used a pair of Sennheiser cardioid condensers (E914??) clamped to the orchestra pit rail and directed away from the stage to pick up the audience, and a standalone stereo recorder stuck next to a spotlight under the upper circle, to pick up room ambience."
"We had to record and film a matinee and an evening performance, and ultimately edit between them. Although I was only using a few mics, I knew that the three hours allocated for setting up would feel very rushed. Things rarely go according to plan. We rigged the main mics using strong clamps on the rail around the pit, and clamped the omnis onto a convenient cold-water pipe on the ceiling of the pit. Cable-runs had to be neat and unobtrusive, so we needed a lot of mic cable as the shortest route to the mic pres was sometimes visually obtrusive"
"We hid the mic-pres and the A32 under the conductor's platform. We ran a long MADI cable out of the pit, up the wall of the theatre and into the room where we and the videographers had set up, at circle-level half-way along the auditorium. My colleague, Danny, had never used the A32 before, but he had no problem at all configuring it for what we wanted in a couple of minutes without resorting to a manual. I have to say that I absolutely love MADI. It always works perfectly. When you're setting up for a location recording, you haven't got time to piss about configuring things and troubleshooting: you need stuff that just works, and the Ferrofish and RME MADI stuff always does. I've been using RME MADI gear for over ten years and have never had a single issue."
"I've been using RME MADI gear for over ten years and have never had a single issue."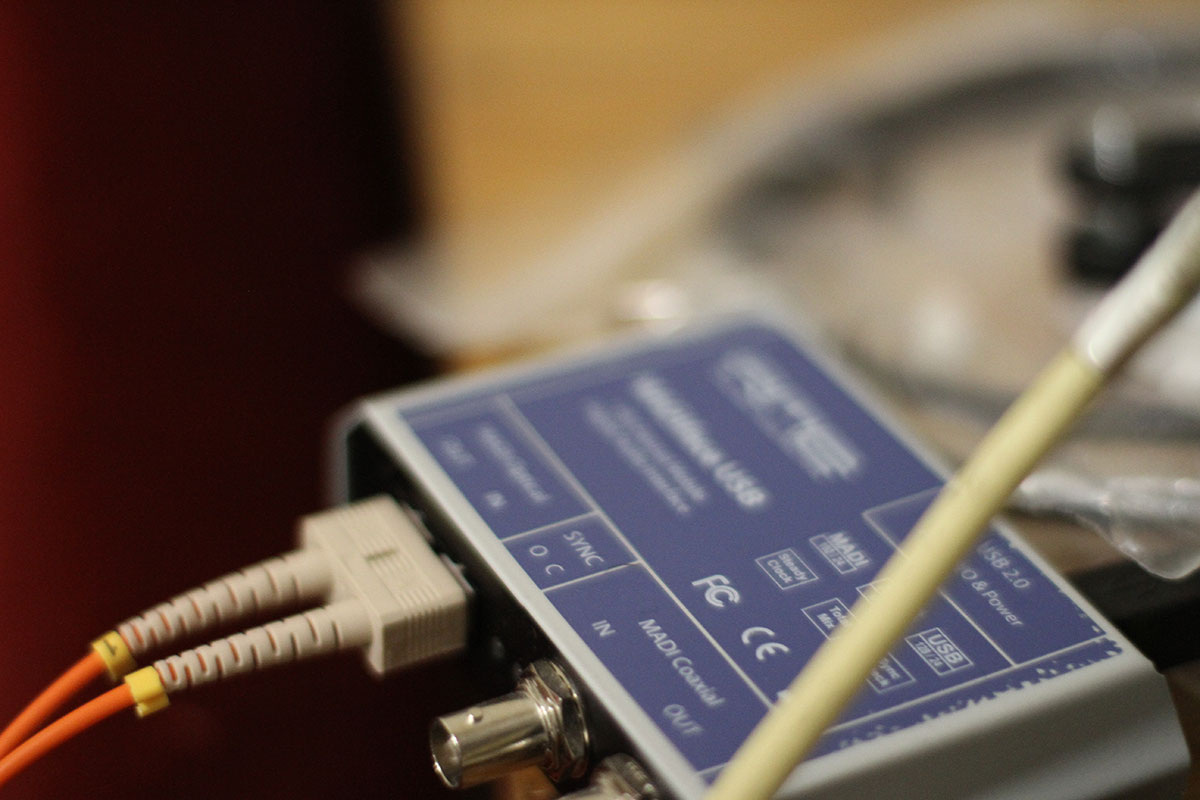 "I connected the MADI cable to my RME MADIface USB and into my vintage (mid-2010 17") MacBook Pro. A few adjustments on the mic pres and the MADI part of the system was set up. Sadly, we weren't so lucky with the Dante side of things. Evidently, either the network port in the pit and the network port in our room weren't part of the same network; and, for all anyone knew, not part of any network at all. No second recording system for us, then."
Lauten Audio LA-120 microphones
"Once the musicians turned up, things had to be adjusted. Someone suggested that someone might bang their head "or something" into the mics that were hung from the ceiling of the pit. It was a low ceiling. We spent some time getting them into a place that was acceptable. More alarmingly, the video director decided that our stereo pair of 120s behind the conductor's head would be too intrusive in video terms, and we'd have to move them. This rankled a bit: we're all used to sound being an afterthought in a video product, but this was the main stereo pair in an orchestral recording with no close mics..! We moved them to either side of the conductor – about 1.5m apart, positioned them very carefully, had a good listen and hoped for the best."
"The Ferrofish A32 is a great unit…
…it just does its job perfectly"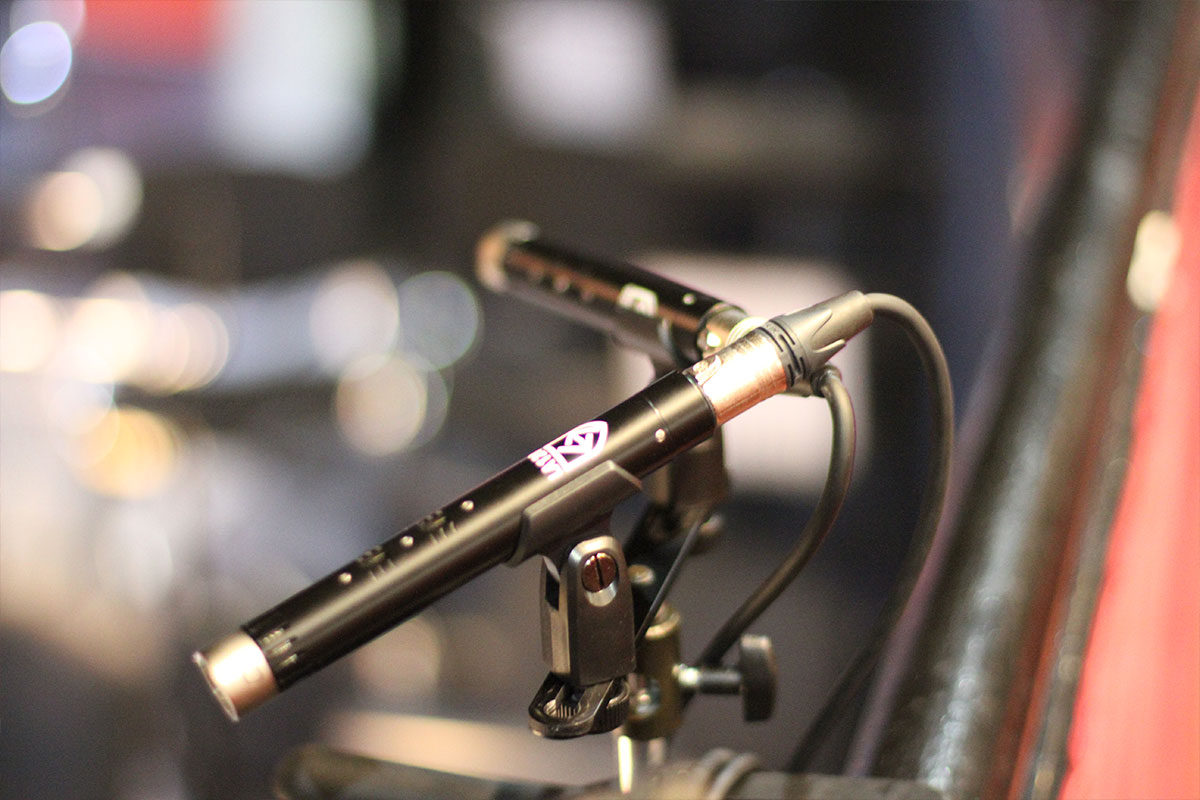 "I'd love to be able to share some of the audio/video with you, but it's not viewable online as London Children's Ballet are selling the DVD. Take it from me, though, the sound was beautiful. I was expecting a good sound from the 120s, but, even so, I was surprised at just how refined they sounded. I kept the mics flat – no filters – and the frequency response was very full, very well-balanced, and the sound was ultra-solid and detailed. They portrayed the dynamic range of the orchestra perfectly. I'd describe them as a classic-sounding mic with a bigger sound than I'd imagined, and absolutely no scratchiness. Put it this way, I've bought three pairs. I'd use them over KM184s, and they're a quarter of the price."
"I was expecting a good sound from the 120s,
but, even so, I was surprised at just how refined they sounded…
…They portrayed the dynamic range of the orchestra perfectly."
My only bugbear with the recording, and this obviously had nothing to do with the gear, was the conductor's overly-loud page-turning, which was a bitch to try and mask in the editing. I wish they would all use iPads and foot switches instead of paper…"
"Most of my mixing work is done OTB, with an SSL Delta Sigma, RND and Zähl EQs, RND Shelford Channels, SSL bus compressor, and Lexicon reverbs. For a job like this, though, you really have to go ITB. The piece consisted of two Acts, each over an hour long, and I don't want to have to record a mix that long back in to the computer in real-time, and have to do it again when I recall it. Also, although in this case the client didn't want it, there's always the possibility with a video product that I'll have to do a 5:1 mix as well as a stereo one – and that's a whole lot easier ITB."
A pleasure to record
"The team from Advision did a superb job with the video. They had (I think) an eight-camera setup, and the finished product looks a million dollars. I do some theatre recording, but most of my work is with bands and singers. I'm a long way from being knowledgeable about ballet or dance, so I'm afraid I can't comment meaningfully on the actual dance piece."
"The music, though, was memorable: Artem Vassiliev's original composition was lyrical, well-scored, well-performed, dynamic and varied. Of course, recording an orchestra with only a handful of mics will only work if the ensemble is balanced and the arrangement works, so hats off to the arranger, musicians and conductor. A pleasure to record."
Our thanks to Kevin Porée. You can find out more about his work as an engineer by visiting his website.

To find out what's on at the The Peacock Theatre, visit their website.
Links
RME MADIface USB audio interface
RME ADI-648 ADAT <> MADI converter

Ferrofish A32 Dante AD/DA converter