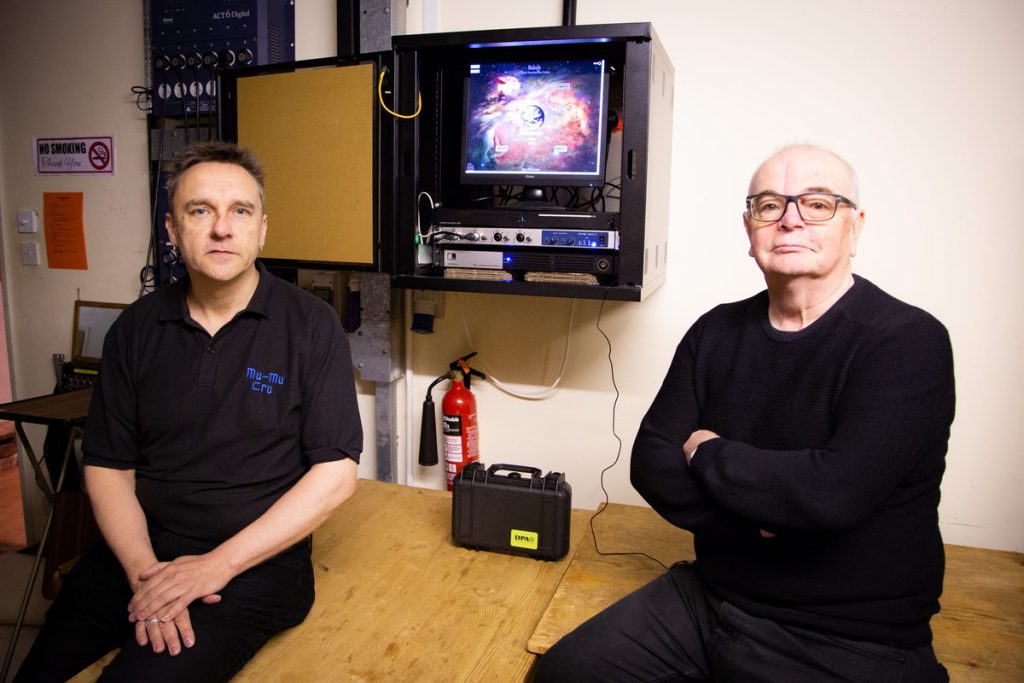 The Fireface 802's transparent sound and flexible routing options make it the perfect centrepiece for Mu-Mu's reverb system 'Nebula'
Mu-Mu Audio is a location-based recording and Live Sound hire company based in Malvern, Worcestershire. Founded by musicians/engineers Matthew Devenish and Paul Jones, the pair recently designed an artificial reverb system they call 'Nebula', in order to enhance the sound of acoustic spaces during live performance.
The system operates by capturing audio through a pair of DPA microphones, which are connected to an RME Fireface 802 audio interface. This is then processed by specially designed software, and fed back into the room via the Fireface 802 to a series of Fohhn loudspeakers.
The result is the ability to alter the perceived acoustics of a venue, something which would usually require making physical changes to the building itself. The overall sound can be tailored to give the impression of a much grander space for example, supporting the performances of musicians and vocalists, as well as adding to the audience's enjoyment.
We spoke to Matthew Devenish to find out more about the project, and why they chose the RME Fireface 802 as the central hub for their system.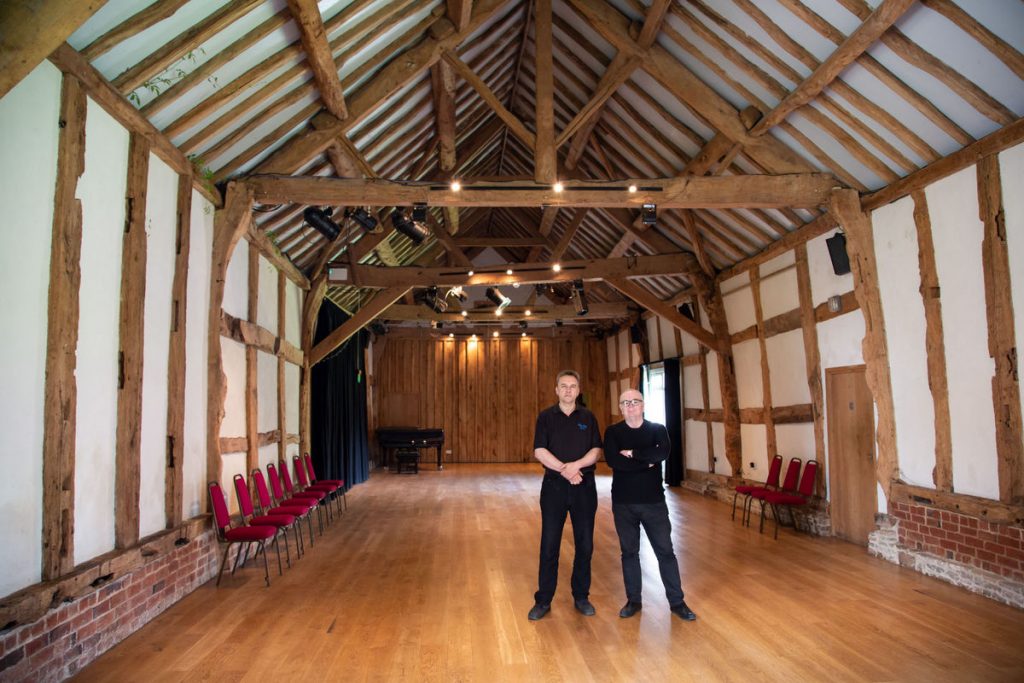 "Paul and I have been in business as Mu-Mu Audio for about 17 years, running location based recording studios as well as more recently Live Sound hire," Matthew tells us. "Both of us have been involved with Pro Audio for much longer, in Paul's case running a P.A company and as a performing musician, myself as a freelance recording engineer/producer, and drummer and FOH engineer."
"Some of the artists we've worked with in either live or recording environments include Nigel Kennedy, John Etheridge, Alex Harvey, Vice Squad, Sean Lennon and Vincent Gallo, Lydia Lunch, Aphex Twin, and And Also The Trees."
"The whole project came about after we received a phone call asking us to meet with Adam Munthe, the owner of Hellens Manor in Herefordshire, to discuss the acoustics of the big barn, a venue we've used to record a number of albums since 2005."
"The basic requirement from Adam was for the acoustics of the barn to be more sympathetic and supportive for classical music, i.e. longer reverb times with a diffuse soundfield. Hellens Barn is a listed building however, and a highly respected acoustics company had previously said it would involve a lot of physical change to the inside of the barn."
A Legend Reborn – The RME Audio Fireface 802
"Apart from potentially prohibitive costs, this approach would of course result in an unvarying acoustic. The barn isn't just used for classical concerts – it's also used for recording as well as filming, and has events that require P.A.'s such as weddings and corporate meetings. Some of these uses benefit from the very dry acoustic that currently exists, but not all… Enter Mu-Mu!"
"We organised to run some trials of potential approaches in the barn, and were very encouraged by the results. We were then given the green light, and installed the system we call 'Nebula'. Our approach is ideal for these sorts of venues, as it's both cost effective and requires minimum of ingress into the building."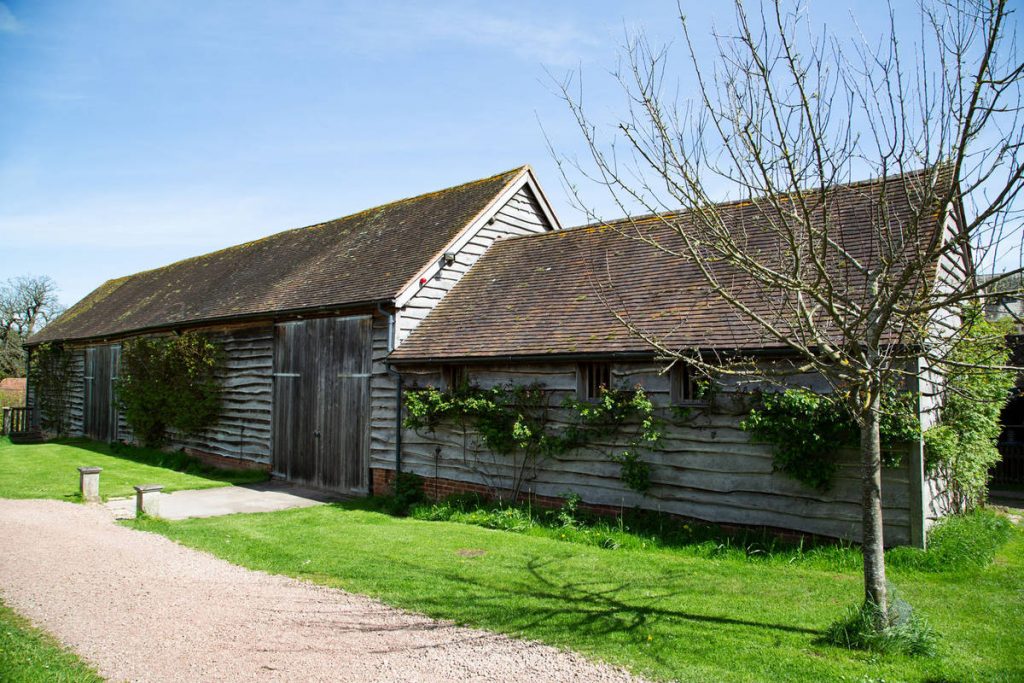 RME Fireface 802 – 60-Channel USB & Firewire audio interface
RME's design philosophy has always been to provide highly detailed yet transparent audio, making the Fireface 802 perfect for this project and enabling the Nebula to sound as natural as possible. The microphone preamps and DA converters deliver recording and playback in an 'uncoloured' form, giving engineers and musicians the freedom to affect their sound as a stylistic choice via the use of processing and effects, or from microphones and external preamps.
"We have consistently found the reliability of RME products
to be second to none."
This methodology is one of the reasons RME devices have become so popular in classical recording – we've previously spoken with engineer Phil Rowlands about his use of RME for orchestral recording, as well as Oscar Torres, who told us that "RME has become a standard of sorts in classical music recording".
"The Nebula system comprises of eight speakers in an array down the beams of the barn, with each speaker individually addressable for level and delay if needed," Matthew continues. "Above the performance area we have a spaced pair of DPA 4011 cardioid microphones, to capture the live audio. For our A to D system we chose the Fireface 802, which is being used as a pair of microphone preamplifiers and A/D converters, to feed the digital audio into our software for live processing."
"This is connected to the Fohhn Speaker Controller, with the Nebula Software running on a rack mounted computer with screen, with all of it neatly fitted into a lockable rack unit backstage. The software then provides a stereo signal output, which is fed to the Fohhn speakers via the AES out."

"Both Paul and I are RME converts, owning a number of RME products including the Fireface UFX, Fireface 800, Madiface and Octamic D. We use our RME interfaces and preamplifiers both in our studios and on location, along with a selection of boutique preamps connected to line inputs."
Routing and Mixing control with TotalMix FX
"We have consistently found the reliability of RME products to be second to none. For this particular installation, it provided us with the right balance of inputs and outputs, and having the AES I/O was particularly useful. Totalmix FX as an audio I/O control is very intuitive but incredibly powerful. It just works!"
"Totalmix FX as an audio I/O control is very intuitive but incredibly powerful.
It just works!"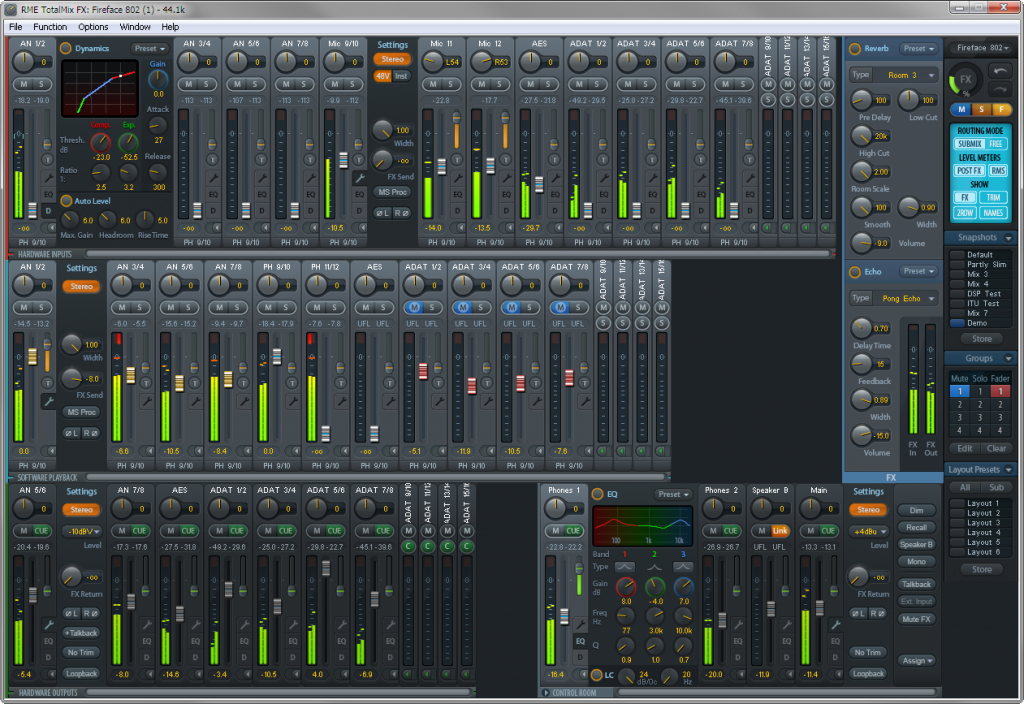 "We've used TotalMix FX for Nebula in a very simple way, but it still allows us to route what we need, to where, very easily. When we're using it for our recording work, we use it extensively to set up monitor mixes, pre and post DAW, and route signals to different outputs if necessary."
The Nebula system has already been proving a success at Hellens Manor, with musicians and engineers commenting on the natural sound of the reverb. Matthew and Paul are looking to extend its use to other venues where there is a need for a cost-effective, variable acoustic solution, alongside the recording and Live Sound hire services that Mu-Mu offers.
To find out more about Mu-Mu and Nebula, visit www.mu-mu.eu
About the RME Fireface 802
The Fireface 802 is a professional 60-channel audio interface that includes 4 x high-end Mic/Inst Preamps, 8 x line inputs, 8 x line outputs, 2 x ADAT I/O, 1x AES/EBU I/O, plus Word Clock and MIDI I/O.
Connections to a computer can be made via USB or Firewire, with equal performance on Mac, PC and iOS. TotalMix FX provides complete control over all inputs and outputs, with unlimited routing between channels and sub mixes.
TotalMix FX can also be controlled wirelessly or from another computer, thanks to the free TotalMix Remote App, available to download from the RME website.
Find out more about the RME Fireface 802
Find out more about TotalMix FX on the RME Youtube Channel
---

If you'd like to know more about any of RME's pro audio products, give us a call on 01727 821 870 to speak to one of our team or to arrange a demo.
You can also contact us here.