Congratulations to the winner of our RME ADI-2 DAC Competition Giveaway
Earlier this year we decided it was time for another Synthax / RME UK competition giveaway. And having previously given away an RME Fireface UFX II in 2017, and an RME Babyface Pro in 2018, we felt it was time for one lucky musician, producer or audiophile to get their hands on an RME ADI-2 DAC, the high-end headphone amplifier and USB-DAC from RME's professional range of AD/DA converters.
And we're pleased to announce the winner of our RME ADI-2 DAC competition is Jac Jones of Walthamstow, whose name was pulled at random from the Synthax Audio UK hat!
A saxophonist and recording enthusiast, Jac also owns an RME Fireface 400 audio interface, which he plans to hook up with the ADI-2 DAC (via SPDIF) for additional high-end monitoring and playback duties.
"I usually use the Fireface 400's ADAT for extra pre amps," says Jack. "I have 4 analogue pres, plus the 2 on the Fireface 400, so if I'm recording full bands / drums I often need the extra channels. So it's great that the ADI-2 DAC also has SPDIF, meaning I can keep the Fireface's ADAT free for recording."
How to connect the RME ADI-2 Pro & ADI-2 DAC to an RME Audio Interface
Watch more videos at SynthaxTV

"I'll also be making use of the DAC's dedicated output for IEMs. Often when I'm setting up mics in a live space, with no isolation from the instruments (i.e. a control room), I've found IEMs can give me better separation over open or even closed-back headphones (you can put heavy duty ear defenders over the top – double bag it!), which helps me find the right mic placement. So that's a bonus!"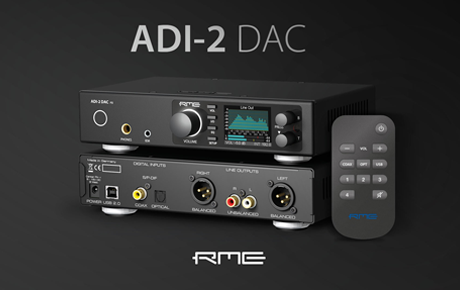 "I've not had chance to mess around with the DAC properly yet as I'm moving house and just had a baby, so things are a bit crazy! I've read some good reviews though – it looks the business!"

Thanks Jac, and enjoy your new ADI-2 DAC!

Big thanks to everyone who entered, stay tuned to our newsletter, Facebook and Twitter for more competitions and great prizes in the future.

Don't forget, you can also get a free 5 year extended warranty when you purchase an RME ADI-2 DAC from one of our authorised UK Dealers. RME ADI-2 DAC Authorised UK Dealers Find out more about the RME ADI-2 DAC

---

If you'd like to know more about any of RME's audio interfaces, soundcards, AD/DA Converters or microphone preamps, give us a call on 01727 821 870 to speak to one of our team or to arrange a demo.
You can also contact us here.