Product Specialist Adrian Lehmann shows us round RME's new flagship AD/DA converter with remote control
Things just keep getting better and better with the RME ADI-2 Series. After last year's announcement that the ADI-2 DAC FS has been updated with the latest AKM converter chips and an extended remote control, RME also unleashed a revised version of the ADI-2 Pro FS at NAMM 2020, in the form of the RME ADI-2 Pro FS R (Black Edition).
In our fourth RME video from NAMM 2020, RME's Adrian Lehmann gives us a run-through of all four ADI-2 Series converters, from the stripped back RME ADI-2 FS to the feature-laden RME ADI-2 Pro FS R.
RME ADI-2 Series Converters at NAMM 2020
See more videos at Synthax TV
RME ADI-2 Pro FS R Black Edition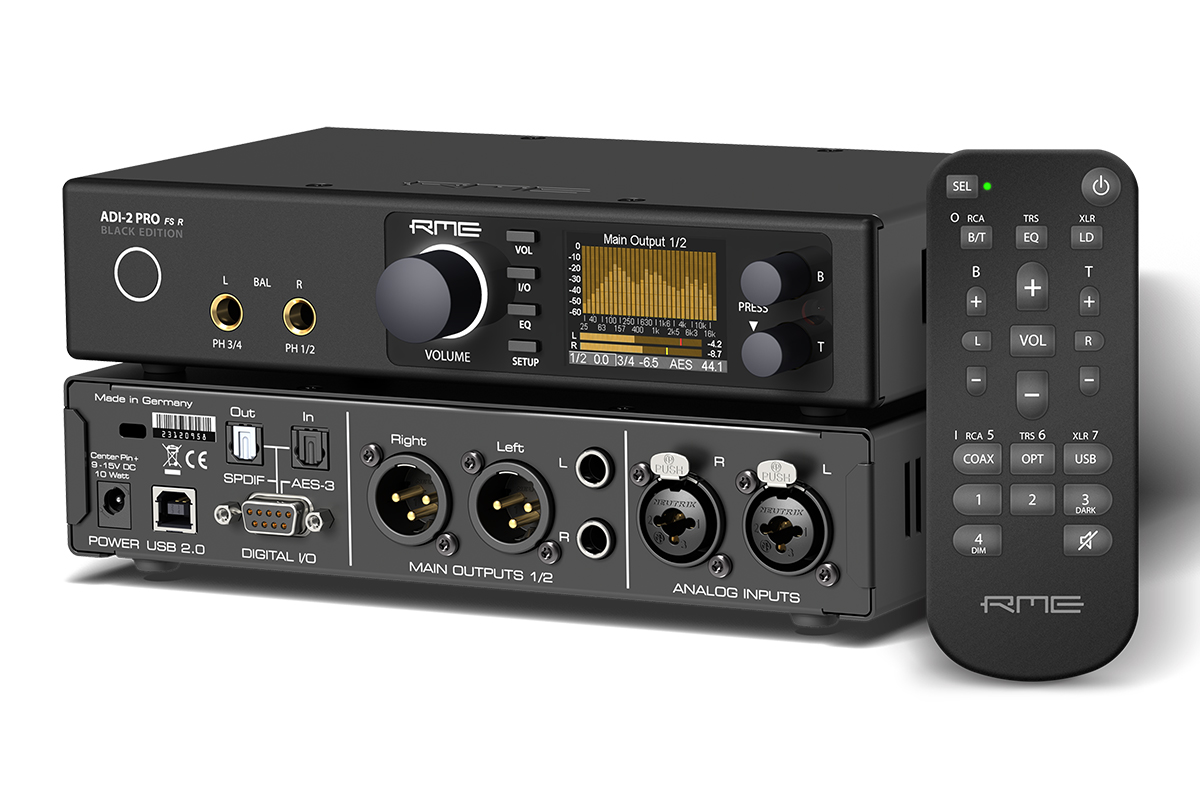 Put simply, the ADI-2 Pro FS R is the highest quality audio converter currently available from RME. Combining transparent, highly detailed audio capture and playback, the ADI-2 FS R represents the ultimate 'end-game' recording and monitoring device.
Reviewers have been equally impressed by the standard set, with quotes such as "This is clearly quite a beast of a converter, both in terms of its technical prowess and its operational flexibility" (Sound On Sound), and "Even in a raw state, RME has delivered a formidable DAC/amp combo that is worth more than the asking price" (Headfonics).
The device is an audiophile's dream, boasting a somewhat dizzying array of options and functionality. From the 2 x "Extreme Power" headphone outputs and extensive remote control; options for cross-feed and anti-aliasing filter types; to independent EQs for each individual output; true frequency reproduction all the way down to 5Hz; and asynchronous sample rate conversion and sample rates up to 768 kHz (DSD recording and playback).
The new all-black finish means the ADI-2 Pro FS R slots in perfectly with any modern Hi-Fi setup, as well as offering mastering-grade monitoring and recording for music producers and recording engineers. The 'sonic signature' is the most transparent to date from RME, and the built-in 5-band parametric EQ allows for further tonal control adjustments of music, headphones, monitors and applying room correction.
Find out more about the RME ADI-2 Pro FS R Black Edition
---

If you'd like to know more about any of RME's audio interfaces, soundcards, AD/DA Converters or microphone preamps, give us a call on 01727 821 870 to speak to one of our team or to arrange a demo.
You can also contact us here.