Chapman Stick Musician and Producer Kevin Keith explains why he relies on four RME Fireface UC audio interfaces for recording and live performance
If you visited the RME booth at NAMM 2020, you may well have seen Kevin Keith performing with his instrument of choice, the Chapman Stick. Whether recording or performing live, Kevin puts the RME Fireface UC at the centre of each and every setup.
Having first discovered RME audio interfaces during his time working at Warner Brothers in the mid-2000s, Kevin's current kit list is based around four Fireface UCs – one for his recording studio, two for his live rig, and one for his gaming studio, where he creates music for everything from online social games to lottery machines.
Detailed Sound and High Dynamic Range
Kevin's latest EP, "Rebirth", is due out later this month and features a blend of vocal and instrumental performances, including his signature instrument the Chapman Stick, an electronic musical instrument that's part of the guitar family. While recording the EP, Kevin turned to the Fireface UC for its dynamic range.
"The stick has so much sonic power that every other interface I used just couldn't handle the dynamic range," he explains. "But with the Fireface UC, you can really just be crunching away at the dynamic range, and it will catch everything. It won't collapse or saturate. It just sounds fantastic — the detailing is there, and the imaging is there. It makes your music sound like a lot more than what it is!"
"The Fireface UCs have been wonderful," Kevin said. "The mic preamps sound absolutely amazing, and the interfaces feature the best of both worlds: they have a good number of ins and outs, and, at the same time, they're still small and I can fit two of them side-by-side in the same rack space. I use it in everything I do."
Kevin Keith – Chapman Stick – Avenida Atlantica
Portable & Powerful
When on the road, Kevin can travel lighter than before thanks to the Fireface UC's small footprint. The connectivity packed into its half-rack size means that he doesn't have to compromise on performance whilst on tour.
"My stick rig is elaborate, and there's a lot of stuff happening with it," Kevin says. "Today, it's hard to fly and bring equipment with you. It's like you have three rack spaces and you have to figure out what you can fit in it. But the amount of tech I can bring with me thanks to the Fireface UC is wonderful."
Kevin's travel rig (pictured left) packs all his necessities into a small amount of space. It consists of two Fireface UCs side-by-side in a rack case alongside a patch panel, as well as a seperate guitar-to-MIDI interface along with some guitar plugins.
"It's great for when I travel internationally because everything fits into two cases that I can check and, on top of that, they are very durable units."
"And it sounds just like an audio console — just obviously a lot smaller and with less ins and outs," he laughs.
"The mic preamps sound absolutely amazing…
…I use [the Fireface UC] in everything I do."
RME Fireface UC – Studio sound, on the move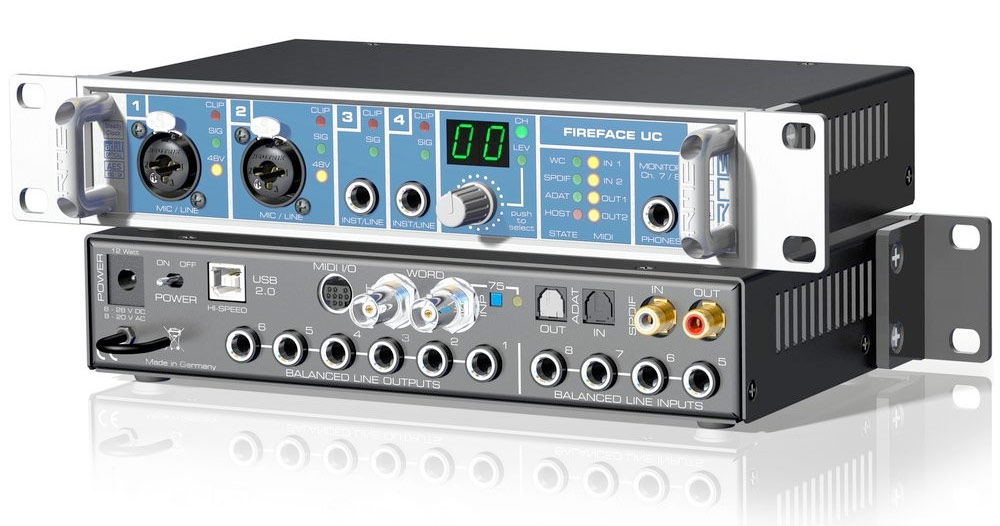 Despite its compact size, the Fireface UC remains an incredibly capable USB audio interface for smaller and mid-sized setups.
Features include 2 x digitally-controlled microphone inputs with individually switchable 48V phantom power, with Neutrik Combo connectors for XLR and TRS. Additional inputs are available through the 2 x instrument/line level connections on the front panel, with an additional 6 x line level inputs found on the back of the unit.
When more analogue I/O is required, ADAT input and output connections make expanding the Fireface UC quick and easy. RME offer a range of professional, studio-quality preamps that perfectly complement the Fireface UC and other RME devices.
Sensationally low-latency values are achieved for both Mac and PC-based setups, with buffer sizes as low as 48 samples on Windows and under 14 samples on Mac.
Like all RME audio interfaces, the Fireface UC also comes with RME's incredibly powerful mixing software TotalMix FX. The DSP-based TotalMix mixer allows for fully independent routing and mixing of all audio channels, matching the features found on high-end digital consoles.
Independent stereo submixes for all 18 outputs, plus a comprehensive Control Room section offer unrivalled monitoring capabilities and routing flexibility from an audio interface.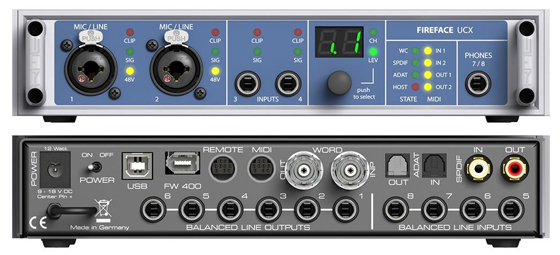 RME Fireface UCX – More power, more control
And if you need even more power from your interface, the RME Fireface UCX offers a range of performance enhancements and additional features in the same form factor.
A class-compliant mode gives UCX users the option of professional, multi-channel recording and playback with an Apple iPad, and the optional Totalmix FX for iPad app brings touch-screen mixing capabilities to your fingertips.
The Fireface UCX also unlocks the full DSP processing power of the TotalMix FX software, with Delay, Reverb and Dynamic effects available for enhanced latency-free monitor mixes.
For a full comparison of the two devices, check out our Youtube video.
Click here to read about how composer Dominik Scherrer used the UCX whilst working with installation artist Suki Chan.
Find out more about the RME Fireface UC
Find out more about the RME Fireface UCX
---

If you'd like to know more about any of RME's audio interfaces, soundcards, AD/DA Converters or microphone preamps, give us a call on 01727 821 870 to speak to one of our team or to arrange a demo.
You can also contact us here.