Feature overview for the AVB Tool, a next-generation audio networking device from RME Audio.
Flexibility, versatility and connectivity are concepts that RME's products consistently follow. Much of RME's past and current product line-up feature a wide range of available I/O, meaning that their devices can slide seamlessly into an array of existing setups.
For 2020, RME have taken giant steps in designing high performance network audio devices that offer these concepts, as well as creating products that are both future-proofed and interactive by design.
The AVB Tool is a device that has versatility built into its very core, with I/O that make it an incredibly handy device to have connected to an AVB network.
Watch the RME AVB Tool Overview video
See more videos at Synthax TV
Preamp, Router, Converter and more
Unveiled at NAMM 2020, the RME AVB Tool is a device built for a multitude of scenarios.
Combining four high-performance microphone preamps with MADI and the networking power of AVB, the AVB Tool is an audio swiss-army-knife for use in live sound, studio recording, and wider audio networking applications.
With the ability to monitor all incoming and outgoing signals, including any channel on an AVB-network, the AVB Tool provides the perfect complement to both small and large-scale productions using MADI and AVB.
Typical applications include operating the AVB Tool as an additional monitoring and recording source in live audio environments, or for providing recording and monitoring options to a secondary, network-connected control or live room.
Thanks to its network-ready design and four mic pres, plus on-board headphones and TRS outputs, the AVB Tool can also be used for talkback or as part of a comms system in a larger network, along with recording and DI'ing instruments from additional production locations.
Front Panel Control
The front panel control of the AVB Tool has been designed with rapid interaction in mind. The TFT display shows you all levels at a glance, whilst LED indicators on each analogue input give colour coded pulses to signify the strength of the signal.
This new user interface is so intuitive in fact all device states can be controlled and operated directly from the front panel alone, thanks to an easy to navigate menu system that adapts depending on its function. Four control buttons change their function depending on the feature or menu screen you are using.
Adjusting microphone and instrument levels is just one of many tasks that is made both quick and simple by this brand-new user interface. By simply selecting the button associated with the channel you want to adjust, the encoder wheel allows you to adjust the gain in 1dB increments up to 75dB.
Shortcuts are also available to make tasks even simpler. For instance, holding down one of the four control buttons and selecting the desired channel button can change the inputs from XLR to TRS, or enable 48v Phantom Power.
Any incoming or outgoing signal can be routed and monitored using the headphone port, making checking levels or troubleshooting signal issues as easy as pressing the headphone button.
AVB Audio Networking
The RME AVB Core meticulously implements the IEEE standards for audio streaming, discovery and control, and includes support for the standards set out by Avnu Alliance's 'Milan' (Media-integrated local area network), a specification that ensures devices from different AVB-implementing manufacturers will operate harmoniously with one another.
All of RME's AVB devices can be discovered and controlled by any AVB controller, and any signal reaching the AVB Tool can be routed and streamed over a deterministic network with fixed latency and guaranteed bandwidth – no switch configuration required!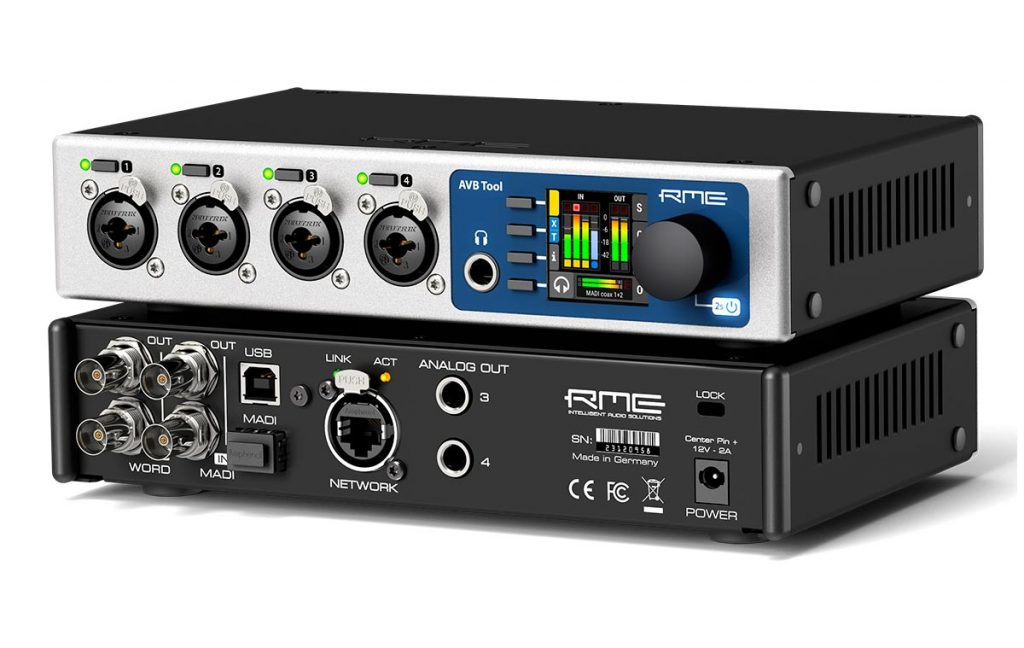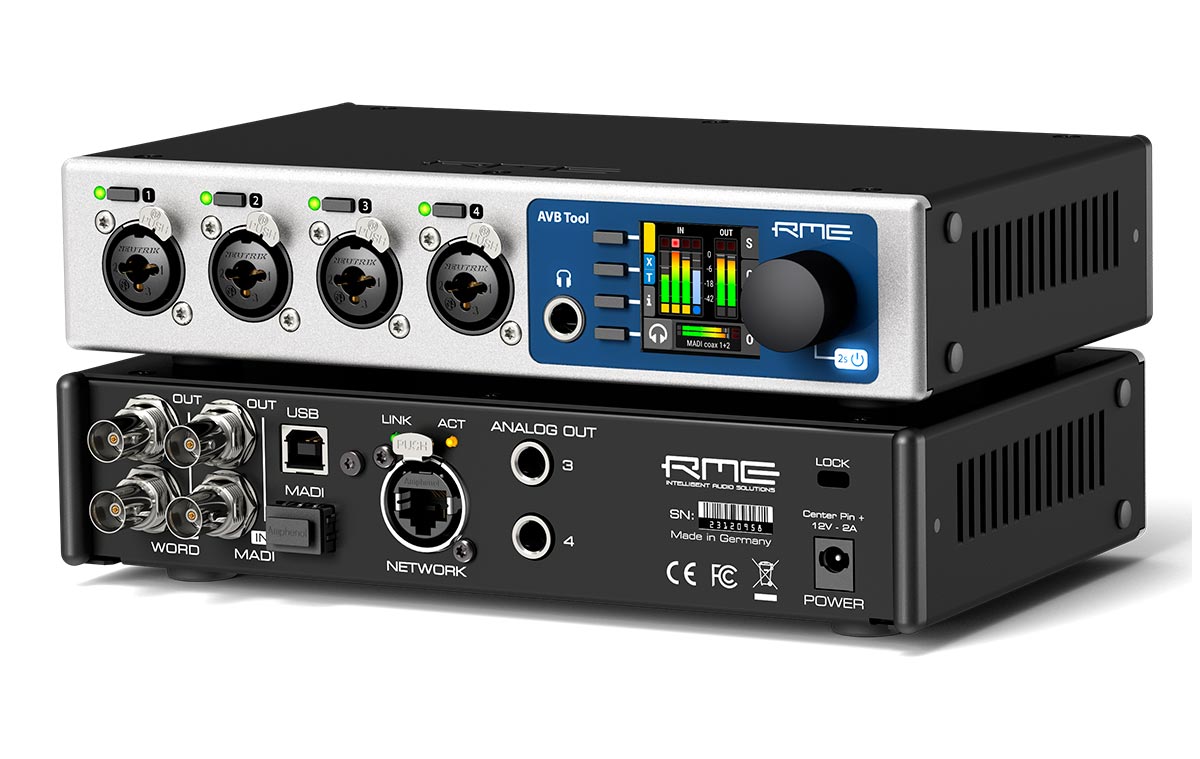 The RME AVB Tool features 4 reference-class preamps with extensive
front panel and software controls, plus MADI, AVB and WordClock I/O.
Connectivity
An array of I/O options have been packed into the rear panel of the AVB Tool's half-rack form factor. A single network port is available for connecting the AVB Tool to an AVB network, as well as coaxial connections for Wordclock sync and MADI. A USB port is also available for an alternative connection to the web-based remote control as well as for firmware updates.
Optical MADI connectivity can be added via an optional SFP module. With the module installed, it is possible to have redundant MADI connectivity. These two MADI connections can also work independently from one another, allowing for 128 channels of audio in both directions.
The AVB Tool also features analogue outputs, making the AVB Tool a fantastic device for monitoring any signal on an AVB network.
Software and Remote Control
Control options are abundant across RME's new audio networking devices. Alongside the extensive front panel controls, a free browser-based web remote offers click-and-drag routing as well as access to the same on-board controls as the front panel.
The click and drag functionality allows you to easily route directly from an input to an output, giving you both visual and hands-on control of every incoming and outgoing signal. What's more, any signal can be routed to any output, regardless of format.
The web-based control also allows for control over the input channels, including selecting gains and phantom power.
Finally, when paired with the RME Digiface AVB, the 12Mic can be easily managed via RME's AVB software controller, or via other third-party AVDECC controllers such as Hive.
SteadyClock FS
Like the RME 12Mic and all of the latest RME products, the AVB Tool features RME's SteadyClock FS. Representing the latest iteration of the company's incredibly accurate digital clocking and filtering technology, SteadyClock FS supresses jitter values down to the femtosecond, hence 'FS'.
With accurate clocking an essential element in digital audio, digital audio signals are reliant on the clocking frequency for the correct representation of both the audio bits and sample time reference – with SteadClock FS, the result is a recording with more detail and definition that replicates the source material to its fullest depth and clarity.
Next-Generation Audio Networking
When paired with an AVB-capable interface, such as the Mac/PC-supported RME Digiface AVB, the true networking potential of the AVB Tool is unlocked. With its multitude of uses, the AVB Tool can play an important role in many areas of a large AVB-based setup.
The list of RME products equipped with AVB networking capabilities represents quality, high performance products at every point in the signal chain.
The RME M-32 Pro AD and DA, RME 12Mic, and the upcoming RME M-1610 Pro all feature AVB capabilities – as such, it's now possible to build yourself a next-generation, RME-based audio networking setup – one that will no doubt come to define the next decade of professional audio production.
Find out more about the RME AVB Tool
See the full range of RME audio networking devices
5 Year Warranty (UK Only)
Over the past 20 years, the word 'reliability' has become synonymous with the RME Audio brand, thanks to both the exceptional build quality and the now industry-renowned, rock-solid drivers.
For this reason, we are happy to offer all of our UK customers a complimentary 5 year warranty on all RME products, when purchased either from ourselves, or from one of our authorised UK dealers, and remain the only interface manufacturer to offer this at no extra cost.
To activate your 5 year warranty, simply register your RME device with us within 30 days of purchase via our warranty page.
To ensure you are buying your device from a UK-based retailer, please check our list of authorised UK dealers before purchase.
---

If you'd like to know more about any of RME's audio interfaces, soundcards, AD/DA Converters or microphone preamps, give us a call on 01727 821 870 to speak to one of our team or to arrange a demo.
You can also contact us here.