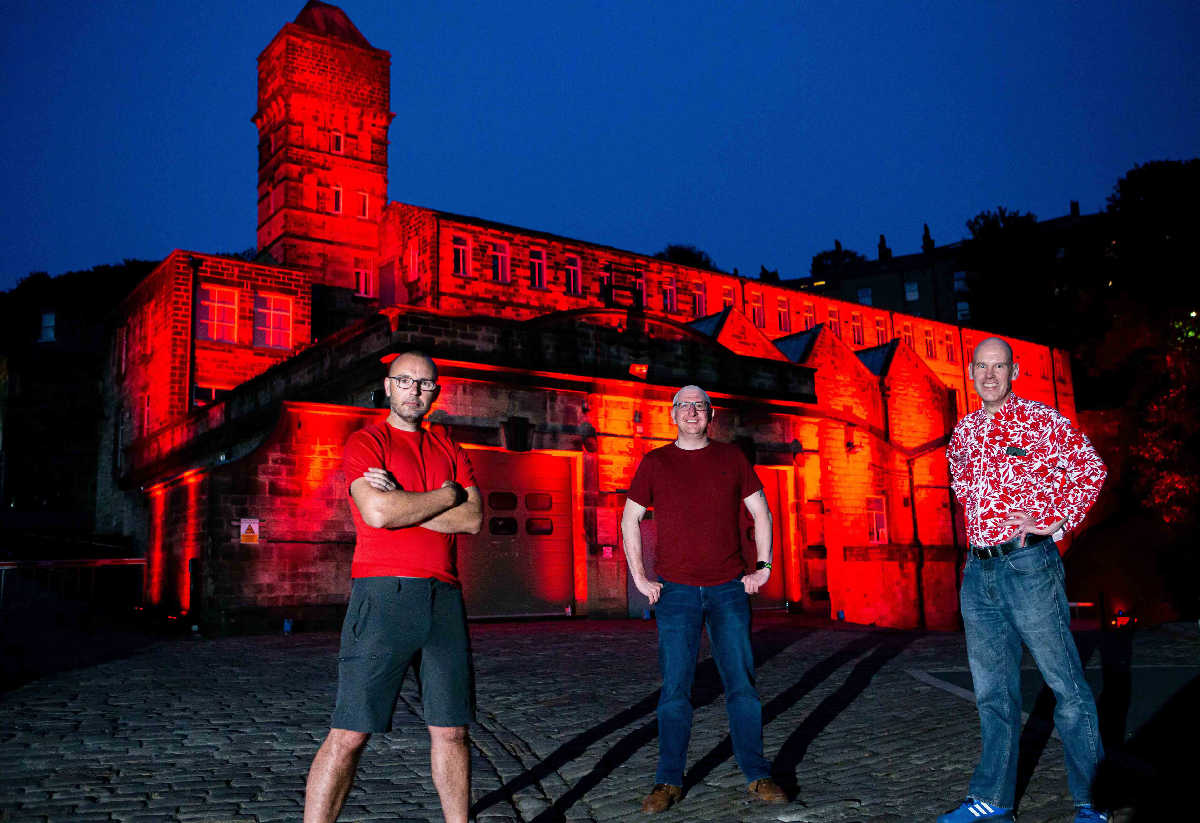 Hebden Bridge, 13th August: On the 11th August 2020, broadcast audio mixing console manufacturer Calrec lit up their historic Nutclough Mill building in red, in a show of support for the live events and entertainment sector.
Backed by a wide range industry bodies and companies, a series of events were held on Tuesday across the UK as part the #WeMakeEvents campaign, to highlight the plight of those struggling for work as a result of the pandemic.
The live entertainment sector has been particularly badly hit, with calls to the government to step in and provide more assistance. The sector is in critical condition.
Sid Stanley, Calrec's general manager said "This has affected our customers in every territory, and the impact on live events like sports and entertainment has been devastating."
"In the UK alone there are over one million people employed in delivering events, 72% of whom are freelance, and many of which have no access to any financial support. We worked with other companies in the valley where we are based, including the Hippodrome, one of the UK's largest volunteer-run theatres, to bring as much attention as possible."
"We hope that by coming together to support one another our voices are heard."
Calrec has worked with A1 craft mixers during this period to help promote their achievements as widely as possible. The company has also worked with customers to create flexible technical solutions to allow as much live coverage to occur as possible. But, of course, massive challenges remain and the UK government needs to provide support to allow the sector to return to its former glory. We stand with #WeMakeEvents.
Photo credit: Bruce Fitzgerald Photography
Photo caption: Red Sky at Night at Calrec Audio – From left to right: Sid Stanley, General Manager, Dave Letson, Vice President of Sales and Henry Goodman, Director of Product Development in front of Calrec's Headquarters, Nutclough Mill.
Remote Production with Calrec Type R
With a large number of televised events now resuming production, offering sound mixers the option to work remotely has become a major consideration for the TV and Broadcast industries.
Calrec's modular Type R console provides a perfect solution for remote mixing and monitoring, with full control over IP, giving production companies the ability to continue operating whilst respecting the current guidelines on social distancing.
In France for example, OB specialists Boîte à Outils (BOB) recently spoke to Calrec about how they're using a Type R system that allows their operators to continue working without leaving their homes.
We're currently offering 1-2-1 demos of Calrec's consoles from our base in Hemel Hempstead – if you're interested in learning more about remote production with Calrec's Type R or Brio consoles, then contact us to book a demo with our Broadcast Sales Manager Simon Roome.
Book a 1-2-1 Demo of Calrec's Type R and Brio consoles
---

If you'd like to know more about the Calrec Brio, Type R or Hydra2 network, or would like to arrange a practical demonstration, give us a call on
01727 821 870 to speak to one of our team.