We look at what's needed for an A1 audio engineer to dial into the main Calrec Type R Core via IP, using control hardware located from an alternative, socially-distanced location.
For our previous video, we provided an introduction to using Calrec's modular, IP-based broadcast console for remote broadcast production.
Many live TV and sporting events have now returned (albeit in an altered format), but the possibility of additional 'waves' of Covid-19 cases continues to loom in the background. As such, demand remains high for new, flexible remote production methods that enable content to be produced in a way that ensures all staff and crew are protected, and able to respect social distancing guidelines.
In this second video on remote production with Calrec Type R, Simon Roome (Broadcast Sales Manager) discusses the practicalities of mixing and monitoring remotely over IP, expanding on the scenario of having a Type R Core (plus I/O) located at a production facility, with the operator (and Sound Guarantee) mixing remotely from alternative locations.
(This video is the second in a series – click here for part one.)
An In-Depth Look At Remote Operation with Calrec Type R
See more videos at Synthax TV
Calrec Type R – Mixing and monitoring from a remote location
In our example, the Core and I/O are located on-site in a production studio. The control surface hardware, which includes Fader Panels, and Small and Large touch-screen software panels, is controlled by the engineer over IP. This could be in another location near to the main operation, or in a completely different location, including an operator's home.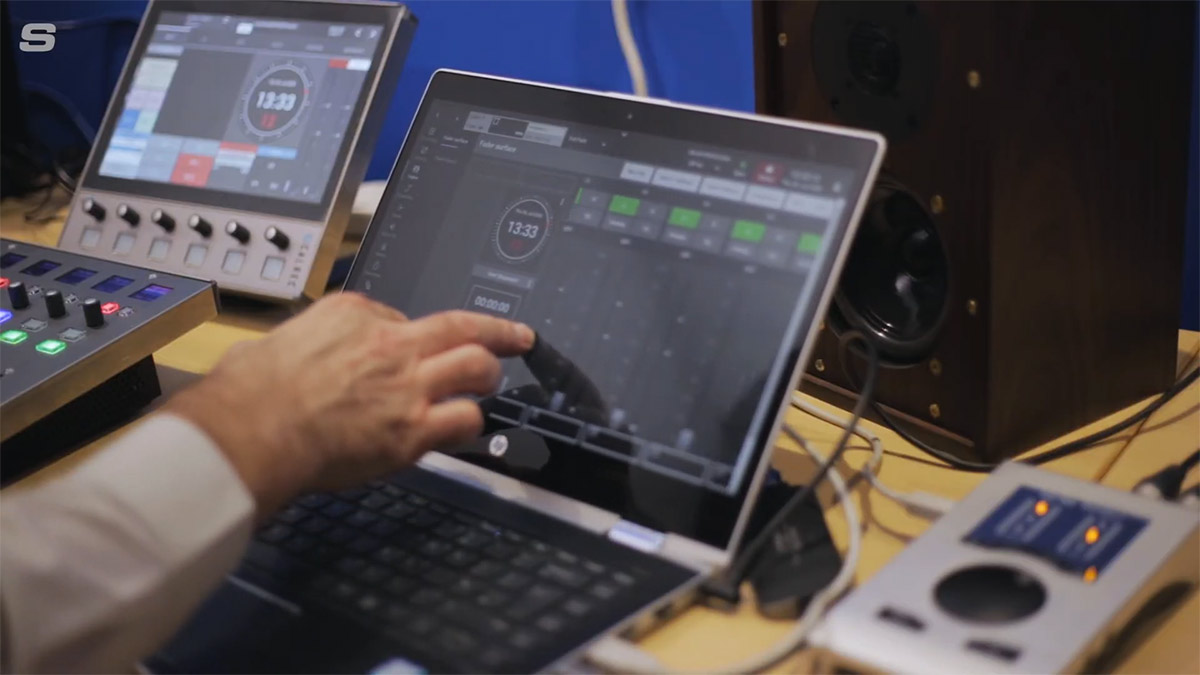 All devices are powered iva PoE, with an ADSL router plugged into the network switch and a 4G dongle, which can easily travel with the control surface hardware in a flight case.
Communication between the two sites occurs via a site to site VPN, with the two routers configured to operate separately to a business's network. For this reason, it's worth investing in ADSL routers which have the option to support multiple VPNs.
When the VPN is built at the Core location, it's also recommended to have an option for client remote access. In this way, another authorised operator can have access to the Core from a third location – with a laptop connected to the Core (running Calrec's browser-based app Calrec Assist), the second operator can act as a Sound Guarantee with full remote access.
Ping Test – Latency during remote mixing
Once we've established a connection between the two locations, we'll need to test the latency. We found the delay from a control input, to the Core receiving it, to be about 60ms, which is a reasonable and workable latency when mixing live audio.
In addition, the Type R has a number of broadcast-specific features to aid mixers during live broadcasts such as AutoMix, which provides and automatic and intelligent adjustment of levels – highly useful when you have a lot of open mics, and people talking simultaneously.
Audio monitoring – RME audio interfaces
As made clear by the ping tests, whilst it should be no problem operating the console with such degrees of latency, it's simply not feasible to set up an audio over IP connection for accurate monitoring. A GPS PTP grand master could of course be used at the remote location, but at a fairly large additional cost for this setup.
We've instead used a high quality audio interface from German manufacturer RME – a brand we also supply and have been involved with for over 10 years – in combination with the free browser-based audio codec Source-Connect Now.
The computer in the broadcast facility (connected to the Core) is also running Source-Connect Now – by settings the Core's monitor outputs as the audio source for the codec, we can then monitor directly from our laptop in the remote location.
With the RME Babyface Pro FS as our interface, we also have an extremely high quality and mobile device with super low-latency, which we'll use to connect a microphone, monitors and headphones (with an option for a second pair if needed).
TotalMix FX
The codec's controls are limited, so by using one of RME's interfaces we have access to RME's TotalMix FX software mixer, which provides us with a wide range of functionality in terms of monitoring, routing and creating submixes, as well as EQ, Reverb and Delay, analysis tools via DIGICheck.
See the full range of RME Audio Interfaces
Remote Production with Calrec Type R
The Type R offers a workable and cost-effective solution to the challenges of remote operation. Its modular design means it can be scaled to fit the size and scope of the production, and Calrec's Panel Designer software allows for the creation of customised workflows to suit any required application.
We're currently offering 1-2-1 demos of Calrec's consoles from our base in Hemel Hempstead – if you're interested in demoing Calrec's Type R or Brio consoles, then get in touch via the link below.
Book a 1-2-1 Demo of Calrec's Type R and Brio consoles
---

If you'd like to know more about the Calrec Brio, Type R or Hydra2 network, or would like to arrange a practical demonstration, give us a call on
01727 821 870 to speak to one of our team.