How to record standalone with RME's 'Direct to USB Recording' (DURec) feature on the RME Fireface UFX+, UFX II and UFX audio interfaces.
DURec (Direct to USB Recording) is the name given to RME's standalone multi-track recording functionality, found on RME's flagship Fireface UFX+ and UFX II audio interfaces (as well as the original Fireface UFX).
All three feature advanced standalone recording and playback functionality via a dedicated front panel USB port, which allows for multi-channel audio to be captured directly to an external USB hard drive or thumb drive, without the need for a Mac or PC.
Watch our video tutorial below for an introduction to setting up DURec with the RME Fireface UFX+.
Watch the RME DURec Tutorial Video
See more videos at Synthax TV
RME Audio DURec – Multi-channel Direct To USB Recording
DURec's primary purpose is to provide redundancy in a studio or live recording session, creating a fully multi-tracked backup that can be loaded into any DAW, and acting as a failsafe in the event that problems arise with the connected computer.
Alternatively, DURec enables the Fireface UFX+ and UFX II to operate as standalone hard disk recorder, removing the need for additional hardware. All settings can be accessed directly from the front of the unit, making it possible to record concerts and live shows entirely without a Mac or PC if desired.
For the Fireface UFX II, all 60 input and output channels can be recorded or played back simultaneously (4 x mic/line and 8 x line, 16 x ADAT, 2 x AES). For the Fireface UFX+, this functionality is extended to 76 channels, enabling the full MADI stream (64 channels), plus all analogue inputs (4 x mic/line and 8 x line), to be recorded simultaneously at 44.1 / 48 kHz.
DURec can also be used to play back multi-channel recordings. For live engineers and touring bands, virtual sound checks can be performed via DURec using audio from a previous night's show, as well as offering an additional method of archiving each night's performance.
"I was recording with Roxana Panufnik and the London Mozart Players in Croydon, and due to a technical error, half a session got deleted right at the end.
Fortunately, our bacon was well and truly saved by the DURec backups!"
Phil Rowlands, Classical Engineer and Producer (read the full story here)

Notes on recording with DURec
• Setup and operation can be achieved via the front panel of each device, or prepared in advance via TotalMix FX (and saved to the device as a preset)
• The USB storage device (thumb drive / external HD) must be formatted to FAT32
• Each WAV file is a maximum of 2GB, after which a new file is automatically created. Separate files can be recombined into a single file using RME's free Multi-Channel Batch Processor software (see below)
• All analogue and digital inputs are available for recording
Multi-Channel Batch Processor
All channels recorded via DURec are stored as a single interleaved file with a limit of 2GB. When recording multiple channels, this filesize can quickly be exceeded of course – when this happens, DURec automatically creates a new file, continuing the recording with no drop-outs in the audio.
Many DAWs (such as Pro Tools) support the importing of interleaved files, automatically separating each audio channel onto its own track once imported. As a DURec recording will likely consist of multiple 2GB files, RME also provide a free software tool – the Multi-channel batch Processor – which offers the easiest method of combining files back into a single file, and removes the need for manual alignment within a DAW.
The Multi-channel batch Processor is available from the Downloads section of the RME website.
How to set up DURec with TotalMix FX
Whilst DURec can be set up entirely from the interface's front panel, it's far easier to achieve via TotalMix FX (RME's software routing and mixing controller, included free with all RME interfaces).
Here are the steps for setting up in TotalMix FX;
1 – Open TotalMix FX and in the bottom-right corner, click on the small arrow for the section labelled 'DURECorder' to expand the options.
2 – Click the 'Record View' button. The input channels (top-row in TotalMix FX) will now show Play and Record buttons, in place of the usual Mute and Solo buttons.
3 – Click on the record arm button for each of the inputs you wish to record via DURec, to arm them ready for recording.
4 – To begin recording, head back to the DURECorder section (bottom-right in TotalMix FX) and click the record button.
5 – These settings can be stored to your device by going to Options > Store current State into Device, and choosing one of the six storage presets.
Standalone recording with DURec (front panel operation)
As mentioned above, DURec can also be operated directly from the front panel of the RME Fireface UFX+ / UFX II.
This can be simply to activate a new DURec recording (having previously loaded one of the six stored setups, with input channels already armed for recording), or to create a new DURec setup entirely.
To record arm the input channels;
1 – Press the CHAN/MIX button.
2 – Press the lower encoder (Encoder 2) several times until you reach the option labelled 'Record', then rotate the encoder clockwise to record arm the currently selected input (e.g. Analog In 1).
3 – Now rotate the top encoder (Encoder 1) clockwise to select your next input (e.g. Analog In 2), and use Encoder 2 to record arm this channel.
4 – Repeat this process for each channel you want to record.
To check the status of DURec;
5 – Press the REC/PLAY button to show the DURec status for your device. In our video example above, this shows that we have 2 channels armed, with a sample rate at 48 kHz.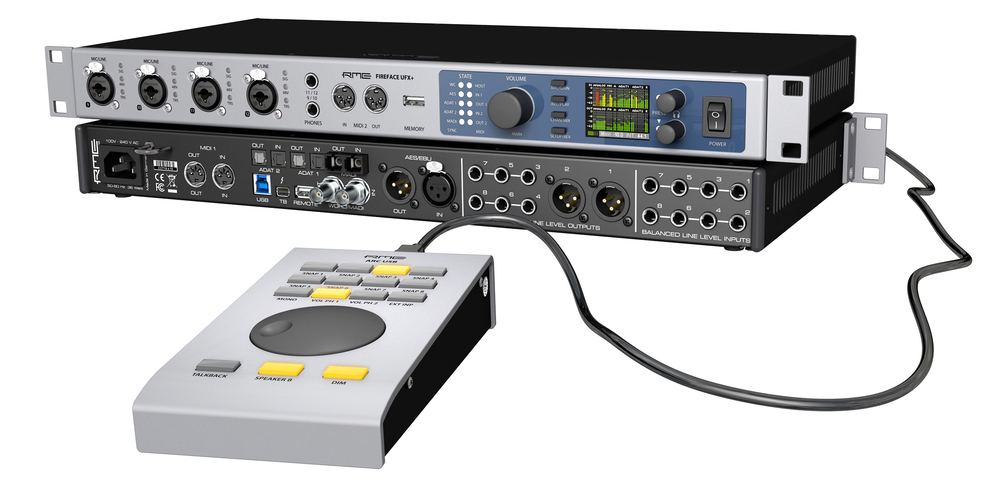 The RME Fireface UFX+ is a professional 188-channel audio interface
featuring analogue, ADAT, MADI, AES, USB 3.0 and Thunderbolt I/O.
To start recording with DURec;
6 – Whilst still in the REC/PLAY menu, press Encoder 2 twice to scroll down to the recording and playback controls.
7 – Rotate Encoder 2 and until you reach the Record symbol, then press the encoder to begin recording.
To load a previously stored setup;
8 – Press the SETUP/REV button.
9 – Use Encoder 1 to scroll across to the menu option labelled 'Setups', then use Encoder 2 to scroll across to your stored setup (Setup 6 in our video).
10 – Press Encoder 2 twice to select the 'Start' option (and with the option above set to 'Load'), then press and hold Encoder 2 until the display shows the word 'Done'.
11 – Press the REC/PLAY button again to check the correct number of channels are ready for recording.
Standalone recording with the RME ARC USB
Both the RME Fireface UFX+ and UFX II also feature dedicated USB ports (on the back panel) for connecting the RME ARC USB, RME's advanced remote control for TotalMix FX.
The ARC USB provides an additional level of standalone (remote) control for recording and playback with DURec, which we'll be taking a look at in more detail in our next video.
For more information on DURec, see the RME Fireface UFX+ manual entry herehere.
Find out more about the RME Fireface UFX+
See the full range of RME Audio Interfaces
5 Year Warranty (UK Only)
Over the past 20 years, the word 'reliability' has become synonymous with the RME Audio brand, thanks to both the exceptional build quality and the now industry-renowned, rock-solid drivers.
For this reason, we are happy to offer all of our UK customers a complimentary 5 year warranty on all RME products, when purchased either from ourselves, or from one of our authorised UK dealers, and remain the only interface manufacturer to offer this at no extra cost.
To activate your 5 year warranty, simply register your RME device with us within 30 days of purchase via our warranty page.
To ensure you are buying your device from a UK-based retailer, please check our list of authorised UK dealers before purchase.
---

If you'd like to know more about any of RME's audio interfaces, soundcards, AD/DA Converters or microphone preamps, give us a call on 01727 821 870 to speak to one of our team or to arrange a demo.
You can also contact us here.