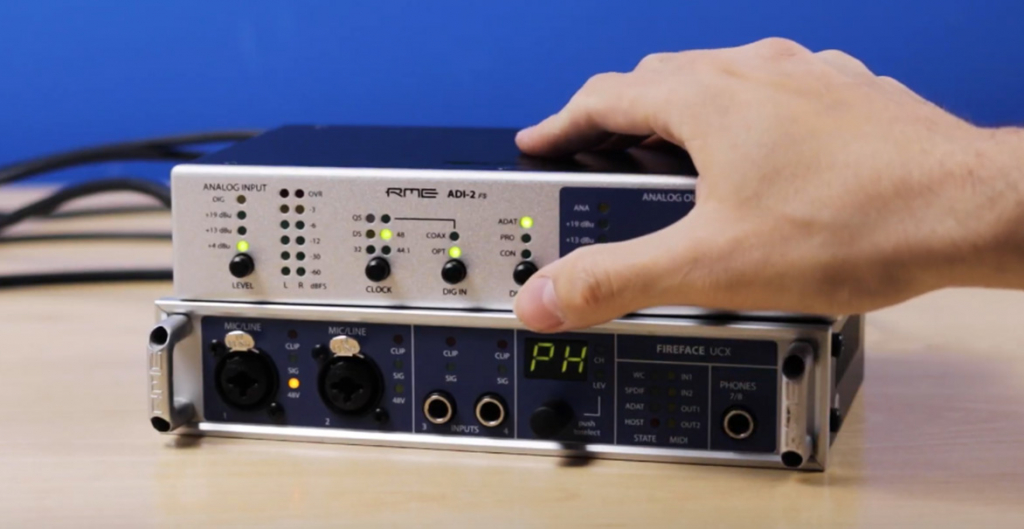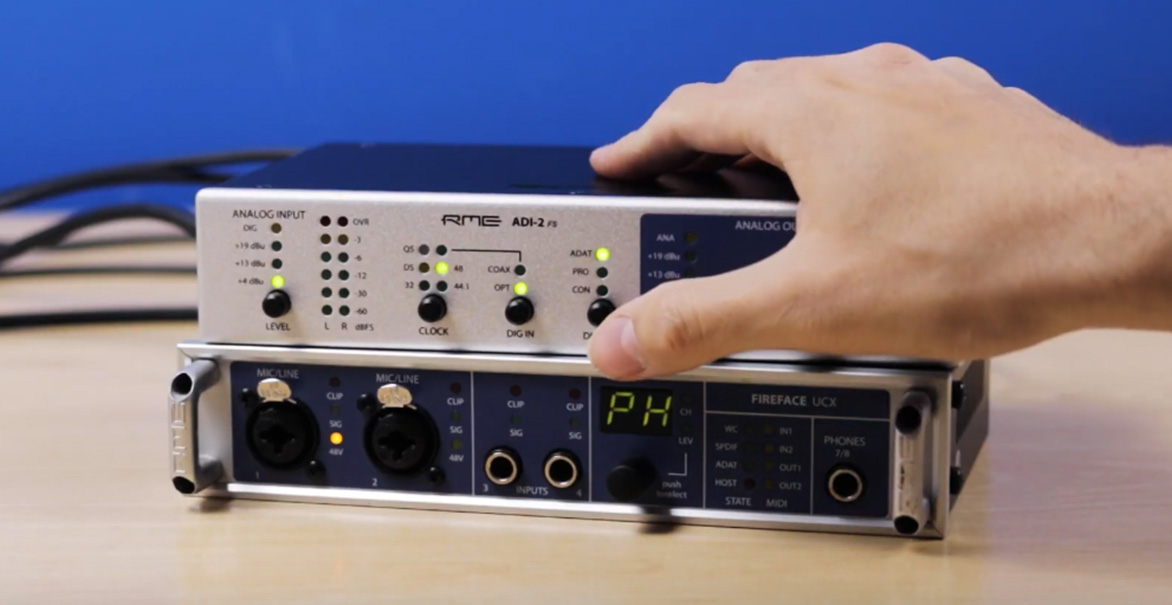 An introduction to adding a dedicated, mastering-grade AD/DA converter to any audio interface for high-end recording and monitoring.
There's no doubt that as musicians and engineers we really are spoilt for choice these days. From low-cost computer soundcards and 'entry-level' audio interfaces (primarily built from mass market, off-the-shelf components and circuitry), to the more mid-range and upper-end devices favoured by audio professionals, the number of devices available (and at pretty much any price-point) is really quite staggering.
The beginner and entry-level offerings may well be all you need to get started out in recording and production, and there's no question that many great albums have been recorded on a low budget. As your needs grow however, you'll likely find yourself wondering what some of the more expensive devices can bring to the table, perhaps even taking a gander at what's commonly known as 'high-end'.
One set of devices that fall into this bracket is RME's ADI-2 Series of converters, which feature exceptionally detailed sound, and have been designed from the ground-up to cater for the most critical listening and recording applications. The popularity of the ADI-2 DAC FS and Pro FS R are well-documented, however there's also a more budget-conscious offering in this range from RME that you may have overlooked – the RME ADI-2 FS, a standalone AD/DA converter and headphone amplifier developed as a low-cost alternative.
Featuring the same award-winning converters as its siblings in a simplified, stripped-back package, the ADI-2 FS is designed for high-end recording and monitoring applications that require exquisite, highly detailed audio conversion in both directions, but without the need for any of the many DSP-based extras found on the DAC and Pro models.
In this video tutorial, we've provided a run-through of the easiest way to connect the ADI-2 FS with any ADAT or SPDIF-supported audio interface, upgrading the sound with top of the range AD/DA conversion, as well as the next-generation digital clocking offered by RME's SteadyClock FS.
We've used the 36-channel RME Fireface UCX for our example, however any interface that features an ADAT, SPDIF or AES/EBU connection can connect with the ADI-2 FS.
How to connect the RME ADI-2 FS to an audio interface
See more videos at Synthax TV
RME Audio Interfaces
For most professional audio engineers, RME's line of premium audio interfaces provide everything you need from a single unit – with high quality on-board microphone preamps and AD/DA sections, excellent build quality and extensive routing capabilities, plus further options for high channel counts and additional connectivity options – and here at Synthax UK, we believe they strike a perfect balance between quality and performance.
For the majority of professional recording applications, the sound quality offered by an RME interface will more than suffice – whether that's for studio or live recording, TV and broadcast production, location sound recording or post-production, or for any of other markets we regularly supply into (education, automotive and manufacturing, scientific applications etc).
That being said, there are some situations that lend themselves to using the absolute highest quality available – specialist audio applications such as mastering and restoration; capturing a particular sound source in extremely high-quality (vintage mixing consoles or other classic pieces of studio outboard); monitoring and listening applications that require the highest level of accuracy; or simply studios or Hi-Fi enthusiasts looking to add something to the recording chain that can be considered 'end-game'.
This is really where the high-end bracket comes into play, with dedicated devices that have been designed to do one specific job extremely well, pushing a specific criteria to its highest level – a high-end AD/DA converter for example, where you're paying for a small number of channels engineered to the finest quality.
Other circumstances may require a multi-channel AD/DA, and these are of course available in a range of price brackets too, such as the cost-effective Ferrofish Pulse 16 and A32 Series of converters that we also supply.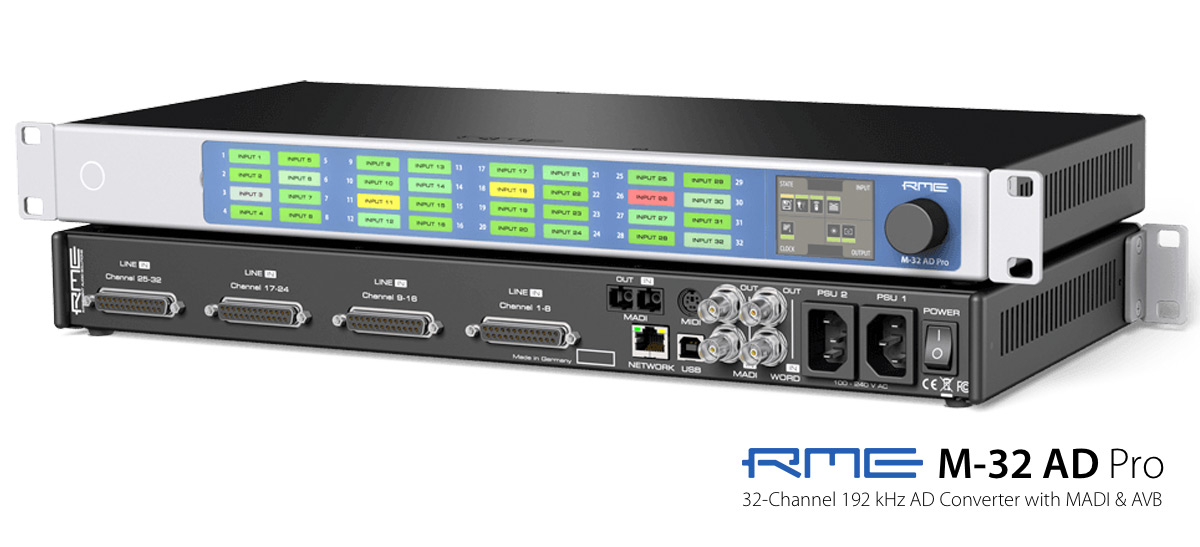 Equally, RME's M-32 AD Pro and M-32 DA Pro (pictured) offer a very similar level of conversion as the ADI-2 range in 32-channel offerings(!), making them perfect for high-end recording applications such as classical music, jazz and other ensemble acoustic or orchestral recordings.
In terms of audio quality, these devices typically provide an exceptional level of accuracy in terms of their abilities in capturing and reproducing recorded sound – think the representation of micro-dynamics, with subtleties like fingers on a fret-board becoming more pronounced; the attack of a stick on a snare drum really snapping through; or reverb tails holding their fade all the way to a natural conclusion without smearing. A high-end AD/DA essentially provides something of an audio microscope, allowing engineers (and audiophiles) to focus in on the really fine details of a recording.
The differences between high-end devices are certainly subjective and somewhat to taste. Most audio devices referred to as high-end should be of excellent quality, and as such differences in sound quality tend to be one of personal taste, rather than any being objectively 'better' (and indeed – some lend themselves better to different genres and even individual tracks or instruments, which is why a studio may have access to multiple different flavours of conversion).
To get the best out of these factors, other elements in your setup will also need to be similarly high-end – such as your monitors and headphones, microphones and preamps, as well as a room that's been acoustically treated. All of these factors combined allow for a truly finessed audio experience, and will allow your AD/DA converters to shine.
Mastering-grade conversion at an affordable price
As mentioned above, most products labelled 'high-end' should provide very nice sound quality indeed. Other features aside, any differences in sound quality tend to be very slight – with this in mind, we'd argue that the RME ADI-2 FS presents a highly affordable offering for anyone looking to enter the world of high-end audio.
The ADI-2 Series offers the best sound quality for both A to D and D to A that you can currently get from any RME device, and having compared the ADI-2 Series with a selection of top-level converters from other manufacturers, we're fully confident in saying that all three ADI-2 FS models can be compared favourably with other devices in the high-end bracket, and often at a fraction of the price of alternatives.
If you're currently on the lookout for 'end-game' DA conversion quality for mastering and other high-end listening applications, the ADI-2 FS offers exactly that in a really quite affordable package.
Equally for those lucky enough to have a selection of high-quality ADCs in the studio, the ADI-2 FS presents a transparent, neutral and highly detailed option for straight analogue to digital conversion, whether that's for individual instrument recording; capturing the sound of a favourite mic pre or other specialist studio outboard; using the ADI-2 FS as a front-end for a mixing console or final stage of a mix down; recording with 2 inch tape; or even for archiving and capturing analogue sources such as vinyl in extremely high quality.
Upgrading the sound of an older interface (Fireface 400 & 800)
Another suggested application for the ADI-2 FS is for updating the quality of older RME interfaces, such as the discontinued Fireface 400 and Fireface 800. Despite their age, we're fully aware that these interfaces remain popular to this day, and whilst they're no doubt a solid option in terms of their reliability and continued support updates, it's probably fair to say that the newer Firefaces and Babyface Pro FS outshine their older counterparts.
Things have moved on in the last 15 years, and as such, these interfaces are a perfect candidate for updated conversion via an ADI-2 FS, improving both the monitoring and providing an additional set of pristine recording inputs, not to mention the updated clocking offered by RME's SteadyClock FS.
SteadyClock FS
This brings us on nicely to the subject of clocking and connecting the ADI-2 FS with other equipment.
Our colleagues in Germany recently put together a video which covers SteadyClock FS in more depth (watch that here), but essentially accurate clocking is required to ensure high quality audio when synchronizing multiple digital devices, as well as providing a better frame of reference for other connected hardware.
SteadyClock FS can be easily selected as Clock Master via the front panel of the ADI-2 FS, setting the desired sample rate and clock source to internal. Additionally, the RME Fireface Settings window can be used for setting up your RME interface's clocking on a Mac or Windows, selecting the clock source to external in our video example, and making sure the sample rate matches that of the ADI-2 FS.
How to connect the RME ADI-2 FS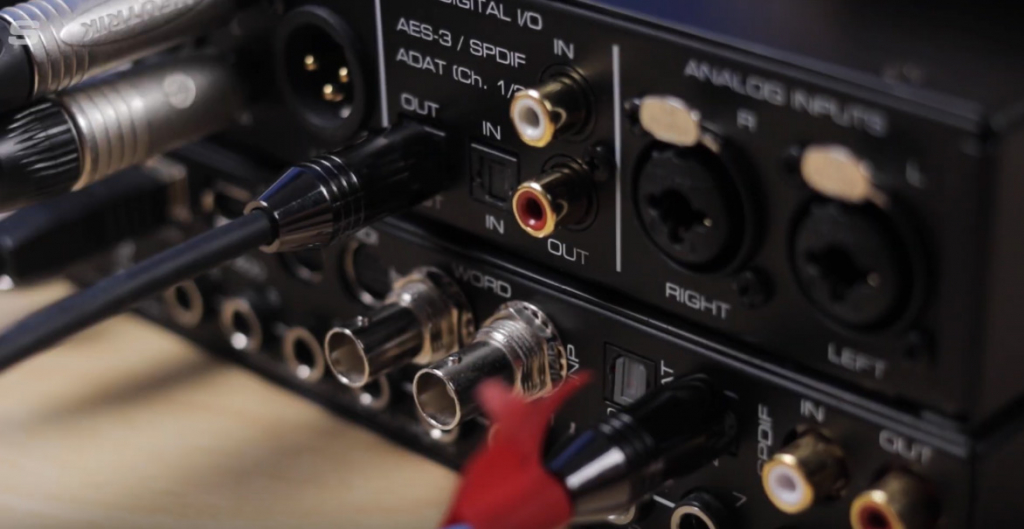 The easiest way to connect the ADI-2 FS to an audio interface is via the ADAT, SPDIF or AES-3 connection, as found on pretty much all RME audio interfaces and Sound Cards.
The ADI-2 FS supports both optical and coaxial cabling – depending on your device, you'll need to use either optical cables (aka 'TOSLINK'), or digital coaxial cables with phono/RCA connectors.
To clarify, these three formats are all digital – as such, any A-D conversion is performed by the ADI-2 itself during a recording, before being passed to the computer via the connected interface or sound card.
Equally in the case of monitoring, the signal is passed digitally from the computer (via the interface or card) to the ADI-2, which then performs the D-A conversion for monitoring with speakers or headphones, or for sending the analogue signal on to inputs of another device.


Routing in TotalMix FX
If you're connecting with an RME audio interface, you can use RME's TotalMix FX software controller to set your interface's ADAT, SPDIF or AES-3 output as your master output.
As shown in our above video, simply open TotalMix FX and use the Assign Menu to select your desired output (bottom-right in TotalMix).
For example on the Firace UCX, the output channel labelled A/S is the level control for the ADAT/SPDIF channel. By choosing this channel as our master out, any audio we now route to this output (by raising faders in the top and middle rows in TotalMix) will be sent to the ADI-2 FS, allowing us to take advantage of the ADI-2 FS's superior D-A conversion quality.
By setting the A/S channel as our master, we're also able to take advantage of the additional features offered via the Control Room section, such as the Mono, Volume Recall and Dim buttons – particularly useful when combined with the RME ARC USB as a monitor controller!
The affordable mastering-grade converter
Hopefully that's given you a good understanding of how to set up the RME ADI-2 FS with an audio interface, as well as providing some examples of the circumstances in which you may benefit from a higher quality AD/DA.
The RME ADI-2 FS represents a true high-end converter at an affordable price, and will make a solid addition to any high-end studio recording or audiophile-level home setup without breaking the bank.


Find out more about the RME ADI-2 FS by visiting our main product page here, or see our list of stocking UK dealers here.

5 Year Warranty (UK Only)
Over the past 20 years, the word 'reliability' has become synonymous with the RME Audio brand, thanks to both the exceptional build quality and the now industry-renowned, rock-solid drivers.
For this reason, we are happy to offer all of our UK customers a complimentary 5 year warranty on all RME products, when purchased either from ourselves, or from one of our authorised UK dealers, and remain the only interface manufacturer to offer this at no extra cost.
To activate your 5 year warranty, simply register your RME device with us within 30 days of purchase via our warranty page.
To ensure you are buying your device from a UK-based retailer, please check our list of authorised UK dealers before purchase.
---

If you'd like to know more about any of RME's audio interfaces, soundcards, AD/DA Converters or microphone preamps, give us a call on 01727 821 870 to speak to one of our team or to arrange a demo.
You can also contact us here.