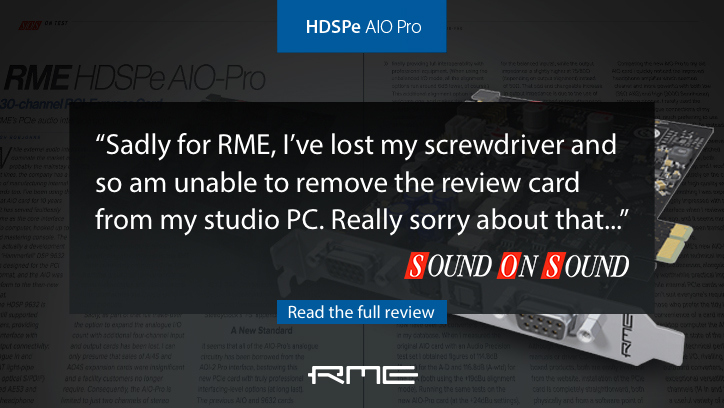 Sound On Sound reviews the HDSPe AIO Pro, RME's high-performance 30-Channel PCIe Sound Card.
Update, December 2021: We are delighted to announce that the RME HDSPe AIO Pro has won a Sound on Sound Gear of the Year Award!
The RME HDSPe AIO Pro is the latest and greatest PCIe sound card from RME, combining 30 channels of analogue and digital I/O with RME's highly coveted ADI-2 Series converters.
Add in RME's TotalMix software mixing controller and DIGICheck analysis tools; network control with TotalMix Remote; the latest digital clocking courtesy of SteadyClock FS; and incredible low-latency performance, the HDSPe AIO Pro sets a new standard for professional multi-channel sound cards.
This first major review comes from Sound On Sound, with reviewer Hugh Robjohns comparing the AIO Pro's bench-test performance alongside a selection of equally high-end converters also known for exceptional sound.
"The new AIO‑Pro card uses the same high‑end converter chips — AKM's 'Velvet Sound' AK5572 A‑D and AK4490 D‑A — that delivered a stellar performance in the ADI‑2 Pro interface (reviewed back in April 2017)" Hugh writes.
"…The AIO‑Pro sits just inside my top 10 rankings, with the D‑A side performing on a par with Crookwood's mastering converters, the Mytek Brooklyn DAC+ and Focusrite's RedNet, but slightly below the Grace M905 and RME's ADI‑2 DAC."
"The AIO‑Pro represents the current state of the art. It delivers a superb technical performance
via its analogue I/O, rivalling many high‑end outboard converters"
"The AIO‑Pro is a very welcome and most impressive update to RME's HDSPe range, and I can't recommend it highly enough," Hugh concludes, who was so impressed he decided not to let us have it back… "Sadly for RME, I've lost my screwdriver and so am unable to remove the review card from my studio PC. Really sorry about that…"
Massive thanks to Hugh and everyone at SOS!
Read the full review for yourself here, or head to the Sound On Sound homepage for more of the latest pro audio news and discussion.
Find out more about the RME HDSPe AIO Pro Sound Card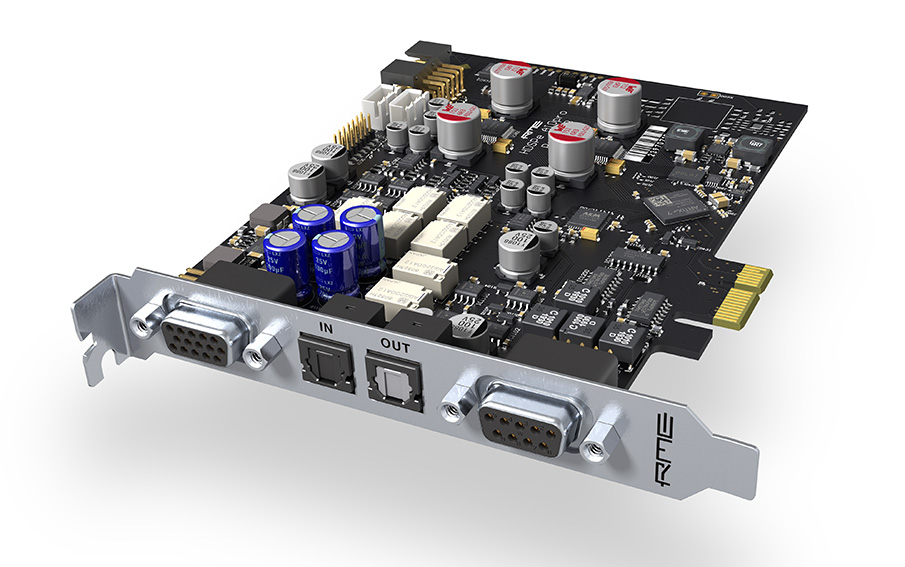 An RME ADI-2 DAC FS in a PCIe Card?
A high-end sound card with mastering-grade conversion quality, the AIO Pro is currently the only product available from RME that combines the flexibility of TotalMix with the award-winning conversion of the ADI-2 Series into a single package.
SteadyClock FS provides next-generation digital clocking across all inputs and outputs (including operating as clock master), whilst latency figures are at an all-time low, with independent website DAW Bench ranking it as their new benchmark for low-latency audio cards in 2021.
A selection of analogue and digital I/O provide a range of connectivity options (ADAT, SPDIF and AES-3), and the on-board 'High Power² headphone output' offers excellent technical performance for all types of headphones, providing an extremely high-quality headphone output directly from the computer (complete with mute relays to prevent against 'pops' and 'clicks' during computer shutdown).
For a full overview of the HDSPe AIO Pro's technical specifications, visit the RME HDSPe AIO Pro product page.
"On the A‑D side, the AIO‑Pro nestles between the Apogee Symphony
and Grace Design M108.
I'd say that's pretty impressive for a £550 multichannel interface!"
Monitor Control with the RME ARC USB
Available as an optional extra, the ARC USB is compatible with all recent RME audio interfaces and soundcards. This includes devices dating all the way back to 2001!
The RME Fireface UFX+, Fireface UFX II and the new Fireface UCX II interfaces all feature dedicated USB connections for the ARC USB. Alternatively, any USB port on a Mac or PC can be used for control over connected RME devices.
Providing quick access to all of the most used functions in TotalMix FX, with the ARC USB you can control mixer functions including;
Volume levels (main and monitor mixes)
Mic/Instrument gains
Switch between speakers A/B
Switch between Mono and Stereo
Solo, Mute or switch all of all of your inputs On/Off simultaneously
Toggle FX bypassing (EQ, Dynamics, Reverb & Delay)
Load Preset Mixer states
And more!
For an introduction to what's possible with the RME ARC USB, check out our RME ARC USB tutorial playlist on youtube.
Find out more about the RME ARC USB

5 Year Warranty (UK Only)
Over the past 20 years, the word 'reliability' has become synonymous with the RME Audio brand, thanks to both the exceptional build quality and the now industry-renowned, rock-solid drivers.
For this reason, we are happy to offer all of our UK customers a complimentary 5 year warranty on all RME products, when purchased either from ourselves, or from one of our authorised UK dealers, and remain the only interface manufacturer to offer this at no extra cost.
To activate your 5 year warranty, simply register your RME device with us within 30 days of purchase via our warranty page.
To ensure you are buying your device from a UK-based retailer, please check our list of authorised UK dealers before purchase.
---

If you'd like to know more about any of RME's audio interfaces, soundcards, AD/DA Converters or microphone preamps, give us a call on 01727 821 870 to speak to one of our team or to arrange a demo.
You can also contact us here.