In our latest video tutorial, we look at using the Icon Platform M+ DAW Controller as an expression controller for virtual instruments inside a DAW.
Both compact and versatile, the Icon Platform M+ is the perfect DAW Controller for small studio and home setups and offers tactile control of a wide range of Digital Audio Workstations.
The Platform M+ uses MIDI data to send commands to each DAW, which means that it can also be used for a range of other applications, including as an expression controller for virtual instruments and other plugins within DAW projects. This makes the Platform M+ a versatile solution to those who would primarily use it for DAW-based work but also want to be able to use it for adding realism to instrument libraries in their projects.  
In this video tutorial, we show you how you can use the Icon Platform M+ as an Expression Controller for use with virtual instruments in your DAW.
To add realism to virtual instruments, such as strings and other orchestral instruments, composers rely on the dynamic control built in to most VSTs. The most basic way of implementing this is through the use of a MIDI keyboard's modulation wheel, though this doesn't always offer the best range of motion.
This is where using a DAW Controller like the Icon Platform M+ comes in, offering fader-based control of various parameters inside your virtual instruments. You can watch the video tutorial below or keep reading for a step-by-step text guide.
See more videos at Synthax TV
Icon Platform M+
Perfect for studio setups where space is at a premium, the Icon Platform M+ is a DAW Controller that packs a large amount of control into a relatively small footprint.  
Designed to emulate a mixing console with one-click control to common functions like Mute and Solo, as well as faders for controlling volume and encoders for panning, the Icon Platform M+ also features control functionality for a range of Digital Audio Workstations.
When used as a DAW Controller, motorised faders allow you to keep an eye on the levels of each channel, with buttons available for switching between banks of channels. Each channel also features its own Mute, Solo and Record Arm buttons, making quickly recording takes smooth and simple.
Transport controls allow for quick access to frequently used functions like play, stop and record, whilst the jog wheel makes it easy to move anywhere along your project with a simple turn.
Its modular design means that you can start with a single Platform M+ and add up to three extra Platform X+ expander panels to create a 32 channel DAW Controller.
It is even possible to customise the controls of the Platform M+ to suit a variety of other applications including as a MIDI expression controller for virtual instruments, like in the video tutorial above.
We recently released a video that outlines some of the ways a DAW Controller like the Platform M+ can improve your setup, which you can check out here.
Using the Platform M+ as an Expression Controller – Step-by-Step Guide
1 – Download the Icon iMap Software here.
2 – Follow the installer for the software and then open.
Next, the Platform M+ has to be set to User Defined mode. This is achieved by following the below.
1 – Turn on the Platform M+.
2 – As soon as you turn on the Platform M+, press the illuminated "Select" button above channel 7 until the red LED over channel 4 is lit. User Defined mode is now selected.
Now that the Platform M+ is in User Defined mode and the software has been installed, we can begin adjusting the control parameters of the Platform M+ to create our expression controller.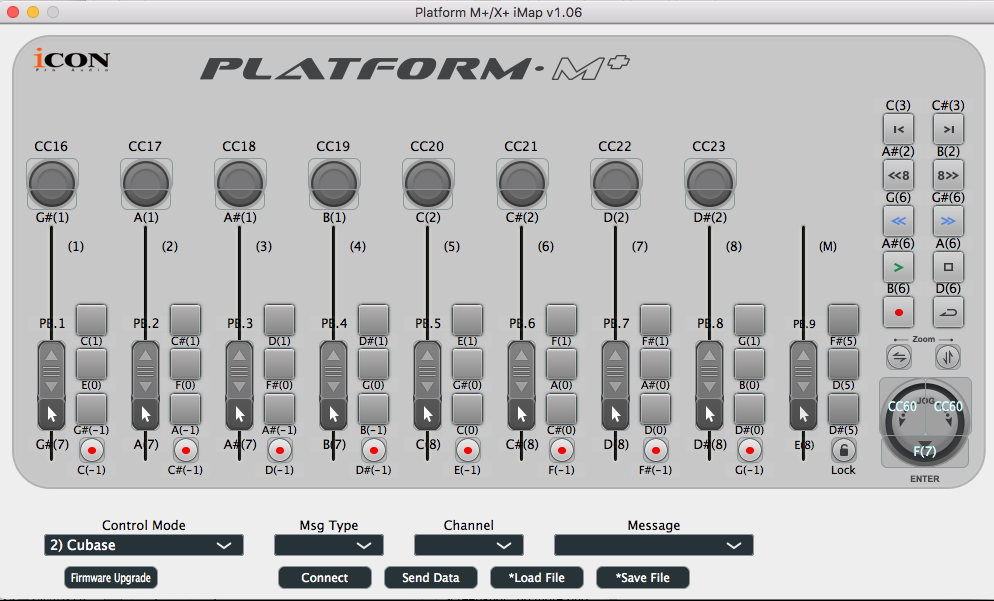 Note that if you've already been using the Platform M+ as a DAW Controller, it will need to be removed as a control surface in your DAW. This will stop any control data confusion between the controller and your DAW.
1 – Once iMap is open, click "Connect" and select Platform M+.
2 – When connected, change the Control Mode to "User Define".
3 – Click Fader 1, and change "message type" to "CC" and Message to "1 – Modulation(GM)".
4 – Click Fader 2, and change "message type" to "CC", change Channel to 1 and Message to "11 – Expression(GM).
Under each fader icon is a mouse pointer which indicates the touch-sensitive control portion of the fader. This next step will remove this touch-sensitivity, which itself could accidentally sound a high-pitched note when using MIDI instruments.
1 – Click the pointer on fader one and change "Msg Type" to "Null".
2 – Repeat Step 3 for all faders. Note that the Master fader cannot be changed.
3 – Click "Send Data", which will load this layout onto the Platform M+.
It is important to click "Save File" when this has been done, as iMap resets all values when it is closed and opened again.
Creative Control of Virtual Instruments
The CC1 control is commonplace in most VSTs as a dynamic control, whilst CC11 is frequently used in orchestral libraries as an "expression" control. Other libraries, like those from Spitfire Audio (as seen in the video tutorial) assign CC values to a wide range of other parameters.
This means you could use the Platform M+ to control settings like Attack or Decay For more experimental control, even things like Reverb can be assigned to faders on the Platform M+ in some cases. For a full list of the commands available in your VST libraries, check the MIDI Mapping section of the manual or search online.
You can check out the Spitfire Audio LABS range of instruments here.
Icon DAW Controllers
Synthax Audio UK is the official UK distributor for the range of DAW controllers manufactured by Icon Pro Audio – a selection of cross-platform / universal control surfaces with motorised faders that offer a great bang-for-buck option, with a sturdy build-quality and support (and button overlays) for all the of most popular DAWs including Ableton Live, Bitwig, Cubase / Nuendo, Logic Pro, Pro Tools, Reaper, Reason, Samplitude and Studio One.
The full-size Qcon pro X includes a full meter bridge section, whilst the slightly smaller G2 is a direct update to the popular silver QCon Pro.
The Platform Series are better served for laptop and mobile use, and like the larger QCons, can be expanded with up to three fader expanders for a maximum of 32 channels.
See the full range of Icon DAW Controllers
---

If you'd like to know more about Icon Pro Audio DAW Controllers, give us a call on 01727 821 870 to speak to one of our team.
You can also contact us here.