A collection of Lauten Audio microphones were used by Grammy Award-winning Engineer Darrell Thorp during the recording of Foo Fighters' tenth studio album "Medicine at Midnight".
"Home Recording"
Recorded entirely inside a holiday rental home in Encino, California, the unique recording setup surrounding "Medicine at Midnight" came to life after frontman Dave Grohl spent time in "the Encino House" writing and recording demos. The sound of the 1940s house would soon become a key component of the recording process for the album.
"He was just so stoked about the drum sounds that he was getting in there—which were phenomenal" recalls recording engineer Darrell Thorp. "Dave said, 'What if we just record in here?' And he took us into one of the bedrooms and said, 'We can make this the control room,' and he showed us another and said, 'And we can put amps in here.'"
To make the in-house production a reality, all the equipment expected from a high-end studio was transported and set up inside the house, including a number of Lauten Audio microphones. From vocals to guitars and drums, Lauten Audio microphones were placed all over "the Encino house", a testament to their versatile nature.
Recording Drums
With the drum sound in the holiday rental providing the inspiration behind the album's unusual recording location, it was important that the sounds were recorded faithfully. Amongst the microphones used on the three drum kits across the house were the Lauten Atlantis and Clarion from the signature series, as well as the LS-308 and LA-220 microphones from the Synergy and Series Black ranges respectively.
The Lauten LS-308 – one of Thorp's favourite microphones from the Lauten line-up – was chosen as part of the drum recording setup, given its superior noise rejection qualities. 
"You can stick one on a tom, and you'll literally hear cymbals just barely as a 'ts-ts-ts,' and the drummer's bashing the hell out of it. It's my new favourite tom mic."
Lauten's Clarion FC- 357 FET condenser was placed in front of the kit, whilst a pair of LA-220 microphones from the Series Black range were called upon as stereo overheads.  
Darrell Thorp
After four years in the US Navy, Darrell Thorp's journey in the recording industry began in 1997 as an intern at various Los Angeles studios. He would eventually become an Assistant Engineer at some of the most prestigious studio spaces in Los Angeles, including Track Record and finally Ocean Way Recording.
Fast forward to 2003 and his involvement in OutKast's "Speakerboxxx/The Love Below" and Radiohead's "Hail to the Thief" would earn Darrell the first of his nine Grammy award wins. Credited for his work as a producer, recording and mix engineer on over 200 titles, Darrell Thorp has worked with some of the biggest recording artists including Jay-Z, Beck and of course Foo Fighters.
"I really do stand behind the Lauten Audio mics"
When working with Foo Fighters on their 2017 release "Concrete and Gold", Darrell Thorp also used an arsenal of Lauten microphones for the recording sessions. With an instrument setup as large as that on "Medicine at Midnight", Darrell used a large selection of the Lauten range, including the entire Signature Series and Series Black range.

"Part of the challenge was we had 4 drum kits set up at once, a bass station, vocals, keys with 2 keyboards and pianos, and over 20 guitar amps, some in the live room and some in Iso-booths – I was using a lot of Lauten Audio mics."

Lauten's Atlantis microphone from their Signature Series was Darrell's choice for miking frontman Dave Grohl's acoustic guitar, with its "genius" +10dB gain switch making it possible to record even the quietest guitars. Darrell even used the Atlantis for recording acoustic guitar on "Medicine at Midnight".

"I really do stand behind the Lauten Audio mics, I use the products a lot! I'm not just a face on an ad and a face on the website. We just did a Foo Fighters BBC Live session and I took an Eden for a mono overhead on the drums, which sounded great. I use the mics all the time when recording!"

Read more about Darrell Thorp's use of a title="Lauten Audio Microphones Chosen by Darrell Thorp on Concrete and Gold – Synthax Audio UK" href="https://www.synthax.co.uk/latest/2017/09/25/lauten-audio-microphones-foo-fighters/">Lauten mics on Foo Fighters' album "Concrete and Gold"

 
Signature Series – Clarion and Atlantis
Hand-crafted in Silicon Valley, the Signature Series is the pinnacle of Lauten's microphone range. Beautifully designed with sound to match, the Signature Series is built around three microphones – the Eden, the Clarion and the Atlantis.  
Offering faithful reproduction of vocals as well as detailed recordings of kick drums and bass guitar, the Lauten Audio Clarion is a modern take on a vintage FET condenser microphone bringing astonishing depth and dimension to any recording. Its custom designed 35mm capsule is hand-tuned to deliver vintage sound with just the right amount of air, whilst three selectable polar patterns and three-way gain staging make it perfect for a wide range of recording situations.
Another of Darrell Thorp's frequently used microphones is the Lauten Audio Atlantis. Featuring switchable polar patterns, multi-voicing capabilities and a 3-way gain switch, the Atlantis offers an extremely diverse, unique and modern FET sound. It offers full and rich, low and mid-range frequencies as well as smooth and unique high-mid and high frequencies no matter which voicing setting is selected.
The multi-voicing feature is an extremely powerful option when recording vocals and many other sources. Each of the three options on the Atlantis gives an entirely different response. From forward, modern sounds to more gentle tones, the Atlantis effectively packs three microphones into one thanks to individual circuitry for each voicing.
Learn more about the Lauten Audio Signature Series.
LS-308 – Side Address Noise-Rejection Microphone
Used in "the Encino House" on toms, the Lauten LS-308 from the Synergy Series is the perfect microphone for recording when sound isolation is paramount.
With 270 degrees of off-axis rejection, the LS-308 allows for the confident capture of loud, impactful sounds live without the need to replace toms or re-track guitars due to bleed. The LS-308 is able to withstand a staggering 135dB of SPL without internal padding, meaning electric guitars can be tracked in front of a live drum kit, or the bottom of a snare drum with astonishing isolation and dynamic range. 
Like the Signature Series, the LS-308 features sound shaping filters removing the need to change out microphones in order to get the sound you want.
Learn more about the Lauten Audio Synergy Series.
LA-220 – Large Diaphragm Condenser Microphone
Part of Lauten's Series Black range, the Lauten Audio LA-220 is a large diaphragm condenser microphone, built around a US made JFET amplifier. Used by Darrell Thorp as drum kit overhead microphones, the LA-220 is an incredibly versatile microphone that also equally at home on vocals or instruments.
The LA-220 benefits from two independent filters, offering different voicings for a range of recording applications. These filters also help solve common problems in home, basement or bedroom recording environments.
If the room or source is boomy, or you have low-end rumble from outside sources like road noise, furnace, air conditioner etc., turn on the low-cut filter and eliminate the problem. The high-cut filter helps to roll-off above 12k and remove any "harshness" from the sound source. Both filters also work independently of one other, meaning both can be used at the same time, making the LA-220 incredibly flexible, professional and affordable microphone.
Learn more about the Lauten Audio LA-220.
To read the rest of the Foo Fighters recording feature, check out Mix Online's article series.
Foo Fighters recording session photos by Andrew Stuart
---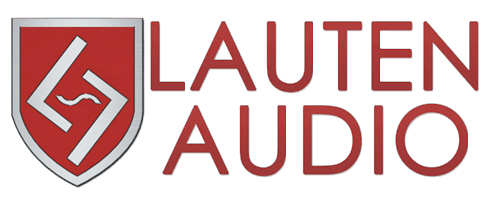 If you'd like to know more about Lauten Audio microphones, give us a call on 01727 821 870 to speak to one of our team or to arrange a demo.
You can also contact us via email.