UK Progressive Metal Band TesseracT use the RME Fireface UFX+ and Ferrofish A32 for their live cinematic experience PORTALS.
With the COVID-19 pandemic putting a halt to the plans of touring bands, UK Progressive Metal band TesseracT decided to take matters into their own hands with the release of PORTALS – a highly acclaimed, pay-per-view live-stream event described as a "live cinematic experience".
Half concert, half film, PORTALS combined full arena-style live musical performances – complete with stunning lighting and visual effects – with a conceptual storyline, allowing the band to deliver the full live concert experience to their fans during the coronavirus lockdown, and taking the live-stream format to new heights.
In total the production required around 50 people – with lighting and laser technicians working alongside the film and audio crews – and featured an RME Fireface UFX+, which alongside a Ferrofish A32 converter, served as the foundation for many of the elements used throughout the recording process.
With Tesseract long-time users of RME both in the studio and on tour, we were keen to get the thoughts of Bass player Amos Williams, who kindly told us about how the concept for PORTALS first came about; what the band are planning next; and why TesseracT rely on hardware from RME Audio and Ferrofish for their live performances.
See more videos at Synthax TV
TesseracT
Formed in 2003, UK Progressive Metal band TesseracT are renowned for their odd time signatures and musical complexity. Merging atmospheric passages with the often crushing sound of technical metal, the band have never shied away from putting technology at the forefront of their sound.
"Really we started out as a bedroom studio band," Amos says. "I think that's where we started our journey and relationship with technology and equipment".
With a back catalogue that spans four studio albums, a number of EPs and two live albums, the group are often cited as pioneers of the modern progressive metal sound. Having named themselves after a four-dimensional shape – the 'tesseract' is the four-dimensional analogue of a cube – the name no doubt hints at a unique musical style which blends heavy polyrhythmic guitar riffs, unconventional time signatures, and spacey FX-laden ambient interludes.
"Our live and studio setups since day one have had RME at the core."
Having started out with the RME Fireface 400, TesseracT have been using RME interfaces for their studio and live work since the band's early days. When a more powerful interface was required, Amos recalls upgrading to the larger Fireface 800, a stone-cold classic of an interface which still powers many studios and live rigs around the world to this day.
After several years with the 800 the band upgraded to the Fireface UFX+, RME's current flagship interface and which now forms an integral part of the TesseracT live show.
"We use it for sequencing, metronome, and recently controlling all of our MIDI units, like FX processors and guitar preamps," Amos tells us. With atmospheric and heavy, overdriven sounds forming a key part of the TesseracT sound, various guitar preamps and FX units are used throughout a live show. Control data is sent to these devices via MIDI from the UFX+, allowing the band to easily change sounds and patches during or between tracks. "And for PORTALS we actually used it for timecode as well," Amos continues, "which helped run the lighting, the video and the laser elements of the show."
TotalMix FX
Included with every RME audio interface and Sound Card, TotalMix FX is a powerful and flexible application that allows users to freely route any hardware input – or software playback channel – to any hardware output. Each output is its own independent stereo submix, making TotalMix FX a powerful monitoring and routing solution for a wide variety of professional recording applications.
"We've always relied on the rock-solid functionality, as well as the ability to route any input to any output with pretty much no hassle," says Amos of RME's software controller. "And the TotalMix interface allows you to see that in a very clear manner."
TotalMix FX is also available as an iPad app, offering the same level control as the desktop application on a portable device. This pairs perfectly with many of RME's interfaces which work in Class Compliant mode, including the new Fireface UCX II and UFX models, Fireface 802, and the mobile RME Babyface Pro FS.
TotalMix workspaces are also controllable by other devices on the same network – via the free companion app TotalMix Remote – which can even be used to create monitor controllers for other musicians. To find out how to achieve this with an Apple iPad, watch our TotalMix Remote tutorial over on our YouTube channel.
If you'd like to learn more about TotalMix FX, check out the RME beginner's guide to TotalMix FX series of video tutorials.
RME Fireface UFX+
RME's flagship interface, the Fireface UFX+ adds to the already impressive I/O offering of its predecessor by adding coaxial and optical MADI connections. This means the UFX+ has 128 more channels than the UFX or UFX II, making it the perfect interface for both studio and live applications where high channel counts are required.

With four digitally controlled Mic/Instrument preamps and a further eight balanced line level outputs on the back panel, the UFX+ serves as the perfect foundation for setups where a large number of microphones or hardware instruments are called upon. What's more, with eight balanced line level outputs too, the UFX+ can also be used for connecting to multiple monitors and outboard effects units.
A wide range of digital connectivity is also available on the UFX+, with ADAT, AES/EBU and MADI all featuring on the back panel. The UFX+ is RME's first interface to feature USB3 and Thunderbolt connections, giving the UFX+ incredible audio performance under Mac and Windows, with lowest latency, lowest system overhead and lowest CPU load.
The UFX+ can also be paired with RME's ARC USB controller, designed for direct access to the most frequently used actions and commands of TotalMix FX. Our ARC USB tutorial series shows you how to get started with RME's Advanced Remote Control and how it can help to improve your workflow.
Ferrofish A32
"The interesting thing about touring worldwide, especially when you're touring through summer festival season," Amos tells us, "is that the situation might not necessary be what was advanced to you. What you would normally run – in our case, a data line to front of house – might not be possible."
After encountering this issue quite regularly, the band felt it was time to find a solution that would allow them greater control of the production during their show without compromises. This meant adding the Ferrofish A32 AD/DA Converter to their rig.
"This allowed us to put our whole system into XLR outs with very little space". Fitting 32 balanced inputs and 32 balanced outputs into a 1U device, the Ferrofish A32 is a high-channel AD/DA converter that is portable enough for the band to travel with across the world. Featuring 4 x ADAT inputs and 4 x ADAT outputs, as well as MADI coaxial and optical connections, the A32 is well-equipped to send and receive digital audio from a wide range of sources.
Level meters for all channels are available on the front panel, giving at-a-glance monitoring information, whilst front panel controls also make it simple to adjust any parameter or routing on the A32 using the intuitive user interface. It's even possible to store settings directly to the unit, making it quick and simple to select routings for different applications.
"It allows us to run the show the way we want to" states Amos, "without any hindrance from what may or may not be at the festival site when we show up."
Ferrofish's RemoteFish app also makes it possible to control the A32 unit via MIDI or MIDI-over-MADI, with access to all menus and settings as well as the routing matrix from both Mac and Windows machines.
For an introduction to controlling Ferrofish converters via RemoteFish, see our RemoteFish overview video.
A Dante version of the Ferrofish A32 is also available, featuring an additional interface with 64 digital inputs and 64 digital outputs, and allows for seemless integration with any existing Dante networks. For more information, visit the Ferrofish A32 Dante webpage.
P O R T A L S
With the COVID-19 pandemic putting touring on hold for bands across the world, many acts took to streaming services like Twitch to provide fans with an alternative live show experience. Streaming also offered bands a much-needed source of revenue, as well as a way of continuing to engage with fans during the lockdown.
It was this renewed focus on live-streaming that led TesseracT to begin formulating the ideas behind PORTALS, which Amos tells us the band saw as "an opportunity to exploit the limitations imposed upon us all last year during the pandemic. Many bands had started streaming their shows and we found, without meaning to be negative, that the medium could be pushed."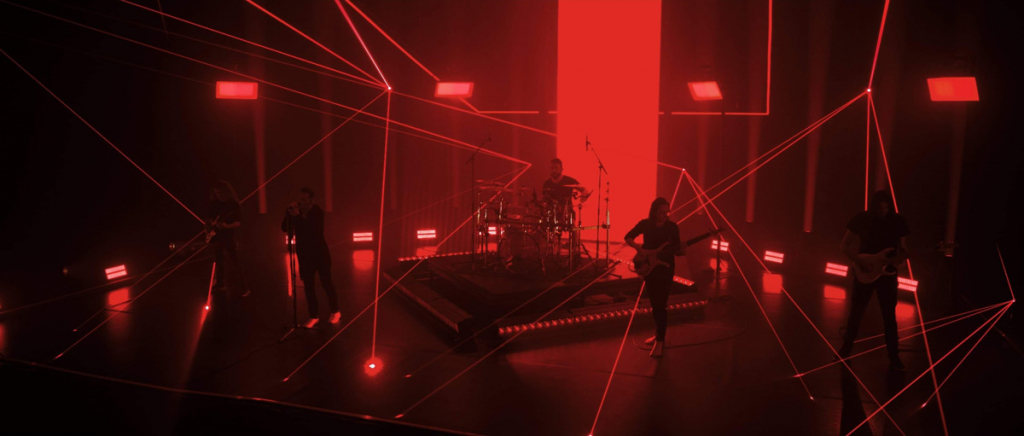 "We realised very early on that we weren't trying to capture a live show, we were trying to create a film. With the approach of a cinematic production, it's enabled us to think of things differently, to look at the limitations imposed upon us with restrictions on performance medium – that being a laptop, TV or in many cases a phone – and working the show out from that point up."
"It was wonderful to work with so many skilled people" Amos says, "and to see something like PORTALS come from the chaos of last year."
Following the incredible reception to PORTALS, TesseracT decided to release the audio and visual as an album in their own right. Available in CD, Blu-Ray and Vinyl formats, as well as a Deluxe boxset, PORTALS is available to purchase here.
Our thanks to Amos and TesseracT for taking the time to chat to us!
TesseracT have recently announced the launch of their own Twitch channel, which can be found here.
PORTALS performance images courtesy of TesseracT.
Band portrait by Steve Bright Photography.
See the full range of RME Audio devices
See the full range of Ferrofish devices
---

If you'd like to know more about any of RME's audio interfaces, soundcards, AD/DA Converters or microphone preamps, give us a call on 01727 821 870 to speak to one of our team or to arrange a demo.
You can also contact us here.