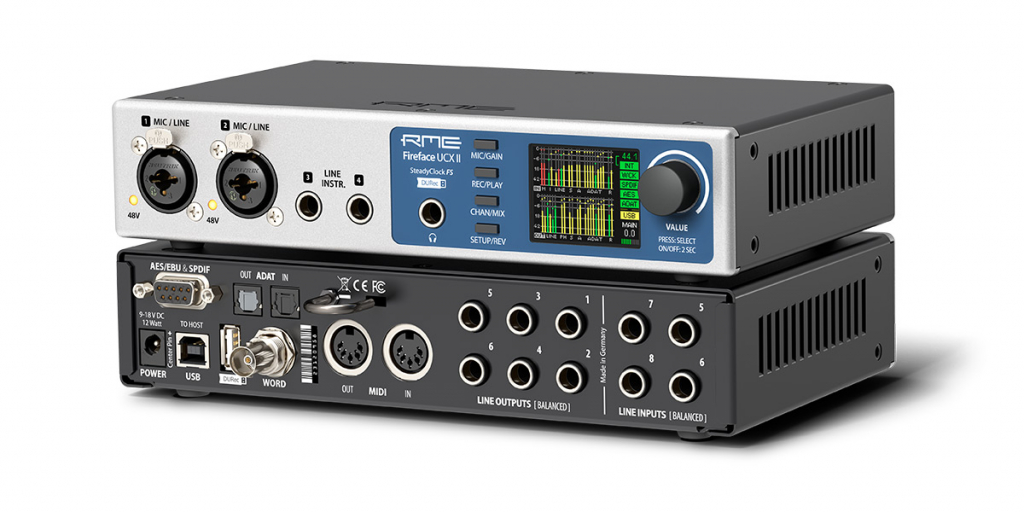 Introducing the RME Fireface UCX II, the powerful next-generation 'Advanced Audio Interface' from RME Audio
Update Dec 2021: We're pleased to announce that the RME Fireface UCX II was chosen by Luke Goddard of Production Expert as his 'Product Of The Year'!
With the RME Fireface UCX II now available to buy in the UK, we take a look at what you can expect from what RME are calling their first 'Advanced Audio Interface'.
With a total of 40 channels of audio (20 in / 20 out) and new features like SteadyClock FS, full standalone operation, and multi-track recording direct to USB storage devices ('DURec'), the Fireface UCX II is RME's most powerful and flexible half-rack interface to date.
Take a tour with our video below, or read on for a run-through of what this next-generation audio interface can bring to your recording studio or live performance setup.
If you're in the UK and are thinking about an upgrade, make sure you purchase through one of our Authorised UK RME Audio Dealers and claim a free extended 5 year warranty on us!
RME Fireface UCX II: First Look Video
See more videos at Synthax TV
40-Channel, 192 kHz Advanced USB Audio Interface
With an illustrious history now stretching back 25 years, RME's back catalogue includes a long list of premium half-rack devices – starting out with the various Hammerfall DSP I/O boxes such as the Multiface, Digiface and RPM – and including the now legendary RME Fireface 400 (which despite its age still manages to fetch a fair price on eBay!).
Now in 2021, RME have released the successor to the popular Fireface UCX in the form of the UCX II, with a high-quality sonic upgrade that brings the UCX into line with RME Audio's other latest generation of high-performance interfaces.
Analogue & Digital I/O
With a combined total of 40 audio channels, the UCX II offers a flexible selection of analogue and digital connectivity to support professional users working across a range of disciplines, and with a variety of formats.
Analogue I/O
The front panel features 2 x high-performance microphone / instrument preamps, as well as 2 x balanced instrument / line-level inputs and a headphone output, allowing for latency-free monitoring from TotalMix FX.
On the back panel you'll find another 4 x Line Inputs and 6 x Line Outputs, giving a total of 8 x analogue inputs and 8 x analogue outputs (including the headphone output), with the option to expand up to another 8 channels each way (at 44.1 / 48 kHz) via the trusty optical ADAT I/O.
Digital I/O
As mentioned above, ADAT I/O is included for expanding the UCX II with other studio hardware such as microphone preamps and AD/DA converters, with MIDI I/O for control of instruments (like synths and drum machines), as well as for sending remote control messages to other hardware.
Other digital options include AES/EBU and SPDIF I/O (via the 9-pin D-Sub and included breakout cable), which alongside the ADAT connections, can all be used simultaneously.
WordClock I/O is provided on a single BNC connector – which can used as either an output (master) or input (slave) – or alternatively can be sent over the ADAT, SPDIF or AES/EBU connections. It's worth noting that if you want to take advantage of RME's SteadyClock FS technology, you'll want to make sure you've set the UCX II as clock master.
Connection with a Mac, PC or iPad is made via the ubiquitous USB B-Type connector, with a second USB port for connecting USB storage devices (external hard drives or pen drives). This second port also doubles up as a direct connection for the RME ARC USB (Advanced Remote Control) – a powerful optional extra for any RME interface or sound card users.
And finally we have the power supply connection with locking connector, which locks in place with a quarter-twist and helps prevent against accidentally dislodging the cable (particularly handy for live performance!).
DC-Coupled Output Audio Interface
It's worth noting that all of the RME Fireface UCX II's outputs are fully DC-Coupled, allowing control voltages / gate messages to be sent to capable studio hardware, most notably modular synthesizers like those from Eurorack and the Moog 5U format.
Whilst modular synths arguably remain something of a niche pursuit, more interface manufacturers are beginning to take note of the demand for DC coupling – as such, RME now has several devices featuring with DC-coupled outputs, including the high-end RME M-1610 Pro and RME M-32 Pro AD and DA.
Front Panel Control
One of the most noticeable changes in comparison with the original Fireface UCX is the new front panel, which for the UCX II has been updated to reflect that of other next-generation RME devices (such as the Fireface UFX+ and RME 12Mic), and allows full and immediate access to all features of the interface.
The new display adds full metering for all 20 input and 20 output channels, whilst four buttons and a large rotary encoder provide access to the unit's features and settings – including input gains and output levels; EQ and FX controls; the saving and loading of states to the device; as well as controls for recording with DURec.
Standalone Operation and Recording via DURec
As alluded to above, the Fireface UCX II is capable of full stand-alone operation. Up to six setups can be stored to the device itself, and can easily be called upon any time via the front panel.
Alongside operating as a powerful 40-channel audio interface, the UCX II can also be used for a number of additional applications, such as a stand-alone AD/DA converter, microphone preamp, monitor mixer, digital format converter, analogue / digital routing matrix, and even a hard disk or field recorder.
Stand-alone recording is possible thanks to the inclusion of RME's DURec technology, an integrated digital recorder also found on the RME Fireface UFX II and Fireface UFX+, and powered by the on-board DSP (and therefore independently of any Mac or PC).
RME Fireface UCX II: First Look Video
All input and output channels can be recorded directly to external USB hard drives or memory sticks (formatted to FAT-32). Tracks can also now be named via TotalMix FX in advance, and all recordings are time-stamped, making it easier than ever to identify each track for editing in a DAW, or sharing with other musicians or members of a production team. This configuration can then be stored to the device (as one of the six saveable states), making it easy to save a recall a dedicated 'field recorder pre-set'.
For a full discussion of the technical aspects of DURec, check out the video above with RME's Matthias Carstens, or watch our own introduction to using RME's DURec video.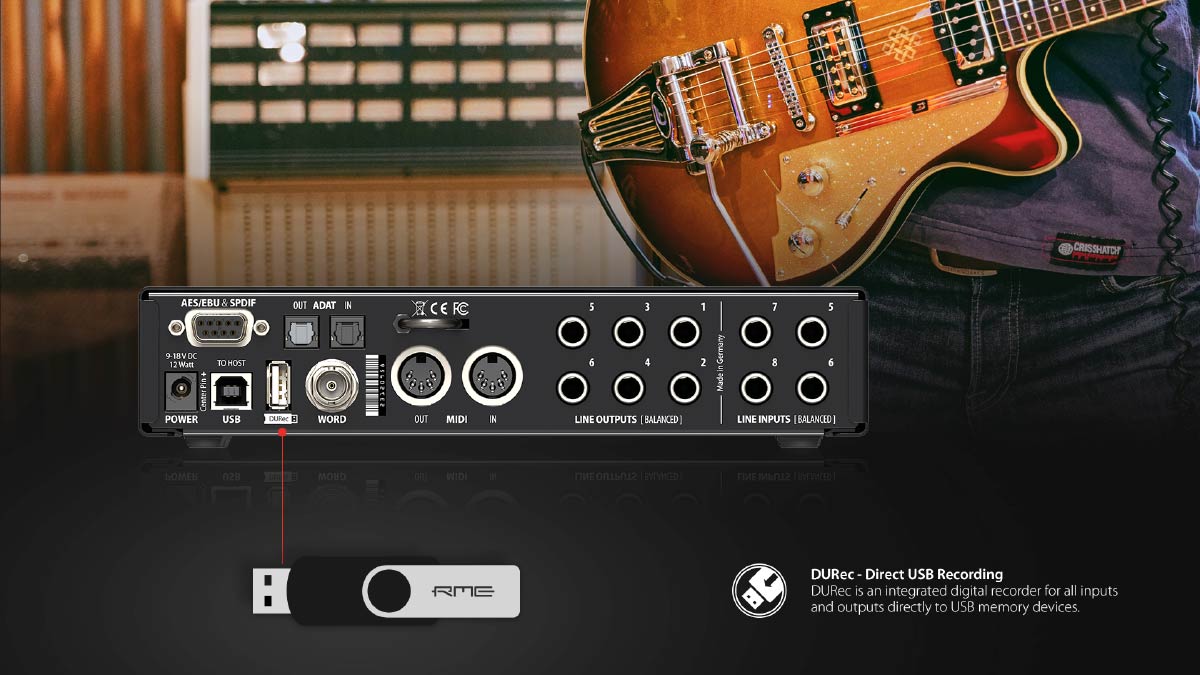 SteadyClock FS
The Fireface UCX II also features RME's latest jitter rejection technology 'SteadyClock FS'. Originally developed for RME's award-winning ADI-2 Series of converters, this 'femtosecond clocking' technology is now found on a number of RME Audio devices.
Without going into too much detail, clocking (i.e. wordclock) and jitter rejection are an important piece of the digital audio puzzle, helping to optimise the AD and DA conversion by ensuring everything remains sample-aligned throughout, and SteadyClock FS is RME's most accurate to date.
For a detailed look at the workings of SteadyClock FS, watch RME's introduction to SteadyClock FS video.
Software control – TotalMix FX, TotalMix Remote & DIGICheck
No discussion of RME devices would be complete without mentioning TotalMix FX, RME's software controller for the on-board DSP digital mixer built into every RME interface or sound card.
A powerful routing and mixing controller, TotalMix FX essentially allows RME devices to act as software-controlled digital mixing consoles, complete with a full professional feature-set including the ability to easily create sub-mixes; a routing matrix (any input to any output); a Control Room section (with shortcuts for Speaker A/B switching, Dim, Mono, Level Recall, Talkback etc); and numerous other features like creating channel groups, saving mixer states, or using the Loopback feature to send submixes back in as inputs (internally via the DSP).
A 5-band parametric EQ and Dynamics section are available on every channel, and Reverb and Delay sends allow for enhanced monitor mixes during recording.
TotalMix Remote
All of which can even be controlled wirelessly using TotalMix Remote, a free companion app for TotalMix that allows for network-control over any RME interface or sound card.
This includes wirelessly via an Apple iPad (check out our video on creating a wireless monitor controller with TotalMix Remote here).
Note: there is also a TotalMix for iPad app, which is what you'll want if you want to use an iPad itself for recording and mixing. TotalMix Remote is simply for network control (of an RME device connected to another computer on the network).
DIGICheck
Finally we also have DIGICheck, a set of free software analysis tools that includes functions like multi-channel level metering (peak and RMS); a 30-Band spectrum/frequency analyser, plus correlation meter and vectorscope; a loudness metering tool for checking against the IT 1770 / EBU R128 standards commonly found in broadcast; and a Surround Audio Scope for surround sound level metering with extended correlation analysis, ITU weighting and ITU summing.
RME ARC USB (Advanced Remote Control)
Whilst the UCX II can be fully controlled from both TotalMix FX and the device's front panel, if you're in the studio you'll likely benefit from something more tactile.
RME's ARC USB is available as an optional extra, offering a dedicated monitor controller alongside a set of user-definable buttons (shortcut keys for functions like Mute, Mono, Dim, Talkback etc).
The ARC USB can be connected to any USB port on a Mac or PC, or directly via the Fireface UCX II's DURec connection. Equally, an iPad, Fireface UCX II and ARC USB can be combined to form a compact yet extremely powerful mobile recording setup.
Check out our YouTube tutorial playlist for controlling TotalMix FX with the RME ARC USB.
Find out more about the RME ARC USB (Advanced Remote Control)
Summary
The original Fireface UCX was one of RME's most popular interfaces, and we've no doubt its successor will prove to be just as important an entry in the history of RME Audio.
With the company's impressive track record of providing updates – even for long-discontinued devices (dating all the way back to 2001) – suffice to say you're in safe hands if the UCX II is next on your list.
With comprehensive I/O options and the latest AD and DA converter chips; transparent microphone preamps; flexibility offered by TotalMix FX and TotalMix Remote; and super low-latency, 'rock-solid' drivers, the Fireface UCX II continues RME's tradition of no-nonsense, high-performance devices that professionals can rely on to get the job done.
Find out more about the RME Fireface UCX II audio interface
Buy your RME Fireface UCX II from an authorised UK retailer

5 Year Warranty (UK Only)
Over the past 20 years, the word 'reliability' has become synonymous with the RME Audio brand, thanks to both the exceptional build quality and the now industry-renowned, rock-solid drivers.
For this reason, we are happy to offer all of our UK customers a complimentary 5 year warranty on all RME products, when purchased either from ourselves, or from one of our authorised UK dealers, and remain the only interface manufacturer to offer this at no extra cost.
To activate your 5 year warranty, simply register your RME device with us within 30 days of purchase via our warranty page.
To ensure you are buying your device from a UK-based retailer, please check our list of authorised UK dealers before purchase.