Live events and video production company Ross Video acquires fifth Calrec Brio console for their Ross Production Services (RPS) division
Ross Production Services (RPS) have added a fifth 96-channel Calrec Brio console to their fleet of six-camera OB sprinter vans. Part of the division's fleet of eight trucks, three of the trucks are now using Calrec Brios (including the 12-camera 40-foot units) in a move to standardise Calrec technology across their audio output.
Part of Ross Video's in-house production services, the team at RPS produce up to 200 live sporting and esports events a year, working alongside major US broadcast and cable networks, and including the production of EA's Madden NFL 21 Championship Series.
A new studio facility build was completed last year in Connecticut – home to a 72-fader Calrec Apollo and two more Brios – and which now serves as RPS's main production hub, handling a variety of high-profile projects for customers in sports, esports and live entertainment.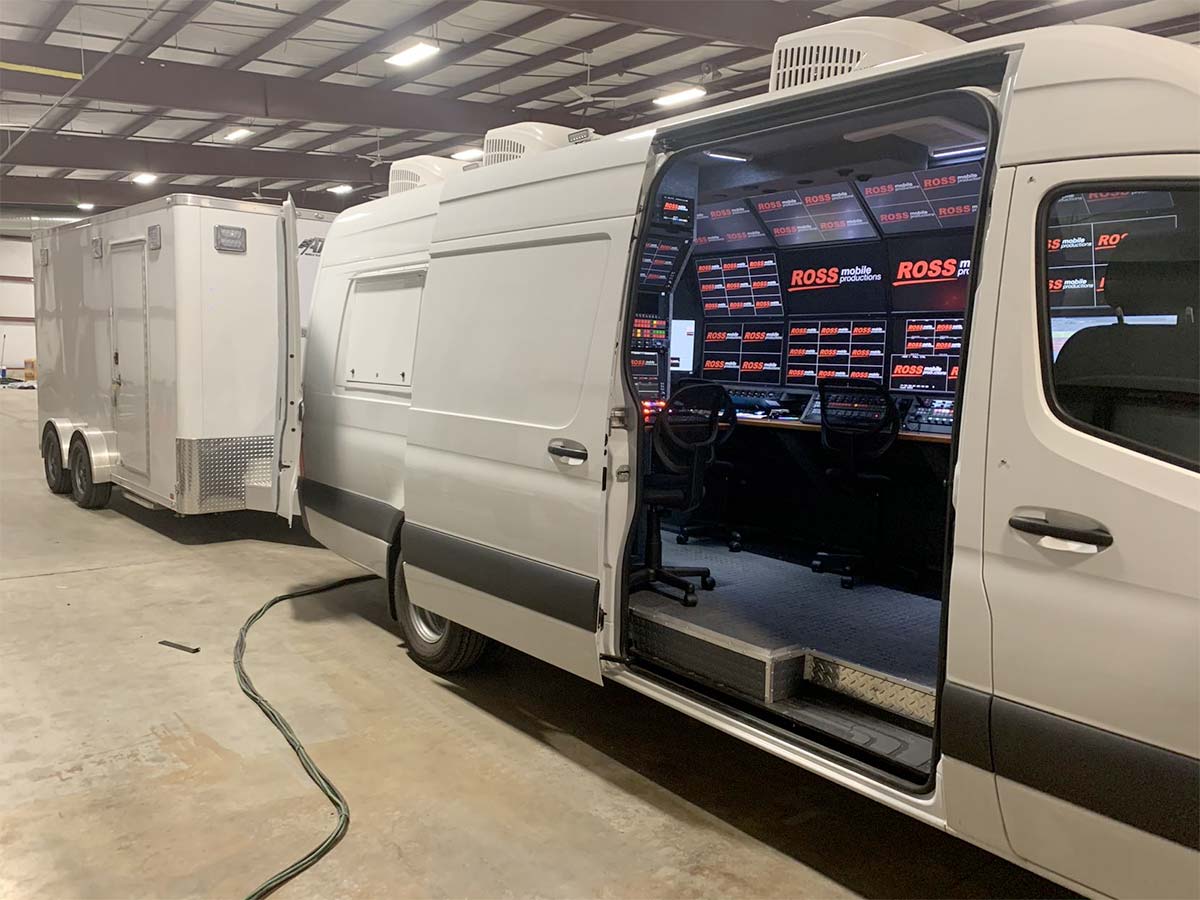 Matthew Webster, Technology Manager at RPS says "Our preference is of course to use Ross equipment first, and about 95 percent of the gear in our trucks is Ross, but audio is the exception. We will be fully standardizing on Calrec desks moving forward. There's no question that Calrec is the industry standard for quality audio, and that's something our team has been lacking for a long time."
When used for EA's Madden Series, Webster said that the Calrec Apollo and Brio consoles shone because of their hyper-connectivity and the ease with which resources can be shared, as well as highlighting the remote training offered by Calrec as highly beneficial and efficient. Space inside the Sprinter OB units is at a premium, making the small form factor of the Calrec Brio ideal for outside broadcast.
"There's no question that Calrec is the industry standard for quality audio"
"We're using Calrec's Hydra2 network and the MADI interface for all of our connections. With Hydra2, our consoles can be connected to any studio at any time and any feed can be controlled by any desk. Each of our control rooms has its own dedicated router, and each router sends its MADI to a single I/O box."
"The only reason we're not doing AoIP right now is because we're in a growth phase with Ross Production Services, and our MADI/Hydra2 setup is a great ecosystem for us to be in at the moment. Our operators love it and it cuts down on busy work for them. With any of our future trucks we'll look to install a Calrec desk – either a Brio or an Apollo – these are our favourite consoles right now."
"Ross Production Services has established a powerful reputation with many high-profile clients with varying production requirements and it's imperative that they have market-leading audio across all output. It's very rewarding to see our Brio and Apollo consoles being used to the fullest extent," said Rob Lewis, National Technical Sales Manager for Calrec.
If you'd like to know more about the Calrec Brio or Type-R,
give us a call on 01727 821 870, or contact us to book a demo.
Calrec Brio Duet & Medley for sports production
Earlier this year Calrec announced it was enhancing the Brio with the launch of the Calrec Brio Duet and Brio Medley packages, offering greater channel counts and expanded connectivity as standard.
Both the Calrec Brio 36 Duet and Brio 36 Medley consoles are in stock and available now at Synthax Audio UK. As Calrec's official UK distributor for Brio and Type R, we will always have stock of both the Brio Duet and Brio Medley at our offices and demo space in Hemel Hempstead, just north of London.
If you're a broadcast engineer operating in the UK and need a Brio supplied on the double, be sure to contact us, or give us a call on 01727 821 870!
Find out more about the Calrec Brio Duet and Medley Consoles
---