The RME Fireface UCX II has been selected as Production Expert reviewer Luke Goddard's product of 2021.
Unveiled in June 2021, the RME Fireface UCX II is regarded as RME's most advanced USB Audio Interface. Following glowing reviews from Sound on Sound and Production Expert themselves, the UCX II has been featured as reviewer Luke Goddard's product of the year.
With a whole host of new features as well as a front panel and user interface redesign that brings the UCX II in line with the UFX series, the UCX II has become RME's flagship portable USB audio interface.
Reviewer Luke Goddard's UCX II original write-up was full of praise for the Fireface UCX II, highlighting RME's commitment to product longevity as well as their ability to make incredibly rock-solid devices. After long-term usage of the unit, Luke's admiration of the interface only grew, stating in their most recent article the reasons for making the UCX II his favourite product of the year.
"This little box represents incredible quality and features that are good enough for pros, and within reach for all who are serious about sound, making it my product of 2021."
Read Luke Goddard's full Fireface UCX II review for Production Expert or watch our overview video below to learn more about RME's all-new Advanced USB Audio Interface.
RME Fireface UCX II: First Look Video
See more videos at Synthax TV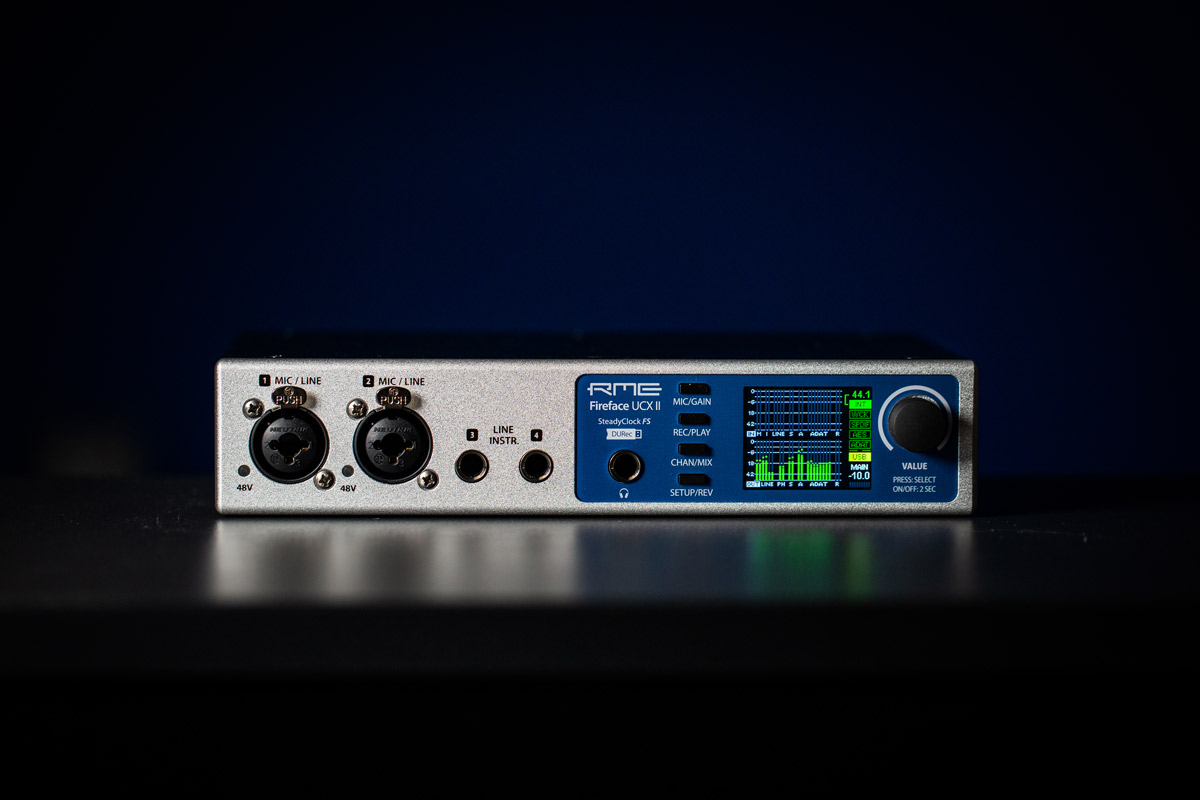 "This little box represents incredible quality and features that are good enough for pros, and within reach for all who are serious about sound, making it my product of 2021."
The Fireface UCX II is an update on the popular UCX, released all the way back in 2012. Despite being nearly 10 years old, the original UCX still remains a popular choice amongst professionals looking for the stability, flexibility, and connectivity of RME interfaces have in a portable device.
With that in mind, RME chose to build on the foundations of the original, designing a product with all the hallmarks of an RME product whilst adding a whole host of additional functionality.
Full Standalone operation, DC-coupled outputs, Direct USB Recording and SteadyClock FS are amongst the new additions to the UCX II, continuing RME's tradition of creation feature-packed, small form-factor interfaces.
SteadyClock FS
Many of the UCX II's biggest updates come from within its half-rack casing. The RME name has long been synonymous with rock-solid devices that are constantly updated to provide the best possible performance. Alongside their crystal-clear sound signature, an important part of their performance comes from their audio conversion. Accurate clocking and jitter rejection are an integral part of digital audio, helping to optomise audio conversion and keeping everything sample-aligned for optimal audio reproduction.
RME's SteadyClock jitter rejection technology has been a mainstay on RME devices for many years, originally helping to improve the AD and DA conversion of the ADI-2 series. More recently, RME's SteadyClock FS offers their most accurate jitter suppression to date and can be found on the UCX II and a range of RME's otheraudio interfaces and AD/DA Converters.
For a more detailed introduction to the importance of digital clocking, check out RME's introduction to SteadyClock FS with head designer Matthias Carstens.
"Having TotalMix as my 'console' makes zero-latency input monitoring and monitor management easy"
Like all RME audio interfaces, the Fireface UCX II features TotalMix FX, the powerful on-board DSP mixer and software. TotalMix gives you the ability to route any hardware or software input to any physical output, creating near limitless possibilities in terms of mixing. Because TotalMix is DSP-based, all the processing takes place within the UCX II. This means the interface offers latency-free monitoring as well as the ability to create complex routings without any performance issues.
A full Control Room section is available, with shortcuts for commonly used functions like Speaker A/B switching, Dim, Mono, Level Recall and Talkback.
Alongside Control Room functionality, TotalMix features a range of effects to improve monitoring. A 5-band parametric EQ and Dynamics are available on every channel, whilst Reverb and Delay sends allow for enhanced monitor mixes during recording.
For users who rely on the routing power that TotalMix offers, Class Compliant operation means that the UCX II can also be connected directly to an iPad. When paired with the TotalMix for iPad app, any iPad running iOS version 9 and above can turn their tablet into a fully-fledged TotalMix workspace.
RME Fireface UCX II: iPad control with RME's Advanced USB Audio Interface
See more videos at Synthax TV
The Portable Recording Solution – Standalone Operation and Direct USB Recording
An improved standalone mode and DURec functionality brought over from the UFX series highlight the UCX II's credentials as a powerful, professional, and portable interface for recording on-the-go. This makes the UCX II a fantastic option for location sound recordists, as well as musicians and producers who want to be able to record live shows and jam sessions.
One of the standout additions to the UCX II is full standalone operation. This is made possible thanks to the UCX II's brand new front panel UI, making it quick and simple to make changes directly from the front of the unit without the need for a computer. Everything from input levels to effects can be controlled from the intuitive four-button and encoder interface.
Another new feature that increases the UCX II's appeal as a professional-level portable audio interface is the inclusion of DURec. Direct USB Recording is based around a built-in digital recorder that was first seen in the UFX series. DURec makes use of the on-board DSP engine to record any of the UCX II's 40 input and output channels directly to an external storage device like a USB hard drive or memory stick. An update to the DURec functionality on the UCX II means that all tracks can now be named in TotalMix FX in advance of recording. This makes it easier than ever to identify individual tracks when it comes to post-production and sharing files.
Learn more on the RME Fireface UCX II product page.
5 Year Warranty (UK Only)
Over the past 20 years, the word 'reliability' has become synonymous with the RME Audio brand, thanks to both the exceptional build quality and the now industry-renowned, rock-solid drivers.
For this reason, we are happy to offer all of our UK customers a complimentary 5 year warranty on all RME products, when purchased either from ourselves, or from one of our authorised UK dealers, and remain the only interface manufacturer to offer this at no extra cost.
To activate your 5 year warranty, simply register your RME device with us within 30 days of purchase via our warranty page.
To ensure you are buying your device from a UK-based retailer, please check our list of authorised UK dealers before purchase.