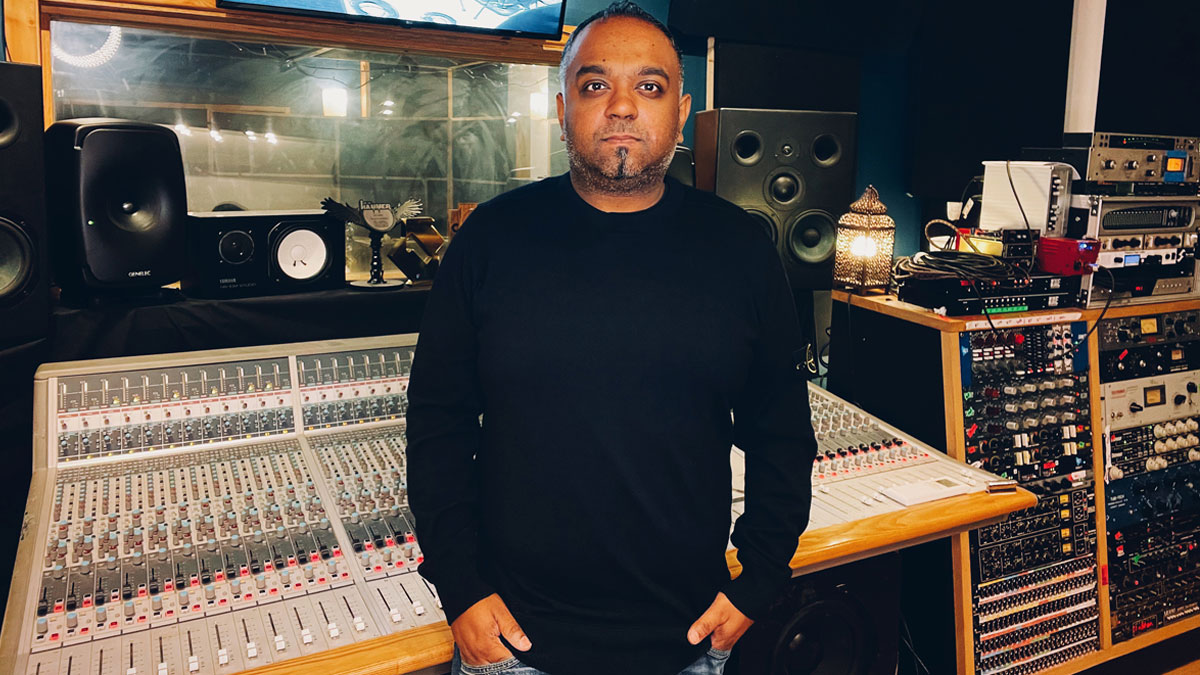 Producer and Mix Engineer Romesh Dodangoda on the Tierra Audio Flavours preamps
Romesh Dodangoda is a producer and mix engineer who's best known for his work with legendary UK rock and metal bands like Mötorhead, Funeral For A Friend, Bring me the Horizon, Nova Twins and Twin Atlantic.
Although he's well-versed in recording and mixing in some of the world's most iconic studios, Romesh says it's in his own Long Wave Studio in Cardiff, Wales, where he spends most of his time these days, a space that's he's finessed into something of a rock n roll playground.
We caught up with Romesh for a chat about his current setup, his tips on getting started as a studio engineer, and why he's a big fan of Tierra Audio's Flavours Preamps for breathing new life into the Shure SM7B.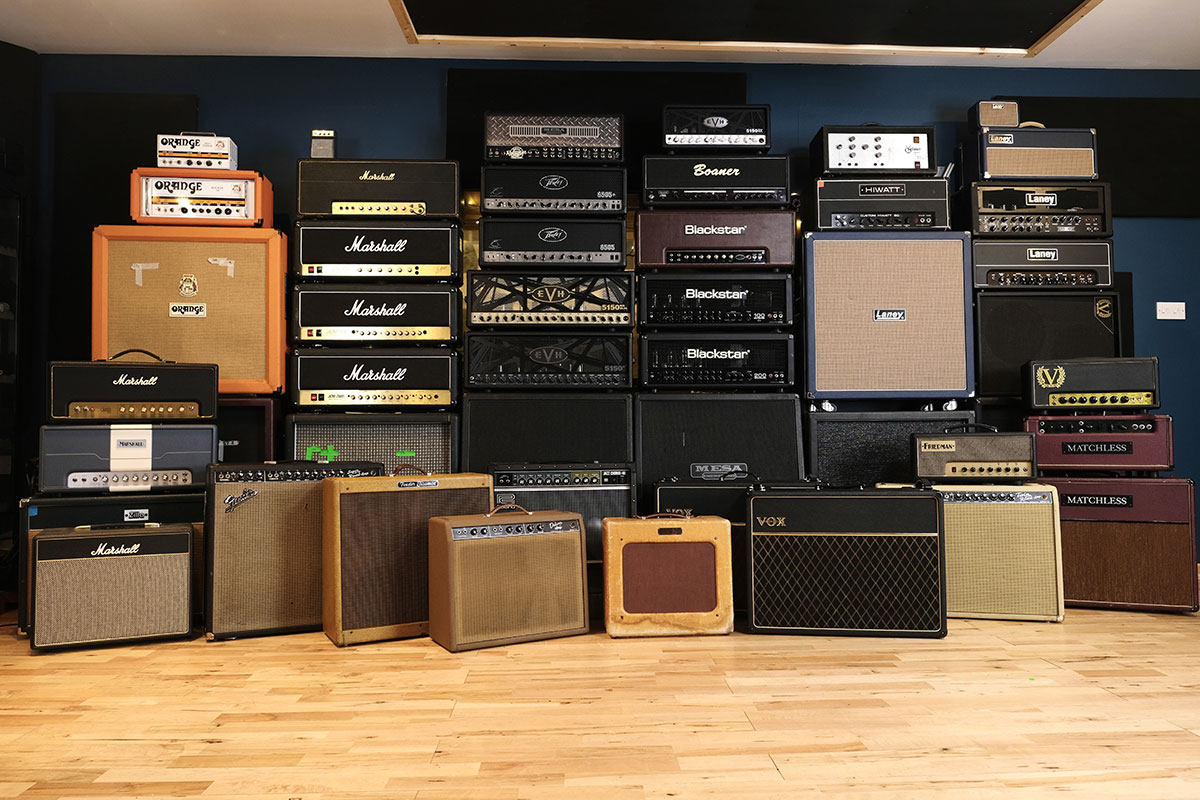 "I didn't really want to be in a band"
Like many studio engineers, Romesh started out playing in bands. Unlike with a lot of rock musicians however – where recording is often an afterthought that one of your bandmates gets lumped with (bass players we're looking at you) – Romesh decided early on he wanted to continue down the path of the audio engineer.
"I got into all of this from being a guitarist in a band growing up," Romesh reminisces. "But I soon realised I didn't really want to be in a band after all haha! But I loved the process of recording, and hearing songs come together.
"I got the recording bug pretty quickly. And also, as a guitarist, I found I really enjoyed just recording myself and experimenting, and going down the 'guitar sound-hole' of finding tones. So it was quite a natural move from there for me, getting into the studio world."
Romesh's studio is based around an Audient console, with an enviable selection of instruments and outboard at every turn, and a large live room to capture it all.
"My studio is based around a lot of analogue equipment, including an Audient 8024 Heritage Edition console, and a bunch of outboard that I love using!" says Romesh.
"I record everything to Steinberg Nuendo which I've been using for many years now. It's an incredible DAW, and I just know it so well that I can forget about it and focus on recording and mixing.
"Monitoring-wise, I use Yamaha NS10Ms with a sub as my main day-to-day setup. This combination is absolutely fantastic – you get the fast timing revealing sound of the NS10, but the sub makes the whole thing sound really full, and fun to mix on!"
Bring Me The Horizon – MANTRA (Official Video)
See more videos at Synthax TV
Surrounded by guitars and amps of all shapes and sizes, Romesh's studio is a goldmine for creating all kinds of heavy sounds. Analogue equipment abounds, with Romesh's collection of guitar amps particularly catching the eye.
"Yeah there's a lot of different amps, as well as guitars and drums etc," Romesh tells us. "The studio is set up to work really fast. There are a bunch of amps in a rack in the Control Room – all switchable via a KHE Amp Switching System, so you can just play and flick any amp or cab on immediately.
"I've tried to keep the studio set up with a mindset of being able to just record really quickly, without having to think about anything too much. That way when bands come to record, they can have easy access to this big variety of sounds, which also makes it really fun to record here!"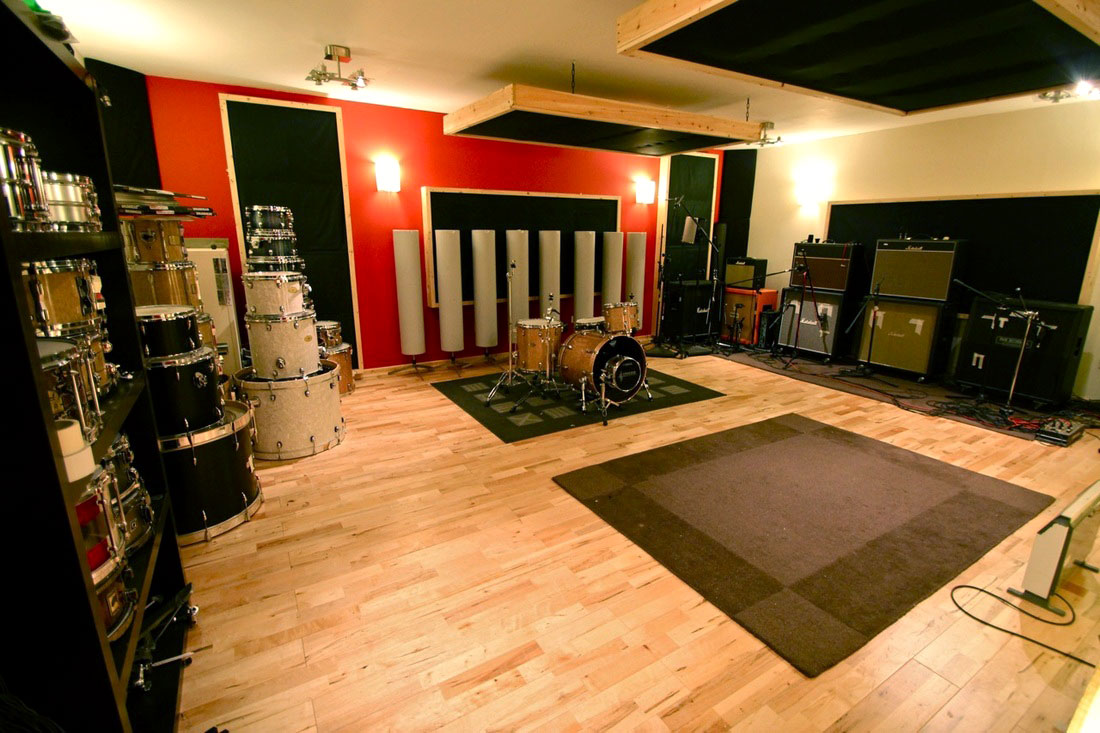 From his humble beginnings as a guitar-tone experimenter, Romesh has become a something of a go-to-guy when it comes to UK rock music. Take a glance at his credits list and you're bound to recognise several names and releases, including Amo by Bring Me the Horizon, the Sheffield-rockers' sixth studio album which reached number one in the Official UK Albums Chart.
"Yeah so many!" says Romesh in response to the question of career highlights. "Every session is so much fun for me, but there have definitely been a few standouts along the way. Recording Amo with Bring Me The Horizon was a really great time, spending two months recording in sunny California. That record ended up getting two Grammy nominations, so I'm really proud of how that came out.
"Making Smart Casual with Kids In Glass Houses will also forever be one of them. It's a special record for me, as it was one of the albums that did a lot for me career-wise. I've actually just finished remixing the whole record 15 years later, and it comes out soon!"
In the studio with Romesh Dodangoda
Walking into his studio, it's immediately clear that Romesh is primarily a rock guy. He's got the Les Paul, the Fender Strat and the Tele, as well as a large collection of the quintessential "heavy amps" from Marshall and Mesa Boogie, and drum kits from heavy hitters like Pearl and Tama.
Romesh has also produced a guitar amp pack for Two notes Audio, a DynIR library that gives you some of his favourite sounds in plugin format. As someone with an obvious 'genre-based slant' to his studio, we wanted to know if Romesh has any guidance for younger engineers – does he think it's better to specialise in the studio, or to be more of a generalist?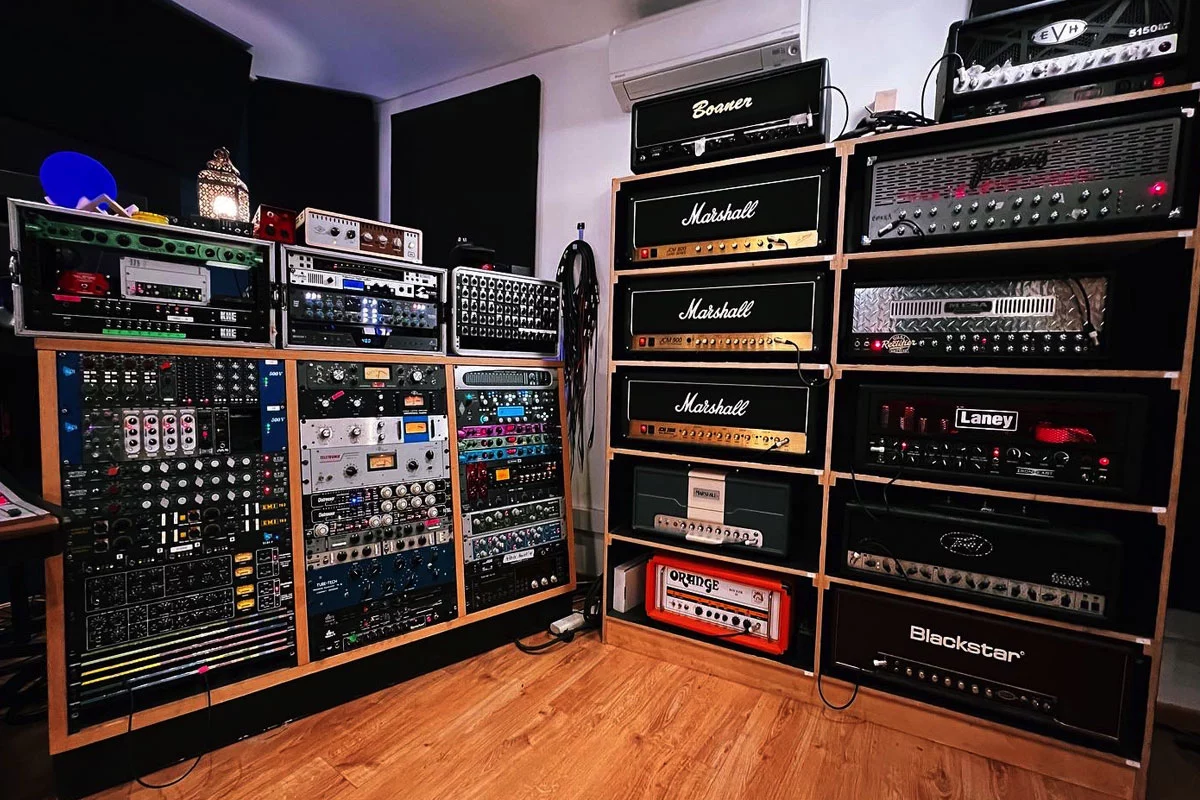 "I think when you're starting out, it's good to have a broad understanding and experience of as many styles of production as possible," advises Romesh.
"You never know when two musical worlds will collide later down the line, as we see a lot of genres doing at the moment. I personally like to specialise in rock music as it's what I love, and I feel its naturally what I put a lot of myself into in production / mixes.
"From a career point of view, I think it's good to eventually specialise in a certain area of music, particularly if you want people to look at or consider you as a go-to person for that particular genre.
"I'd also add that 'trying not to get too bogged down in the technical side' is something I've learnt over time. There's an artist in the room who probably doesn't care about any of that, and it's more important to connect with them and focus on the music!"
"it's more important to connect with [the artist] and focus on the music"
"For anyone reading this interview, I also run an audio community online called Control Room. It's full of incredible producers and mixers, as well as people who are wanting to learn.
"The community is just the best bunch of people ever, and I'd encourage anyone interested in music production to check it out! Not only for the amazing discussions, but there are huge offers all the time on pro audio gear and plugins."

Romesh on Tierra Audio
As a full-time producer and mix engineer, Romesh is always on the lookout for interesting and distinctive ways to colour the sound. This endless curiosity is what led to Romesh trying out the Tierra Audio Flavours, a selection of inline microphone preamps and gain boosters that range from subtle enhancements (Salt and Pepper), to full on overdrive and saturation (Chilli and Truffle).
"I love the Vanilla on ribbon mics with drums"
"A good friend of mine told me to check them out," says Romesh on the T/A Flavours. "After using them as mic boosters for a couple of days, I immediately told everyone I knew about them!
"I'm mainly using the Salt – for vocals – and the Vanilla, which I love on ribbon mics with drums."
With Ribbon microphones making a bit of a comeback of late, these gain hungry mics can really benefit from a bit of level boost on the way in, as can Dynamics…
Boosting an SM7B with Tierra Audio Salt
One such mic that is notorious for needing a bit of gain boost is the Shure SM7B, which has been having something of a renaissance in recent years – particularly amongst YouTubers, Streamers and Podcasters.
If you've ever found the SM7B to be too quiet, or you're wondering how to boost the volume of the SM7B, an inline preamp like the Tierra Audio Salt is perfect for providing a much needed gain boost, offering 32dB of additional gain to your audio interface's microphone input.
"I honestly can't believe what a difference it's made"
"I love my SM7B but it hasn't always worked on a lot of singers until now," Romesh says. "With the Tierra Audio Salt in the chain, I honestly can't believe what a difference it's made, and now I use that mic all the time!"
There are a number of different mic activators available for boosting the signal of low-level dynamic and ribbon microphones, with the CloudLifter and FetHead remaining popular choices. When it comes to recording vocals however, Romesh thinks that the Tierra Audio Salt is the best option for adding clean gain to dynamic microphones like Shure's iconic vocal microphone.
"The Salt allows the mic signal to be parked in more of a sweet spot for the preamp, and suddenly I don't need to slam the compression to get the tone I want," continues Romesh.
"The result is much lower noise, and also a vocal sound that the singer reacts to much better in their headphones, which in turn gives me a better vocal performance. I couldn't recommend the Flavours boosters enough."
"I couldn't recommend the Flavours boosters enough"
"Whatever Tierra are doing with them, I would say just keep doing it, they're fantastic products. I love that the Salt has given a mic I already had a new lease of life, and that alone is why I look forward to what Tierra make next!"
Our thanks to Romesh Dodangoda!
To find out more about his work, visit his website at romeshdodangoda.com, or follow him on Instagram here.
Tierra Audio Flavours Preamps
Flavours Preamps is a collection of studio-quality microphone boosters that will bring an extra dose of gain, analog texture and colour to your vocals, instrument recordings, and live performances.
Designed for use with all of the most popular Ribbon and Dynamic microphones – including the Shure SM7B, Beta 58A, SM57 and SM58, as well as mics from ElectroVoice, Beyerdynamic, Coles, Royer Labs, SE Electronics and t.bone and others – each flavour brings something different to the recording chain, from clean and subtle, to aggressive and in your face.
See the full range of Tierra Audio Microphone Preamps and Gain Boosters
---