RME 12Mic
12-Channel Digitally Controlled
Microphone Preamplifier
With MADI & AVB
High-End microphone preamp with audio networking functionality
Redundant Power, MADI & AVB Connections

120 dB(A) SNR on all channels
Connectivity
12 x Microphone Preamps:
4 x XLR/TRS Combo inputs
8 x XLR inputs
3 x ADAT Outputs
1 x MADI Coaxial I/O
1 x MADI Optical I/O (via optional SFP)
2 x AVB Networking I/O (Primary & Secondary)
1 x Headphone Output
1 x USB

1 x WordClock I/O (BNC)
2 x Power Supplies
Optional:
Designed for the Next Decade - RME's first preamp for Audio Network
The RME 12Mic features twelve microphone and line-level inputs with digital, no-compromise, studio-quality conversion.
Remote-controllable gains, integrated MADI and AVB connectivity, plus a multitude of additional functionality combine to make the 12Mic a future-proof, next-generation recording and audio networking device.
Twelve transparent mic preamps for exceptional conversion performance
The PAD-free microphone input stages have a 75 dB gain range and accept signals of up to +18 dBu. On the converter side, the 12Mic shines with an outstanding signal-to-noise ratio on all channels.


Click image to enlarge
All twelve front-facing XLR connections accept microphone and line-level signals, whilst the first four connections also accept TRS connectors, with switchable high impedance (Hi-Z) for instruments.

Click image to enlarge
Connectivity & Features
MADI & ADAT for maximum flexibility
Both coaxial and optical (via an SFP module) MADI I/O is available for independent or redundant operation, and can be used for daisy-chaining, merging and converting MADI signals at incredibly low latency.
Three optical ADAT outputs provide up to 24 channels of audio at single speed (for example, a combination of microphone inputs, MADI signals and AVB signals), or 12 output channels at 96 kHz sampling rate, ensuring compatibility with a wide range of audio interfaces.
Additionally, the ADAT ports can also be used to send monitor mixes from the AVB or MADI inputs to existing DACs/headphone amps.
AVB Audio Networking - 2 fully redundant network ports
For the first time, RME offers an AVB device with two fully redundant network ports, based on the recommendations of MILAN.
The RME AVB Core has meticulously implemented the IEEE standards for audio-streaming, discovery and control, allowing RME devices to be both discovered and fully controlled by any AVB controller, and making vendor-specific control protocols a thing of the past.
Any signal reaching the 12Mic can be routed and streamed over a network with fixed latency and guaranteed bandwidth - no switch configuration required!
RME 12Mic - Overview Video
See more videos at Synthax TV
Plug'n'play - rapid user interaction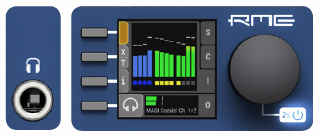 Control all device states directly from the front panel with an encoder and buttons for convenient, direct access to all features.
RME AVB devices can also be fully remote controlled via a web-interface on any network link (including wirelessly over Wi-Fi), allowing for the rapid creation of gain groups, phantom power switching, and routing of signals to headphones for monitoring.
The integrated routing matrix allows for quick routing of any analogue inputs straight to the headphone output, as well as all digital signals and AVB streams. As such, problem-solving of signals, clocking, connectivity or other issues is both simple and straight-forward!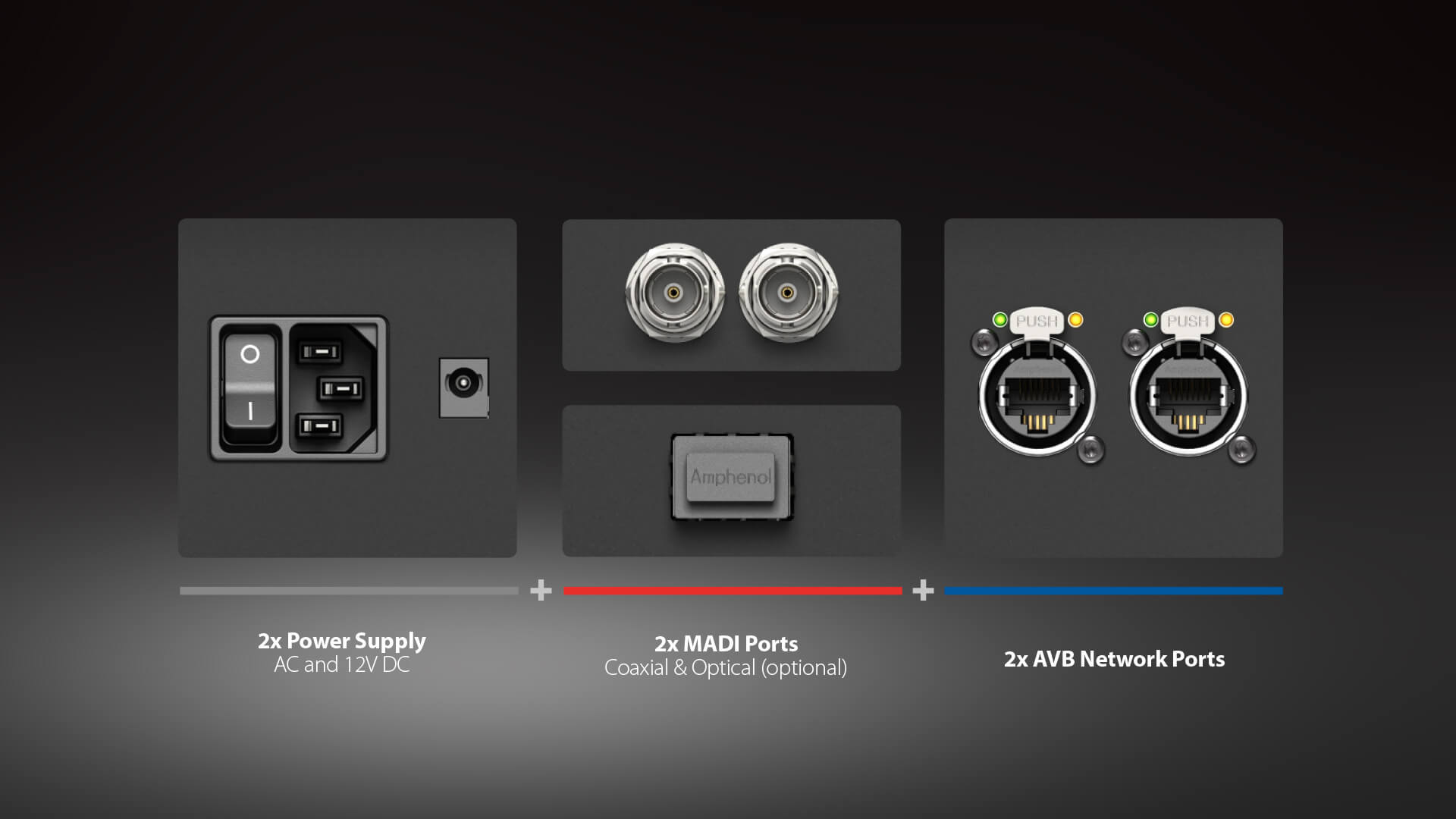 Multiple layers of redundancy make the 12Mic a perfect companion
for any professional live sound application.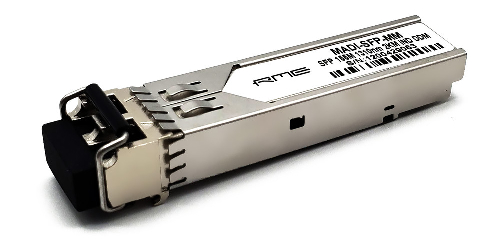 Optional: RME MADI SFP Module
The RME 12Mic's MADI I/O can be expanded via the optional SFP module, increasing the MADI channel count to a maximum of 256 channels and offering MADI redundant operation.
SteadyClock FS - Reference class Digital Clocking
In digital audio the clock frequency is an essential factor, creating and sustaining the correlation between the audio bits and the time reference. Unfortunately, the clock frequency is not always as stable as desired. The 12Mic offers full SteadyClock FS performance for lowest jitter and highest jitter immunity.
Excellent performance in all clock modes and High Quality Analogue Conversion to hear your mix as it is. Digital format conversion in RME products is performed without any loss or degredation, and SteadyClock FS ensures your sonic image will never experience degredation. This helps to optimize recordings and mixes because the soundstage has more depth and clarity.
Need more information? Call us on 01727 821 870 to speak to one of our team!
Signal to Noise ratio (SNR): >117 dB RMS unweighted, >120 dBA
4x XLR-TRS combo inputs (switchable P48 on XLR / Hi-Z on TRS)
8x XLR microphone inputs (switchable P48)
All analogue inputs +18 dBu, 75 dB gain
Phones output for monitoring of all signals (stereo or balanced mono)
Word Clock I/O (BNC)
2x RJ45 1 GigE AVB, 8 streams (each up to 16 ch.) per direction with redundancy
1 x MADI I/O coaxial
MADI optical via optional SFP module
MADI input redundancy (requires optional SFP module)
3x ADAT outputs (24 ch. @ 48k, supports up to 192 kHz)
Internal routing of up to 268x282 channels
19" enclosure 1 unit height
1,54" full colour display with control knob and four buttons for convenient, direct access to all features
SteadyClock FS - ultra-low jitter digital clock technology
Remote control via HTTP, JSON, IEEE 1722.1 AVDECC, MIDI over MADI
internal PSU, optional 12V DC redundant power supply
USB 2.0 (for remote control and firmware updates)
This item currently has no reviews.
Purchased this product?