Thanks to everyone who stopped by the Synthax Audio UK stand at the Absolute Music Open Day

Big thanks to everyone who came to see us at Absolute Music in Bournemouth last weekend (Saturday 21st October). As always it was a pleasure to chat to musicians, producers and engineers about the products we had on show, which included a selection of pro audio gear from the likes of RME, Ferrofish, Appsys ProAudio, Icon Pro Audio, myMix, Pop Audio and Tracktion.
Absolute have also announced the winner of the RME Fireface UFX II audio interface, which was given away as the top prize in their 'original song competition'. Congratulations to Harry Pane, whose song 'Fletcher Bay' was chosen from hundreds of entries by judges Ray Dorset of Mungo Jerry, and folk singer and guitarist Frank Turner. You can hear all of the finalists on the Absolute Music page.
Thanks to everyone at Absolute Music for putting on the event and to everyone who stopped by for a chat! Here's a reminder of the products we had with us. If you'd like to know more about any of our pro audio solutions, give us a call on 01727 821 870 to speak to one of our team or to arrange a demo. You can also contact us here.
Appsys Pro Audio

The Appsys ProAudio Multiverter is a digital format converter that features support for ADAT, MADI, AES50 and Dante/AES67 (with more in the pipeline via breakout cables) at sample rates of up to 192kHz. It can act as a master clock, includes word clock I/O and can be slaved to other digital devices. Triple redundant power supplies provide an unprecedented level of failsafe, with even the option to battery power via industry standard 4-pin XLR battery packs.
Appsys also recently launched the SRC-64, a user-installable upgrade that adds considerable sample rate conversion capabilities to the Multiverter.
Find out more about Appsys ProAudio
Ferrofish

The Ferrofish A32 Dante adds Dante connectivity to the already extensive I/O of the Ferrofish A32 AD/DA Converter. With 32 analogue inputs, 32 analogue outputs, MADI, ADAT and Dante functionality, plus redundant power supplies and internal routing, the Ferrofish A32 Dante packs an incredible level of functionality into a 1U box.
Ferrofish also recently released the Verto Series of ADAT, MADI & Dante converters. Taking up only 1/2U of rack space, the Verto Series come in three different types and provide a simple method of integrating ADAT and MADI devices into existing Dante networks.
Find out more about Ferrofish Converters


Icon Pro Audio

The Icon QCon Pro X DAW Controller continues to be a popular talking point at tradeshows. With comprehensive transport controls and jogwheel, motorised faders that allow for easy recall of mix and project settings, and support for all major DAWs, the QCon Pro X brings a new dimension to in-the-box recording whilst fitting seamlessly into any setup.
We also had the Icon Platform M+ controller and Platform D2 display, the smaller sibling of the QCon Pro X. A compact desktop mixing controller, the Platform M+ is great for mobile setups or where space is at a premium. When used with the attached D2 display (sold separately), information such as channel names, level and pan settings can be viewed at a glance.
Find out more about Icon Pro Audio Controllers


RME Fireface UFX+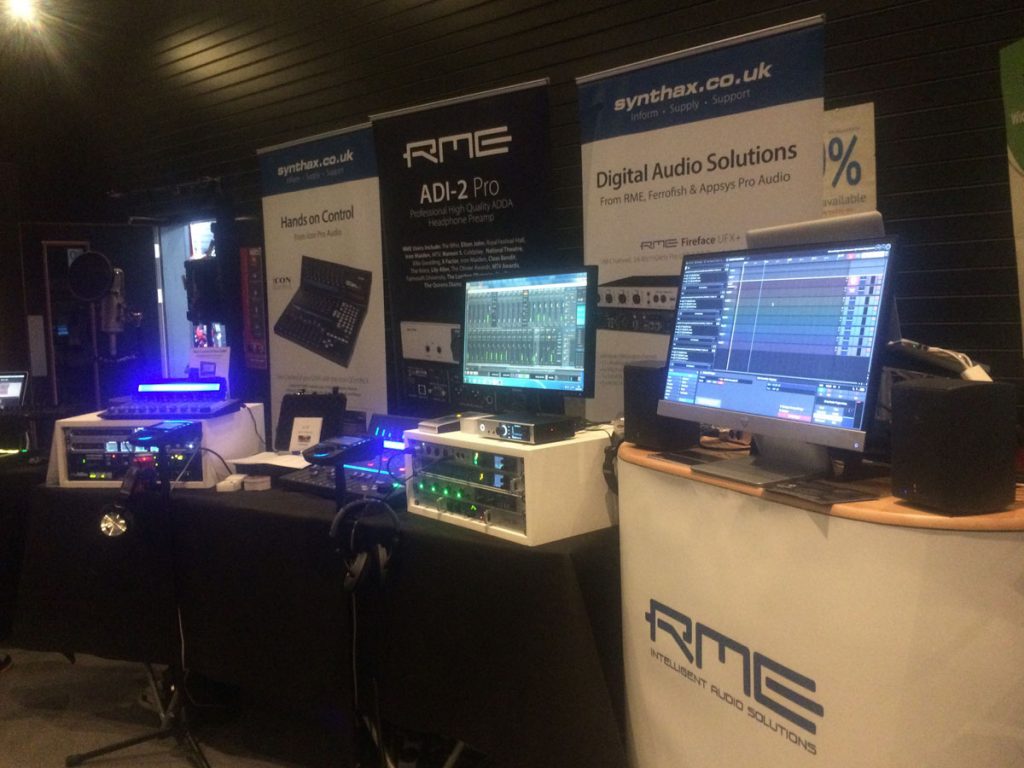 We also had a selection of RME audio interfaces with us, including the latest flagship, the RME Fireface UFX+. The first interface from RME to feature USB 3, Thunderbolt and MADI Connectivity, the UFX+ features everything we've come to expect from RME, with crystal-clear AD and DA conversion, unlimited routing between inputs and outputs with TotalMix FX, simultaneous backup recording with DURec, and fully comprehensive standalone operation.
RME Babyface Pro

We also brought along the RME Babyface Pro, which brings the transparent sound of RME's larger interfaces to a compact, portable desktop design. Bus-powerable over USB (including both preamps operating with 48v phantom power), the Babyface Pro is perfect for singer-songwriters and software-based producers, with options to expand your setup at a later date via the ADAT I/O.
RME ARC USB (Advanced Remote Control)

The RME ARC USB is a freely assignable remote control for all RME audio interfaces dating way back to 2001. With user-definable buttons that allow you to customise the remote to suit your recording needs, the ARC USB puts all of the most used functions of TotalMix FX right at your finger tips – use it as a monitor controller, a talkback switch, activate or bypass effects, quickly check your mix in mono, switch between multiple sets of speakers, and much more…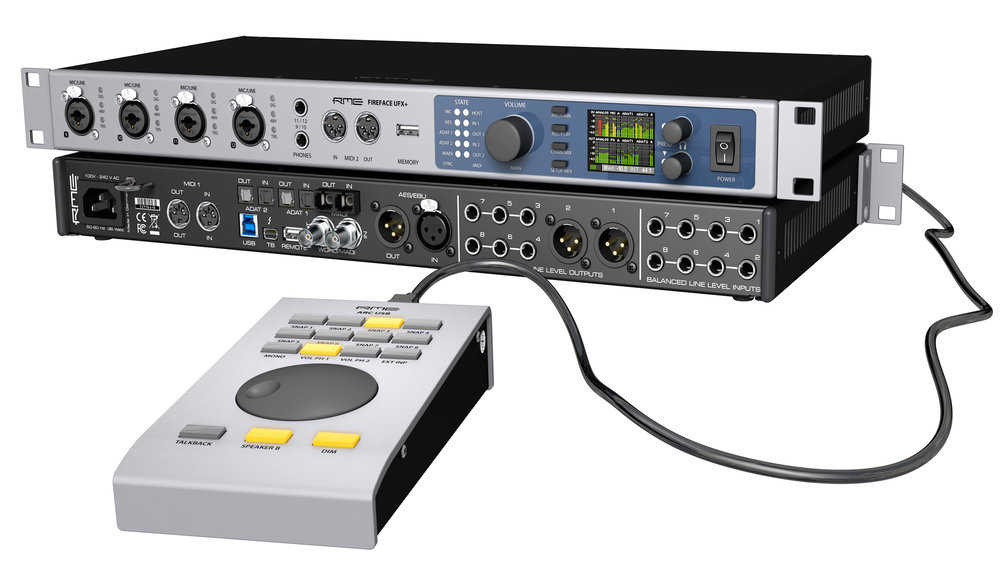 RME Fireface UFX+ with the RME ARC USB (Advanced Remote Control)
RME ADI-2 Pro

The RME ADI-2 Pro features the most accurate quality of AD/DA conversion from RME to date, with a frequency response that genuinely reproduces audio content all the way down to 5Hz! Catering for both audio engineers and Hi-Fi enthusiasts, the ADI-2 Pro is a powerful headphone amplifier and USB-DAC that's crammed full of useful features, such as a built-in frequency analyser, independent EQs on every channel, sample rates all the way up to 768kHz, DSD playback and recording, plus additional features being added with each firmware update.
Find out more about RME Audio Interfaces
Tracktion Waveform – Music Production Software

Tracktion's Waveform is a DAW that's packed with unique features such as its modular plugin environment, clip FX editing, freely assignable LFO tool, and the ability to preview multiple samples and loops at the same time.
The Tracktion Ultimate Bundle ships with a selection of fantastic plugins (AU / VST) for both Mac and PC, including BioTek, Tracktion's powerful flagship VST synthesizer that combines subtractive synthesis with FM sand sample playback, and the DAW Essentials Collection, a suite of plugins including Compressors, EQs, Filters, Reverbs, Delay and Modulation effects.
We also had Waverazor (AU / VST), MOK's futuristic virtual synth that allows you to slice and combine waveforms to generate previously unheard sounds and timbres.
To download free demos of all Tracktion software, visit www.tracktioneurope.com