New Firmware Version 3.1 provides full channel routing capabilities for the Multiverter MVR-64
Appsys ProAudio has released the latest firmware for the Multiverter MVR-64, a powerful update that adds full routing of all 448 x 448 channels via a software routing matrix. When the front panel controls of the Multiverter are used for routing audio, routing occurs in blocks of 8 channels. However, this new update allows for all individual input channels to be sent to any individual output channels.

Appsys have also added a live demo of the new software matrix to their website, so you can get an understanding of how the matrix operates before applying the new firmware update to your device. You can try out the demo for yourself here.
Additionally, presets can also now be switched via MIDI, for a seamless method of switching between saved setups.
The full list of new features is as follows;
Web remote control via integrated webserver – no software required
Telnet server, configuration over ethernet via standard telnet
USB terminal, command line configuration via USB
MIDI preset recall, ideal for scene automation
Channel-wise routing, unleash the power of a full 448 x 448 matrix
Firmware version 3.1 can be downloaded from the Appsys ProAudio website.
Find out more about the Appsys ProAudio Multiverter MVR-64
Why choose between digital interfaces when you can have them all?
Housed in a 1U box, the Multiverter features support for ADAT, MADI, AES50 and Dante/AES67 (with more in the pipeline via breakout cables), at sample rates of up to 192kHz. It can act as a master clock, includes word clock I/O and can be slaved to other digital devices. Triple redundant power supplies provide an unprecedented level of failsafe, with even the option to battery power via industry standard 4-pin XLR battery packs.
Up to 12 presets can be stored and recalled, and the onboard headphone amplifier allows for monitoring of any incoming signal. A test-tone generator is also included as an aid in troubleshooting more complex setups. The device is remote controllable via both MIDI and ethernet, and the firmware can be updated by the user as future updates become available.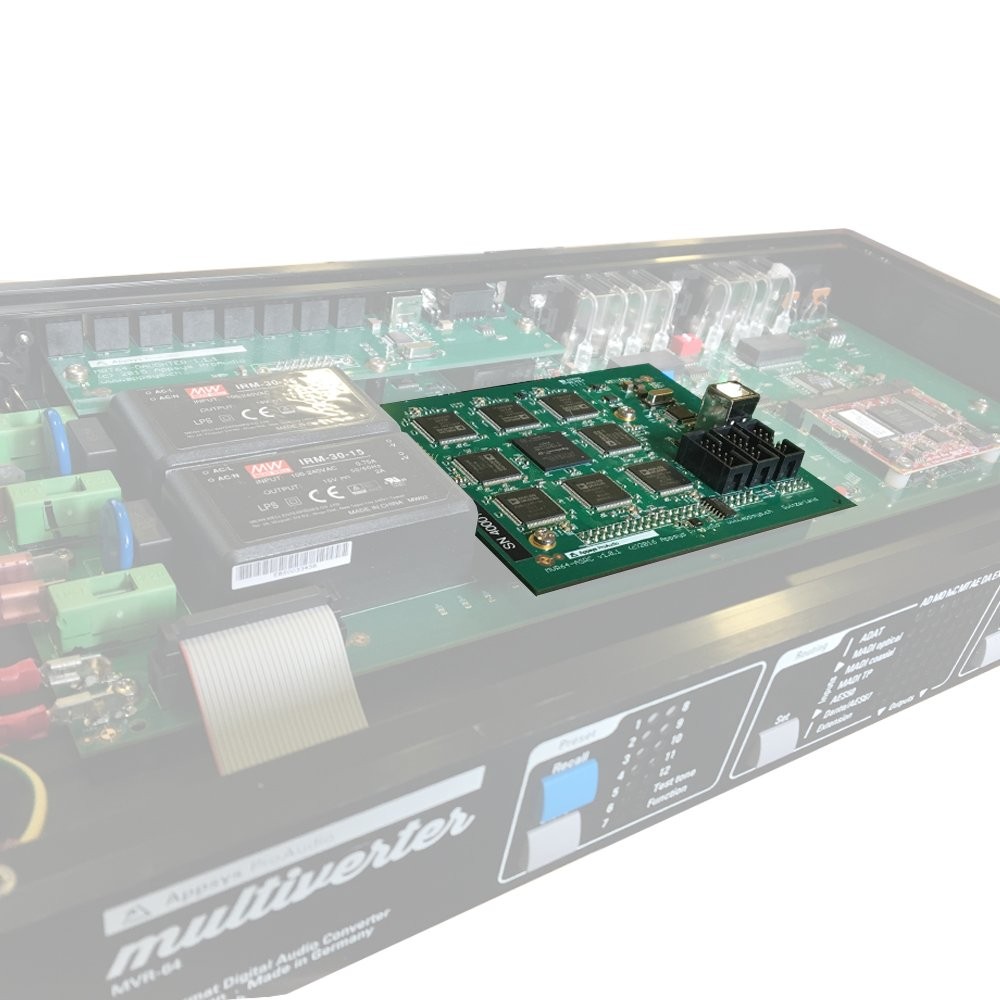 Appsys ProAudio SRC-64
The SRC-64 is a small PCB that can be shipped with the Multiverter, or retro-fitted by the end user.  Once fitted, sample rate conversion can be applied to any of the input and/or output protocols in several clever modes. With the addition of the internal SRC-64 card, signals can be processed by sophisticated asynchronous sample rate conversion as well as being freely translated into a variety of the most commonly used formats.
For example, intelligent use of dual MADI ports allows the combination of two incoming 32 channel streams at 96 kHz into a single 64 channel output stream at 48 kHz.
Both the Multiverter MVR-64 and SRC-64 upgrade card are shipping now. For full details please contact us.
Find out more about the Appsys ProAudio Multiverter MVR-64
Find out more about the Appsys ProAudio SRC-64
---

The Appsys ProAudio Multiverter is the ideal solution for recording studios, live, broadcast and audio networking (AoIP). If you'd like to know more about the Multiverter, give us a call on 01727 821 870 to speak to one of our team or to arrange a demo.