Big thanks to everyone who stopped by the Synthax Audio UK stand at Absolute Music on Saturday 13th October.
To celebrate reaching 15 years as a professional audio and instrument retailer, the Absolute Music store in Bournemouth held a celebratory open day last Saturday, with seminars and product demos from many of the biggest pro audio and instrument brands.
The showroom was filled with a wide selection of recording and musical equipment, from audio interfaces, mic pres and converters, to control surfaces and MIDI controllers, and instruments like guitars, drums and synths, with knowledgeable staff on hand to provide help and advice. Members of the Synthax UK team headed down for the day for a slice of cake and to discuss the latest gear.

At the Synthax stand we took the opportunity to showcase some of our favourite gear from our suppliers, including the brand new Icon QCon Pro G2 DAW Controller, which had only just arrived at the Synthax offices on the Friday, and the Platform B+ Button Expander (which according to one visitor resembles a ZX Spectrum, not heard that before!).
Congratulations to everyone at Absolute for reaching this milestone, the well-stocked showroom is well worth checking out if you're on or near the south coast.
Find out more by visiting www.absolutemusic.co.uk.
Here's a reminder of the products we had on show from RME, Ferrofish, Icon and Appsys:
RME Fireface UFX+, Babyface Pro & ADI-2 DAC
The latest flagship interface from RME, the Fireface UFX+ is a 188-channel powerhouse, and the first to feature USB 3, Thunderbolt and MADI Connectivity. The UFX+ embodies everything we've come to expect from RME – crystal-clear AD and DA conversion, unlimited routing between inputs and outputs with TotalMix FX, simultaneous backup recording with DURec, and fully comprehensive standalone operation.
The RME Babyface Pro brings the transparent sound of RME's larger interfaces to a compact, portable desktop design. Bus-powerable over USB (including both preamps operating with 48v phantom power), the Babyface Pro is perfect for singer-songwriters, software-based producers and location recordists, with dual headphone outputs, easy front-panel controls, and options to expand your setup at a later date via the ADAT I/O.
The RME ADI-2 DAC is a 2-channel DA converter is the latest, greatest and best sounding converter in the RME family (along with its sibling, the ADI-2 Pro FS). Features include 1x "Extreme Power" headphone amplifier and 1x "Super Low Noise" IEM output, DSD playback, USB operation, digital SPDIF / ADAT support, and a wireless remote control. A real box of tricks, the ADI-2 DAC has options galore including full DSP processing with Bass, Treble, Loudness, 5 Band Parametric EQ, Crossfeed and much more.
Find out more about RME audio interfaces
Icon QCon Pro G2 & Icon Platform B+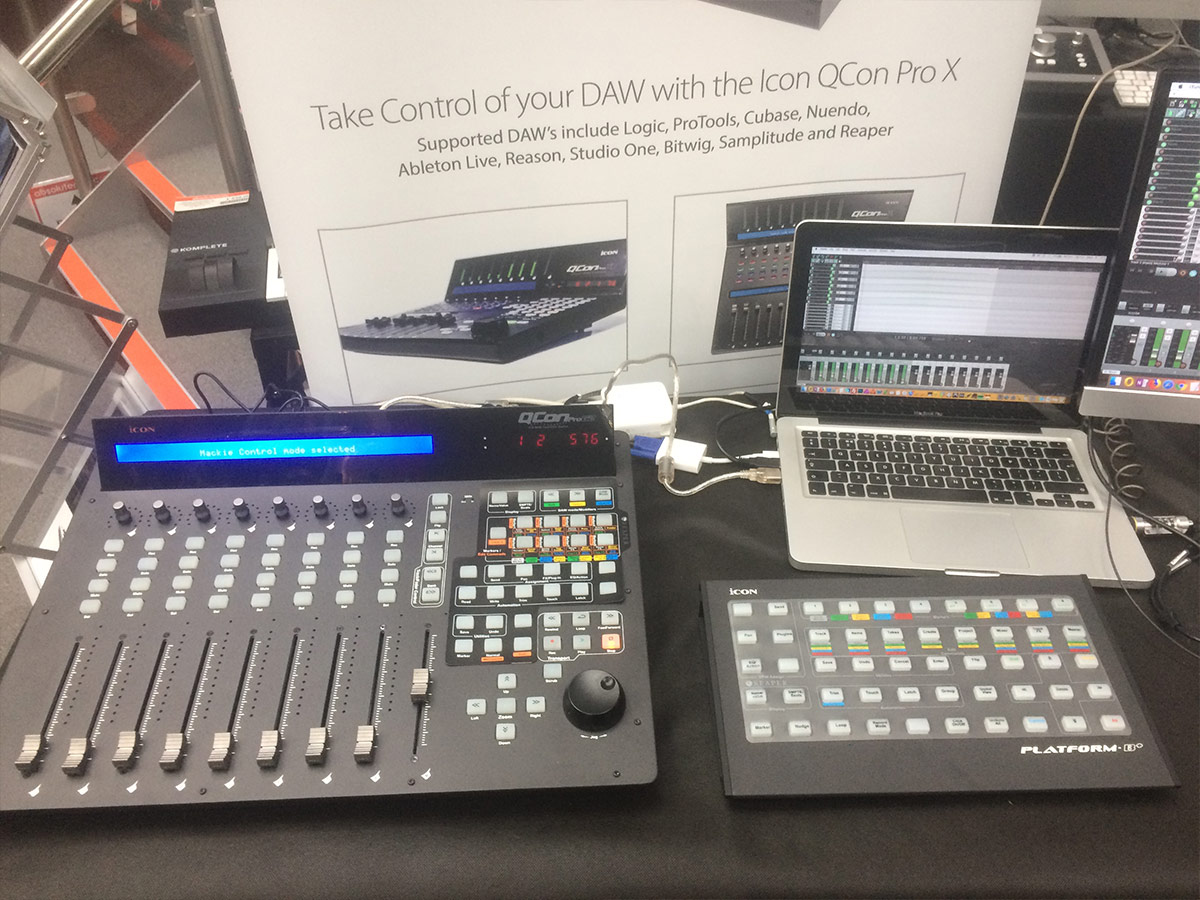 The Icon QCon Pro G2 is the update to the silver Icon QCon Pro, Icon's original cost-effective, cross-platform DAW controller. Housed a slick black finish, the new Icon QCon Pro G2 features  touch-sensitive, 100mm motorised channel faders with 10-Bit resolution, allowing for small and accurate adjustments when you're recording and mixing.
Other features include comprehensive transport controls and an improved jog wheel; 78 assignable buttons (when used in user define mode); and support for more DAWs and music production software than ever before (via the Mackie Control Protocol and Mackie HUI), with additional shortcut overlays for FL Studio, Digital Performer and Adobe Audition (along with many others like Cubase/Nuendo, Logic Pro, Reaper, Studio One, Reason, ProTools and Ableton Live).
The QCon Pro G2 can also be expanded with additional banks of faders – up to 3 x Icon QCon EX G2 fader expanders can be connected for a total of 32 motorised, touch-sensitive faders.

The Icon Platform B+ is a dedicated bank of programmable shortcut keys for use in recording and mixing music, either as a standalone unit, or as part of a larger setup with multiple Icon Platform Series control surfaces.

50 illuminated buttons providing quick access to the most used functions of your favourite DAW, making recording and editing audio faster and easier on both Mac and PC, with a selection of quickly accessible function keys helping to speed up and streamline your workflow.
Ferrofish Pulse 16 – 16 in/ 16 out AD/DA Converter
The Ferrofish Pulse 16 is a 16 in, 16 out A – D and D – A converter. With 16 analogue inputs and 16 analogue outputs, plus 4x ADAT I/O, redundant power supplies and internal routing options, the Ferrofish Pulse 16 packs an incredible level of functionality into a 1U box.
The Pulse 16 also comes in two additional variants, the Ferrofish Pulse 16 MX (featuring additional MADI I/O) and the Ferrofish Pulse 16 DX (featuring both MADI and Dante I/O). The Ferrofish Pulse 16 can also be upgraded to an MX at a later date (via an official Ferrofish MADI optical SFP module).
Find out more about Ferrofish Converters
Appsys ProAudio Multiverter – Multi-Format Digital Audio Converter with optional Sample Rate Converter
The Appsys ProAudio Multiverter is a digital format converter with ADAT, MADI, AES50 and Dante/AES67 connectivity (with additional formats planned via breakout cables). Operating at sample rates up to 192kHz, the Multiverter can also act as a master clock, with word clock I/O included on BNC, and can be slaved to other digital devices. Triple redundant power supplies provide an unprecedented level of failsafe, with even the option to battery power via industry standard 4-pin XLR battery packs.
Appsys also recently launched the SRC-64, a user-installable upgrade that adds considerable sample rate conversion capabilities to the Multiverter, and a new browser-based app allows for individual routing of all incoming and outgoing signals.

Find out more about Appsys ProAudio
---


If you'd like to know more about any of the pro audio solutions produced by RME, Ferrofish, Appsys or Icon Pro Audio, give us a call on 01727 821 870 to speak to one of our team or to arrange a demo. You can also contact us here.