RME are once again ahead of the curve with new drivers for Apple's latest operating system Big Sur (mac OS11)
RME have once again managed to be one of the first hardware companies to release drivers for Apple's latest operating system Big Sur.
These drivers are compatible with all USB, Thunderbolt, FireWire and PCIe interfaces and sound cards – even the original Multiface from 2003 – with the exception of two products (the RME Digiface Dante and RME Digiface AVB – see below).
As with all new operating systems, we'd still highly suggest you refrain from updating for the time being, as you'll most likely have other software or tools that aren't yet supported. Rest assured though when you do come to upgrade, your RME audio interface will be ready to go.
Please note: This driver only supports macOS 11 Big Sur. If you are still using an earlier version (macOS Catalina and below), this driver will not run on your system.
Older Intel Macs and the new M1 Chipsets
This update has posed a different set of problems for developers. As many will no doubt be aware, this year's latest Macs feature (for the first time) Apple's own new M1 chip, as opposed to previous models (which use chipsets created by Intel).
The new M1 processor-based Macs have been receiving rave reviews, and will no doubt be of great interest to audio professionals due to the reported improvements to both processing power and battery life (although not everyone is quite so sure…).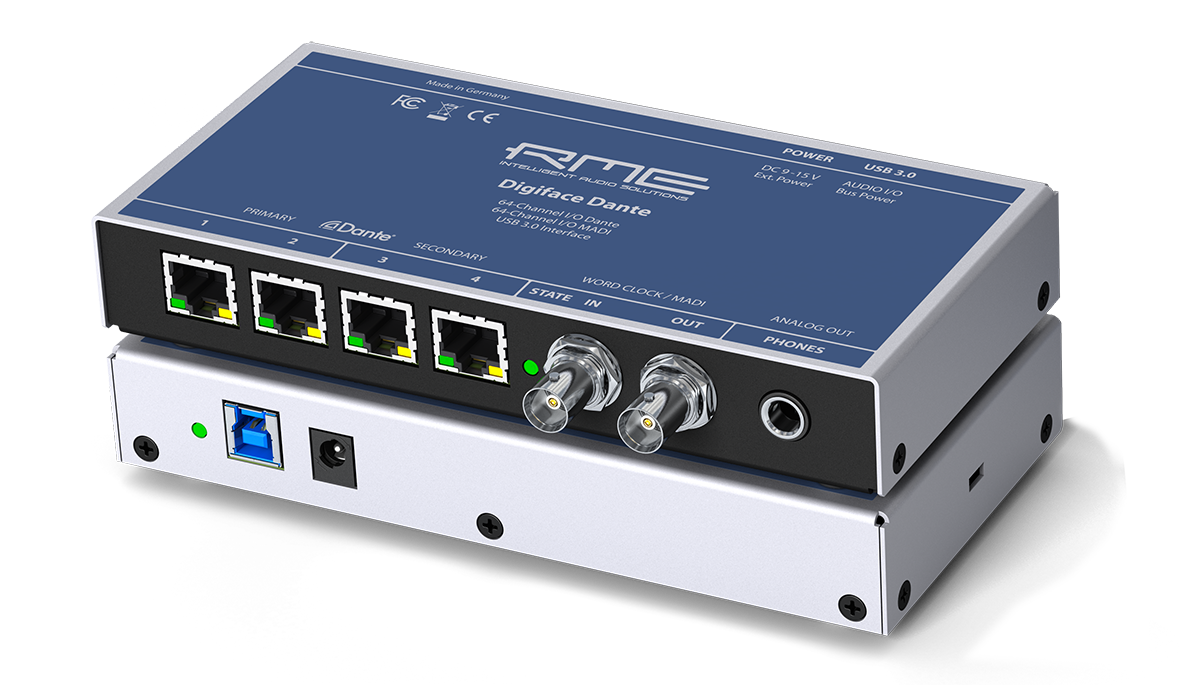 As is often the case with new techology, the M1s have presented third party software developers and hardware manufacturers with a new set of challenges (read headaches…), with differences between the way Intel and M1-based Macs operate under Big Sur.
RME have been characteristically open about what this all means for anyone itching to upgrade, and there are a couple of caveats to this latest driver release worth being aware of.
For those inquiring minds, please note the following;
• All RME devices* are supported on both Intel and M1 Macs running Big Sur
(* with the exception of the Digiface Dante & Digiface AVB)
• For the RME Digiface Dante, the new driver works on both Intel and M1 Macs (running Big Sur), but the interface cannot currently be used via USB, due to a change in the way network functionality operates in Big Sur. To get around this issue, the Digiface Dante can instead be connected to the Mac via a Cat5 ethernet cable (directly into the network port, or via a thunderbolt to Ethernet adapter).
It should also be noted however, that Dante Controller currently only runs on Intel machines. Audinate are apparently working on an update, which is expected sometime in 2021. If used with one of the new M1 Macs, the Digiface Dante will still need to be controlled from a different machine on the network.
• The RME Digiface AVB is currently not supported on Big Sur at all, for either Intel or M1 chipsets. This is something the RME developers had pre-empted, and as such a fix is in the works.
Matthias Carstens (RME's Head of Design) says, "for both devices we are working on a new internal network driver that works under Big Sur, on Intel and M1. If that one passes all tests it would save the external cable for the DF Dante, and bring the DF AVB back to life. But the Dante Controller would still need an update from Audinate for M1 machines, obviously. More to come."
You can read Matthias Carsten's full statement over on the RME Forum.
Installation – new additional Security Settings for M1 machines
An additional problem with Big Sur is the installation process. Apple have added another new set of security settings that affects third partyinstallers – on top of those added since High Sierra. The installation process now requires users to take the following steps;
– Boot the M1 computer in Recovery mode (turn it on with the power button pressed until the screen shows the startup options are loaded)
– Select Options, then your language
– In the top menu go to Utilities -> Startup Security Utility. Select the system where the RME drivers will be installed
– Continue with -> Security Policy -> Reduced Security -> Allow user management of kernel extensions from identified developers.
– Reboot
– Install the RME driver. Before the reboot for finishing the driver installation open System Preferences, Security & Privacy, tab General. There should be a grey Allow button in the right lower area. Click the unlock symbol first, then confirm using the RME kernel extension. Finally reboot.
For more information and a more detailed discussion of the above, see the full post on the RME Forum.
Download the new Big Sur drivers from the RME website here.
See the full range of RME audio interfaces here.
---

If you'd like to know more about any of RME's audio interfaces, soundcards, AD/DA Converters or microphone preamps, give us a call on 01727 821 870 to speak to one of our team or to arrange a demo.
You can also contact us here.