Sound On Sound magazine reviews RME's network-controllable 12-channel microphone preamp (MADI/AVB).
Representing the next step in cutting-edge audio networking technologies, the RME 12Mic combines 12 x RME's latest transparent and ultra-clean, remote-controllable mic pres into a single 1U unit.
With options for ADAT, MADI and AVB networking connections (MILAN-compatible), the 12Mic is designed to integrate perfectly with any of RME's audio interfaces, or as part of next-generation audio networks operating via the Audio Video Bridging (AVB/TSN) specification.
Fresh off the back of their RME AVB Tool and Digiface AVB review, Sound On Sound's March 2021 issue features a full test of the 12Mic, with reviewer Hugh Robjohns describing the technical specifications as "exemplary".
Running his usual set of Audio Precision bench tests with AES17 dynamic range measurements, Hugh writes that he "achieved measurements all within a fraction of a decibel of RME's published specifications," and that "the combination of ADAT and MADI interfaces with a 12-channel mic preamp and AVB networking makes for a powerful system — and exactly the kind of stimulation the nascent AVB market requires".
"I was not surprised to discover an A-weighted AES17 measurement of 120.4dB,
which is very good indeed"
Comparing it with similarly high-end pres from other pro audio manufacturers, Hugh writes "In testing the 12Mic, I was not surprised to discover an A-weighted AES17 measurement of 120.4dB, which is very good indeed. It places the 12Mic slightly higher in my testing league table than the Prism Lyra 2 and Titan, Cranborne's 500R8, and Apogee's Symphony. And it's within half a decibel of Grace Design's M108, Merging's Hapi and Focusrite's ISA digital card."
"This is all solid, high-end equipment. Equally impressive are the THD+N and channel crosstalk figures, which are almost unmeasurably small."
Read the full review here.
For all of the latest Pro Audo news, visit the SOS homepage.
Find out more about the RME 12Mic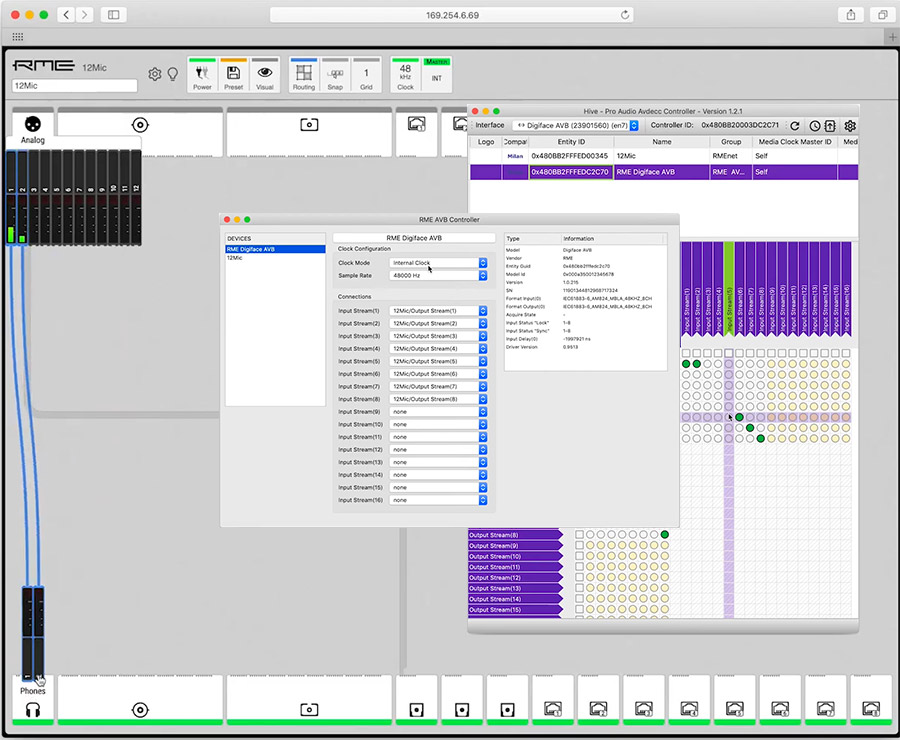 Software and Remote Control
Along with the front panel control, the 12Mic can also be controlled via RME's free browser-based Web Remote. This simple interface provides an easy method for making adjustsments to any of the input channels – gains, 48v phantom power, and switching between the XLR and TRS inputs.
Channel routing is also incredibly easy – simply click and drag an input to an output – and can be accessed from any location on a network.
Finally, when paired with the RME Digiface USB, the 12Mic can be easily managed via RME's AVB software controller, or via other third-party AVDECC controllers such as Hive.
"clean, neutral and quiet, whilst offering enormous gain
with impressive headroom and configurability"
SteadyClock FS
The RME 12Mic also features RME's SteadyClock FS, the latest iteration of the company's incredibly accurate digital clocking and filtering technology, that supresses jitter values down to the femtosecond.
With accurate clocking an essential element in digital audio, digital audio signals are reliant on the clocking frequency for the correct representation of both the audio bits and sample time reference – with SteadyClock FS, the result is a recording with more detail and definition that replicates the source material to its fullest depth and clarity.
Watch our RME 12Mic Overview video
See more videos at Synthax TV
Next-Generation Audio Networking
When paired with an AVB-capable interface, such as the RME Digiface AVB, the 12Mic offers even more flexibility, becoming a key component in any modern AVB-based setup. The RME M-32 Pro AD and DA, RME AVB Tool, and RME M-1610 Pro all feature AVB capabilities – as such, it's now possible to build yourself a next-generation, RME-based audio networking setup – one that will no doubt come to define the next decade of professional audio production.
Find out more about the RME 12Mic
See the full range of RME audio networking devices
5 Year Warranty (UK Only)
Over the past 20 years, the word 'reliability' has become synonymous with the RME Audio brand, thanks to both the exceptional build quality and the now industry-renowned, rock-solid drivers.
For this reason, we are happy to offer all of our UK customers a complimentary 5 year warranty on all RME products, when purchased either from ourselves, or from one of our authorised UK dealers, and remain the only interface manufacturer to offer this at no extra cost.
To activate your 5 year warranty, simply register your RME device with us within 30 days of purchase via our warranty page.
To ensure you are buying your device from a UK-based retailer, please check our list of authorised UK dealers before purchase.
---

If you'd like to know more about any of RME's audio interfaces, soundcards, AD/DA Converters or microphone preamps, give us a call on 01727 821 870 to speak to one of our team or to arrange a demo.
You can also contact us here.