RME MRC (Multi-Remote-Control)
Multi-Remote-Control
for RME Devices
Wireless Remote-Control for the following RME Devices:
> RME ADI-2 DAC FS
> RME ADI-2 Pro FS R (Black Edition)
Supports all RME ADI-2 DAC's equipped with the latest firmware (at least version FPGA 27, DSP 33).
Total of 22 Buttons for controlling common
functions including;
Power On/Off
Volume Control
Balance (L/R) Adjustments
EQ On/Off
Bass/Treble Adjustments
Loudness On/Off
Mute
Dim
AutoDark Mode On/Off
Input Selection (Coaxial / Optical / USB)
Plus: 4 x user-assignable buttons for control over 32 different functions/actions
Requires a CR2025 lithium battery for operation (included)
Will also support several other upcoming RME devices
Extended Wireless Remote-Control for the RME ADI-2 DAC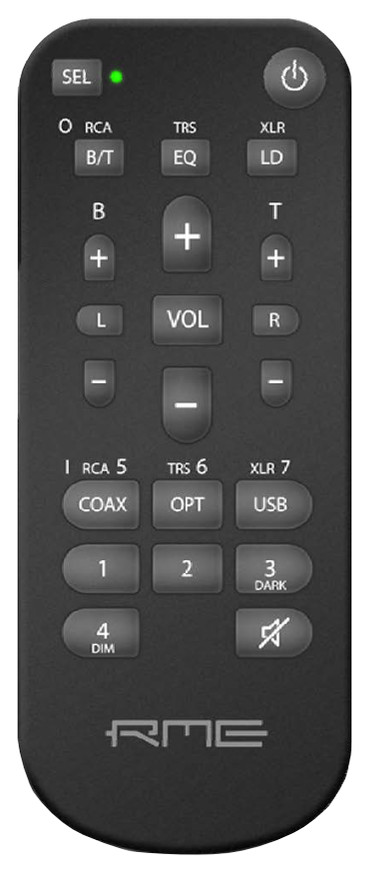 The RME MRC (Multi-Remote-Control) is an extended infrared remote control, for the RME ADI-2 DAC (plus other currently unreleased RME devices).
This nicely designed remote control has clearly labeled buttons, readable even in low light conditions without reading glasses, a nicely laid out button arrangement that is easy to remember, and perfect button ergonomics. Plus: It won't interfere with your ATV or other devices.
The ADI-2 DAC remote control provides buttons for standby on/off, volume, balance, bass and treble, input selection (optical, coaxial, USB), mute, on/off loudness, bass/treble and EQ. In addition, there are four programmable buttons that provide access to 32 different functions and commands for maximum flexibility.
There is no other converter or comparable device with such a sophisticated, easy to use, and at the same time versatile remote control!
Assignable Function Keys
The RME MRC features four assignable function keys which can programmed by the user to control a variety of different commands. A total of 32 different actions can be selected, allowing you to personalise the Multi-Remote-Control to suit your HiFi or Studio setup.

Factory defaults for remote buttons 1 to 4

By default, the RME MRC's four assignable buttons are programmed to the following actions;

Mono
Loudness
AutoDark
Dim
List of Assignable function/actions

The following list of commands are all controllable via the MRC, when assigned to one of the four user-definable buttons;
VOL (1)
I/O (2)
EQ (3)
SETUP (4)
Setup 1 to 9
Mono
Mono to L
Mute
Loudness
EQ enable
B/T enable
EQ+B/T+Ld
Toggle Ph/Line
Polarity
AutoDark
Dim
Toggle View
Crossfeed 1 to 5
DA SD Sharp
DA SD Slow
DA Sharp
DA Slow
DA NOS
DA SD LD
This item currently has no reviews.
Purchased this product?