Production Expert record an entire track using one Lauten Audio Eden LT-386 to test its Multi-Voicing technology and harmonic sound shaping filters.
Following on from their review of the Lauten Audio Eden LT-386, Production Expert's latest article takes up the challenge of recording a whole track using only the Eden microphone for all instruments.
As Lauten Audio's flagship microphone, the Eden is a top-of-the-range, extremely versatile boutique affair specifically designed for high-end recording, and favoured by top engineers and producers such as Darrell Thorp and Fab Dupont.
Putting the versatility of Lauten's "three-in-one" microphone to the test, Production Expert recorded kick drum, tambourine, electric guitar, piano and vocals using only the Eden – a challenge made possible thanks to Lauten Audio's multi-voicing technology, built-in high-pass filter options, and selection of Cardioid, Omni-directional and Figure-8 polar patterns.
Watch the video below, or head over to Production Expert to read the full write-up.
Recording A Whole Track With The Lauten Eden LT386
See more videos at Synthax TV
"Its 3 voices all have their own flavour of colouration that's desired when recording with a tube condenser microphone."
Lauten Audio Eden LT-386 – Three microphones in one
Featuring Lauten's trademarked "Multi-voicing technology" and harmonic shaping capabilities, the Lauten Audio Eden LT-386 is capable of providing three distinct 'voices' at the flip of a switch, with each voice actually its own discrete circuit path within the microphone.
In its neutral position, the voicing switch brings a smooth, balanced sound, offering strong control over sibilants, and walking the line between modern and vintage timbres.
The Forward setting is the go-to for punch and clarity, with a modern sound signature that's perfectly suited for bold and up-front productions, and which Production Expert chose for both the kick drum and electric guitar.
"I had the voice on forward mode, hoping it would capture more top-end for the bass drum, as I didn't have a microphone inside the bass drum," explains Gareth, adding it "didn't disappoint".
Finally, the Gentle voicing provides a warm, vintage tone with a slightly darker edge, and is useful for taming bright and harsher sound sources without losing too much detail. Having tested all three options for singer Amie's voice, Gareth settled on this setting (as well as for the tambourine).
"When it came to recording vocals, we auditioned the three voices to see what suited Amie's vocal – and the track – the best. Amie's voice was a little sibilant on the forward setting, but the gentle setting smoothed this out great."
Equally for the tambourine recording, the Gentle voicing helped to remove "the abrasiveness you often get when close miking tambourine".
Harmonic Sound Shaping
Along with the three different voices, the Lauten Eden features two high-pass filter options to provide further sound shaping capabilities, which Gareth tested throughout the recording process.
The Soft or "Kick-Shaper" setting helps to reduce "overbearing" low end frequencies. Whilst this may seem counterintuitive on a kick, the Soft setting's steep low roll-off helps to remove any low-end boominess which can detract from the sound of the bass drum, something that Gareth was highly impressed by.
"At first, I was a bit unsure as to why a high-pass filter would be designed specifically with the bass drum in mind, as it's one of the few sound sources I wouldn't filter any low-end from," Gareth writes. "The microphone was in cardioid mode, and I auditioned the kick-shaper filter, and was very pleasantly surprised as to how the filter cleaned up any boominess, but still retained the desired low-end thud."
The second filter option on the Eden is the Hard or "Vocal Shaper", which focuses more on the midrange and can help with improved articulation for vocals, as well as being useful for instruments that benefit from extra accentuation such as piano.
Polar Patterns
Alongside the voicing options and high-pass filters, the Eden also features three selectable polar patterns (Cardioid, Omni-directional and Figure-8). Both the cardioid and omni-directional modes were put to good use by Gareth during the session, with the latter providing a natural-sounding alternative to his usual preferred method when recording a piano.
"Usually, I would record piano with a stereo pair of cardioid microphones, so felt omni-directional would help pick up the hammers across the piano, as well as capturing more of the room ambience."
Closing Thoughts
One word that is frequently to describe the Lauten Audio range is "versatile", and no microphone illustrates this quality moreso than the Eden LT-386.
Billed as three distinct microphones in one, the Eden provides music producers, recording engineers and musicians a variety of tonal options from a single high-end studio microphone – all without sacrificing the 'larger than life' sound that vacuum tube condensers are known for.
"In summary, we found this microphone very impressive," concludes Gareth. "There are many versatile tube condenser microphones with switchable polar patterns and high-pass filters, but Lauten have fine-tuned 2 different high-pass filter options, which is very useful for cleaning up the low end – particularly if you're a fan of compressing signals on the way in!"
Learn more about the Lauten Audio Eden LT-386
Lauten Audio Signature Series
Designed and built in Silicon Valley, California, the Signature Series from Lauten Audio represents the pinnacle of their microphone design. Made to last a lifetime, the Signature Series brings Lauten's vintage-meets-modern edge to three beautifully crafted microphones, producing fantastic results across a wide range of sound sources.
Alongside the Eden LT-386, the Lauten Signature Series comprises two other microphones – the Clarion FC-357 and Atlantis FC-387. Both the Clarion and Atlantis feature a three-way gain stage, offering -10dB for use with loud sound sources and a +10dB switch for when more microphone character is desired.
Learn more about Lauten Audio's Signature Series.
---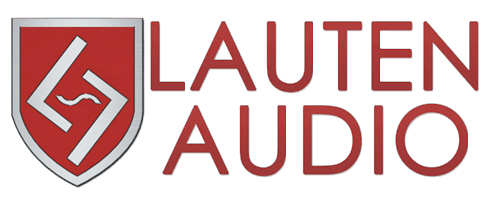 If you'd like to know more about Lauten Audio microphones, give us a call on 01727 821 870 to speak to one of our team or to arrange a demo.
You can also contact us via email.