Grammy Award-Winning engineer Michael Ashby discusses his long-term relationship with Lauten Audio, as well as how the Eden LT-386 vacuum condenser microphone has shaped his sound.
In a short video on their YouTube Channel, Lauten Audio sat down with engineer Michael Ashby to talk about their Signature Eden LT-386 – a microphone that has continued to shape his work for half a decade.
A graduate of SAE in New York City, Michael Ashby went on to work with Cardi B on her breakout single "Bodak Yellow". This earned Michael a diamond record (ten-times Platinum, or 10 Million copies sold), as well as a Grammy award for its inclusion in her first album "Invasion of Privacy". Since then, Michael has continued to work from his studio, the Krematorium, with clients including Latoya Jackson, Zoey Dollaz and Fetty Wap.
The Lauten Audio Eden was used to record Cardi B's vocal on "Bodak Yellow" and has featured on many of Michael's later recording projects. This has cemented the Eden as an important element in his sound. Check out the video below or read on to discover what makes the Eden such an indispensable part of his studio arsenal.
The Lauten Audio Eden LT-386 Changed My Sound
See more videos at Synthax TV
"It has its own unique character it imparts onto our songs and sound"
The Lauten Audio Eden LT-386 is a large-diaphragm vacuum tube condenser microphone with unique Multi-voicing technology. Designed and constructed in Silicon Valley, California, the Eden is a pillar of the Lauten Signature Series, which represents the pinnacle of Lauten's microphones.
With its three varied signatures and harmonic sound shaping, the Lauten Audio Signature Series is regularly called upon by top engineers and producers such as Darrell Thorp and Fab Dupont, who was involved in the Signature Series design process.
The Eden takes the classic sound of vacuum microphones and adds a more modern edge, creating a unique sound signature that can be used across a wide range of recording applications. Michael has found the Eden to be not only a great tool in the studio, but also a microphone that helped shaped his work.
"It has its own unique character it imparts onto our songs and sound," he comments, "which has influenced the way I have mixed over the years".
Not content with producing a beautifully crafted vacuum condenser microphone, Lauten Audio have taken the Eden, and the rest of the Signature Series, to the next level by adding unique sound shaping innovations.
Multi-Voicing Technology – "Any style of artist, any style of music"
One of the Eden's sound shaping innovations is Lauten's Multi-Voicing technology, which offers "a different microphone" at the flip of a switch. Each of the three distinct "voices" offered on the Eden has its own discrete circuit within the mic. This makes testing and trialling different microphones during a session far quicker, with one flick of the switch offering an entirely different tone world.
"Any style of artist, any style of music I'm working with, it always brings forth that same consistency I expect from a high-end microphone" Michael states when considering the Eden's sonic capabilities during sessions.
The Eden features three different voices – Neutral, Forward and Gentle. Each voice has its own individual sound signature, making the Eden the ideal microphone for a range of different recording tasks.
The Eden's Neutral position provides a smooth timbre, merging modern and classic sounds. This offers a fantastic starting position for a wide range of recording applications.
Forward is the go-to setting for when a bold, in-your-face sound is called for. Both punchy and incredibly clear, Forward is perfect for bringing vocals into the foreground of any modern sounding production.
For when warmth is required, the Eden's Gentle voicing brings a smoother tone with a dark edge. This setting is particularly useful for taming harshness that can come from brighter sound sources.
This range of voices means that the Eden is not only an incredibly capable vocal microphone, it can also faithfully record a range of other instruments, like acoustic guitar, piano and percussion. To demonstrate this versatility and how distinct each "voice" is, Production Expert tasked themselves with creating a track made exclusively with the Eden LT-386.
Harmonic Sound Shaping
Alongside Multi-Voicing technology, the Eden also features two high-pass filter options that provide different tonal possibilities depending on the application.
When used with kick drums or other sources that are heavy on the low-end, the Soft or "Kick Shaper" setting helps to reduce the murkiness often found in boomy sound sources. This helps to create low-end sounds with far greater punch and clarity.
If a more prominent midrange is needed, the Hard or "Vocal Shaper" can improve vocal articulation. This is also useful for applications that require more accentuation, such as piano or acoustic guitar.
Lauten Audio Signature Series
Designed and built in Silicon Valley, California, the Signature Series from Lauten Audio represents the pinnacle of their microphone design. Made to last a lifetime, the Signature Series brings Lauten's vintage-meets-modern edge to three beautifully crafted microphones, producing fantastic results across a wide range of sound sources.
Alongside the Eden LT-386, the Lauten Signature Series comprises two other microphones – the Clarion FC-357 and Atlantis FC-387. Both the Clarion and Atlantis feature a three-way gain stage, offering -10dB for use with loud sound sources and a +10dB switch for when more microphone character is desired.
Learn more about the Lauten Audio Signature Series
---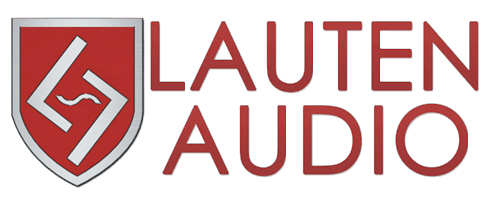 If you'd like to know more about Lauten Audio microphones, give us a call on 01727 821 870 to speak to one of our team or to arrange a demo.
You can also contact us via email.