RME AVB Tool
Router, mic preamp, MADI «-» AVB converter and more
Half-rack MADI-AVB interface with outstanding analogue conversion
Convert and route audio between analogue, MADI & AVB
Connectivity:
4 x Analogue Inputs (Mic/Line/Instrument)
128 Channels of AVB

128 Channels of MADI
2 x Line Output
1 x Headphone Output
Optional:
Maximum versatility and connectivity
The RME AVB Tool combines MADI and deterministic AVB networked audio with four high-precision microphone, instrument and line-level inputs, plus headphone and separate line-level outputs.
Click image to enlarge
Following RME's concept of maximum versatility and connectivity, 128 channels of MADI I/O have been also added to this half rack 19" device.
Connectivity & Features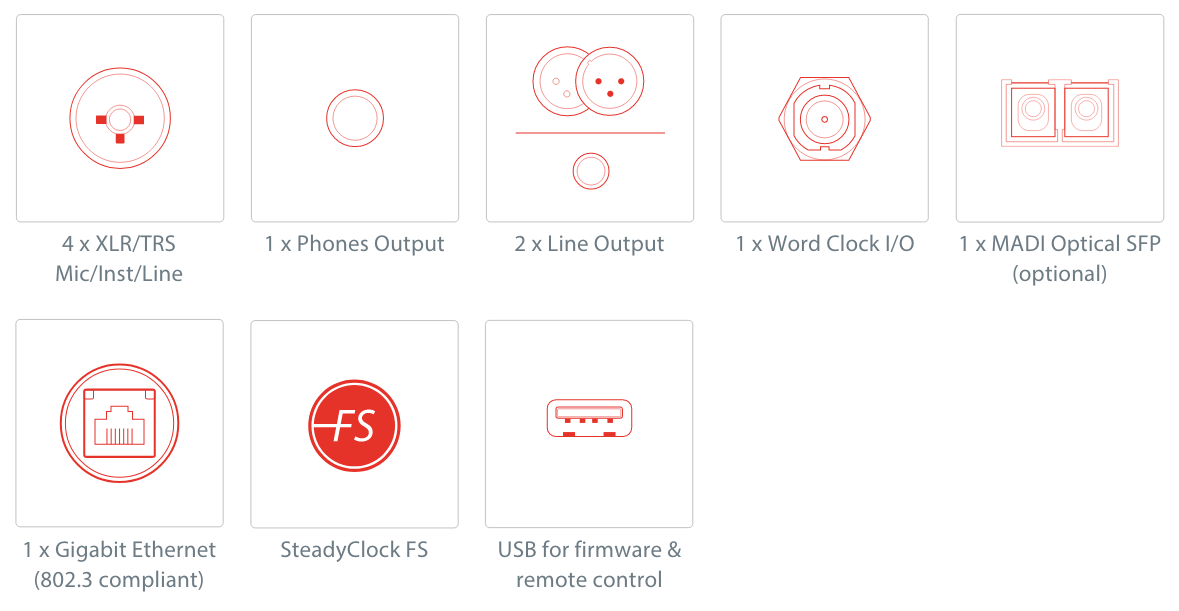 8-Stream Gigabit AVB
On the AVB side, the number of streams available in the RME AVB core has been doubled to eight streams in AM824 (legacy AVB) or high-performance AAF (MILAN compatible) format - with configurable size and format per stream. Up to 128 audio channels can be sent and received over AVB in total across all streams.
The AVB Tool has the same input stages as the first four channels of the 12Mic – successfully combining the components found in the Fireface UFX II and UFX+ into a new AD converter, extended with switchable High Impedance, balanced line-level on the TRS, and two balanced line-level outputs at the rear for monitoring.
See more videos at Synthax TV
High-grade quality analogue inputs
The AVB Tool is a pristine analogue converter featuring the most commonly-found analogue signals in a control room, recording studio or on stage:

• Four XLR-TRS combo inputs, with remote-controllable 75 dB gain in 1 dB steps

• Input line level sensitivity of +18 dBu, with switchable high impedance on every channel

• Stereo headphone output

• And two analogue line-level outputs, with switch-able +4/+19 dBu reference level
Power is provided by an external power supply (with locking connector), and a K-slot lock port adds an additional level of security against theft.

Click image to enlarge
Seamless redundancy is available for all MADI signals, whenever the secondary MADI port is mirrored with the same signal as the coaxial MADI input. If redundancy is not required, the (optional) optical single- or multimode MADI module is treated as an individual MADI I/O with full bandwidth.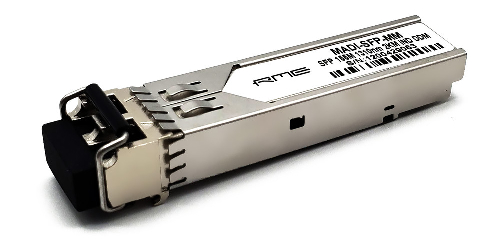 Optional: RME MADI SFP Module
The RME AVB Tool's MADI I/O can be expanded via the optional SFP module, increasing the MADI channel count to 256 channels and offering MADI redundant operation.
Plug'n'play - rapid user interaction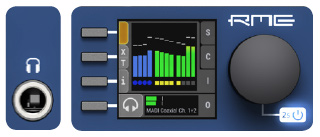 Control all device states directly from the front panel with an encoder and buttons for convenient, direct access to all features.

RME AVB devices can also be fully remote controlled via a web-interface on any network link (including wirelessly over Wi-Fi), allowing for the rapid creation of gain groups, phantom power switching, and routing of signals to headphones for monitoring.
The integrated routing matrix allows for quick routing of any analogue inputs straight to the headphone output, as well as all digital signals and AVB streams. As such, problem-solving of signals, clocking, connectivity or other issues is both simple and straight-forward!
SteadyClock FS - Reference class Digital Clocking
In digital audio, the clock frequency is an essential factor, as it creates the correlation between the audio bits and the time reference. Unfortunately, the clock frequency is not always as stable as desired. The AVB Tool offers full SteadyClock FS performance for lowest jitter and highest jitter immunity.
Excellent performance in all clock modes and High-Quality Analog Conversion to hear your mix as it is. Digital format conversion in RME products are done without any loss or degradation, and SteadyClock FS ensures your sonic image will never experience degradation. This helps to optimize recordings and mixes because the soundstage has more depth and clarity.
Need more information? Call us on 01727 821 870 to speak to one of our team!
Signal to Noise ratio (SNR): >117 dB RMS unweighted, >120 dBA
4x XLR-TRS combo inputs (+18 dBu, 75 dB gain)
2 x TRS balanced Line Out (+4/+19 dBu, DC coupled)
Stereo headphone output for monitoring of all signals
Word Clock I/O (BNC)
1 x RJ45 1 GigE AVB, 8 streams (each up to 16 ch.) per direction
1 x MADI I/O coaxial
MADI optical via optional SFP module
MADI input redundancy (requires optional SFP module)
Internal routing of up to 260x260 channels
MADI-AVB conversion
1,54" full colour display with control knob and four buttons for convenient, direct access to all features
SteadyClock FS - ultra-low jitter digital clock technology
Remote control via HTTP, JSON, IEEE 1722.1 AVDECC, MIDI over MADI
USB 2.0 (for remote control and firmware updates)
K-slot Kensington Lock port
This item currently has no reviews.
Purchased this product?