RME M-1610 Pro
16-Channel Reference-Class
AD/DA Converter With
Audio Networking Capabilities
Professional 16-Channel AD / 8-Channel DA Converter (plus headphone output) with audio networking capabilities
+13 dB / +19dB / +24 dB switchable gains on every channel
Connectivity:
6 x Balanced Line-Level TRS Inputs
2 x Balanced Line-Level TRS Outputs
16 x Balanced Line-Level D-Sub Inputs

8 x Balanced Line-Level D-Sub Outputs
4 x ADAT I/O
1 x MADI Coaxial I/O (BNC)
1 x MADI Optical I/O
2 x AVB Audio Networking Connections
1 x USB
1 x Headphone Output
Remote Control With Web Interface
Dual / Redundant Power Supplies
Optional:
Simplicity at first glance - Flexibility and reliability beyond
Integrating 16 analogue inputs with a switchable sensitivity of up to +24 dBu per channel; 8 corresponding analogue outputs; and an additional headphone output, the M-1610 Pro brings plenty of analogue I/O to a studio setup.

Click image to enlarge
With its coaxial and (optional) optical MADI, redundant AVB, four ADAT optical outputs, and redundant DC-coupled outputs, the device represents one of the most versatile and highest-performing converters on the market.

Click image to enlarge



Plug'n'play - rapid user interaction
Control all device states directly from the front panel with an encoder and buttons for convenient, direct access to all features.

RME AVB devices can also be fully remote controlled via a web-interface on any network link (including wirelessly over Wi-Fi), allowing for the rapid creation of gain groups, phantom power switching, and routing of signals to headphones for monitoring.
The integrated routing matrix allows for quick routing of any analogue inputs straight to the headphone output, as well as all digital signals and AVB streams. As such, problem-solving of signals, clocking, connectivity or other issues is both simple and straight-forward!
Connectivity and Features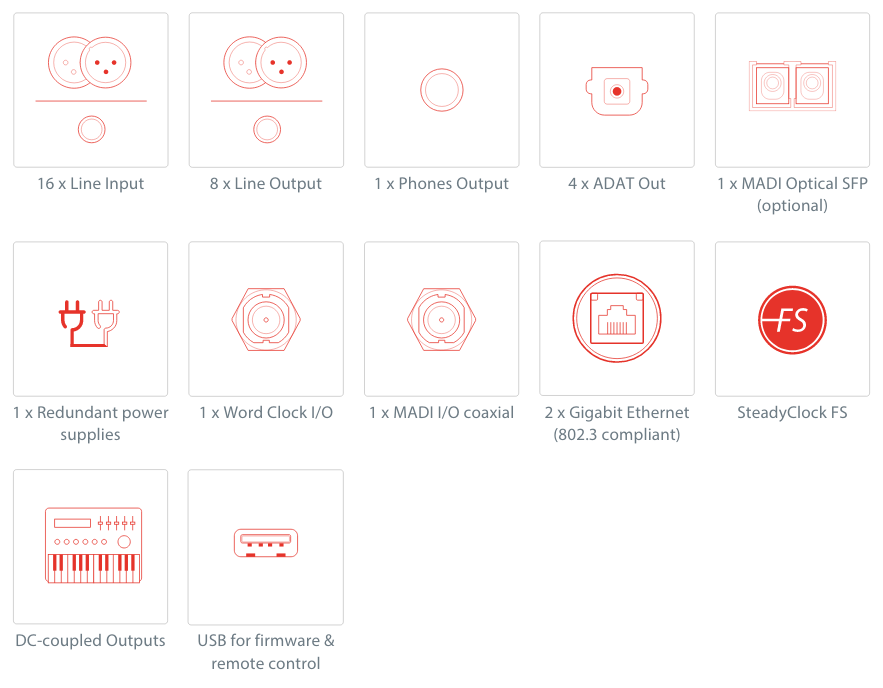 Add Analogue and AVB I/O to any existing MADI devices
At the request of recording engineers using a variety of analogue effects and instruments in their sessions, RME have combined the outstanding performance of the M-32 Pro AD and DA converters into a single device, and at an unbeatable price-point.
When compared with the M-32 Pro series, which were designed primarily for fixed installations, the M-1610 Pro adds a selection of additional user-friendly features, for seamless operation in studio, live and broadcast. Input and output TRS jacks provide alternative connections for the D-Sub inputs (inputs 11-16) and D-Sub outputs (outputs 1-2), alongside redundant network ports, a headphone output for monitoring and trouble-shooting, and quick access buttons for source selection and volume.
See more videos at Synthax TV
The internal routing matrix provides visual control over all channels side by side - up to eight AVB streams (with a total of 128 channels); the coaxial and (optional) optical MADI ports (with each up to 64 channels); all analogue I/O; and the ADAT outputs, for flexible routing between the 272 inputs and 298 outputs.
Lowest converter latencies and deterministic AVB networking with configurable network delay down to 0.3ms allow the M-1610 Pro to deliver samples, even from multiple devices, at incredible speeds - time-aligned with nanosecond accuracy across an entire network.

The AD and DA filters have been carefully optimized for different sampling rates, with a focus on accuracy and RME's signature 'transparency' (nothing added, nothing removed). Together with SteadyClock FS, RME's ultra-low jitter digital clock technology, the conversion to and from analogue is state-of-the-art, at any level and across all digital formats. As a notable difference to similar devices, the three analogue line levels per channel each offer the full
dynamic range of the converters.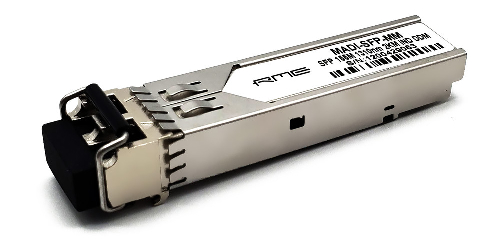 Optional: RME MADI SFP Module
The RME M-1610 Pro's MADI I/O can be expanded via the optional SFP module, increasing the MADI channel count to 256 channels and offering MADI redundant operation.
SteadyClock FS - Reference class Digital Clocking
In digital audio, the clock frequency is an essential factor, as it creates the correlation between the audio bits and the time reference. Unfortunately, the clock frequency is not always as stable as desired. The M-1610 Pro offers full SteadyClock FS performance for lowest jitter and highest jitter immunity.
Excellent performance in all clock modes and High-Quality Analogue Conversion to hear your mix as it is. Digital format conversion in RME products are done without any loss or degradation, and SteadyClock FS ensures your sonic image will never experience degradation. This helps to optimize recordings and mixes because the soundstage has more depth and clarity.
Need more information? Call us on 01727 821 870 to speak to one of our team!
16 x Analogue In (25-pin D-sub, up to +24 dBu, 6x TRS, fully symmetrical design)
8 x Analogue Out (25-pin D-sub, up to +24 dBu, fully symmetrical design)
16-channel AD converter, 8-channel DA converter, fully symmetrical
Switchable sensitivity per channel +13/+19/+24 dBu
DC-coupled Outputs
1x Stereo Phones out with direct monitoring of all digital and analog inputs
4x ADAT Outputs
Word Clock I/O (BNC)
1 x MADI I/O coaxial
Easy single- or multi-mode MADI integration via SFP module
MADI Auto-Input - seamless redundancy
MADI-AVB conversion
2 x RJ45 1 GigE AVB, eight streams (128 Channels) with 1-8/12/16 Ch., fully redundant
2 x monitored fully redundant internal PSUs
19" enclosure 1 height unit
SteadyClock FS - ultra-low jitter digital clock technology
SyncCheck® and ICC® - detects when a clock source is not in sync and falls back to other available signals
2" full color display with control knob for device control
Internal routing of all 272x298 channels
Remote control via HTTP, JSON, IEEE 1722.1 AVDECC
USB 2.0 (for remote control and firmware updates)
This item currently has no reviews.
Purchased this product?