RME MADI SFP Module (Multimode/Singlemode)
RME MADI SFP Module
(Multimode/Singlemode)
Optical MADI SFP transceiver for the following RME devices;
Available in the following options;
• Multimode (Product code: MADI-SFP-MM)
• Singlemode (Product code: MADI-SFP-SM)
Expand your RME AVB Device with MADI Optical I/O
The RME MADI optical SFP module expands compatible RME devices with an optical SFP transceiver. Up to 64 additional audio channels can be sent to and received from other MADI devices.
The MADI SFP module can also be used to provide a redundant (backup) MADI stream when used in tandem with an RME device's MADI coaxial I/O.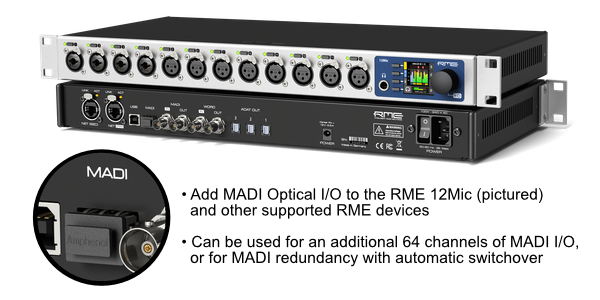 Compatibility
The SFP Module is compatible with the following RME devices:


Multimode / Singlemode

The module is available in Multi-Mode and Single-Mode variants, which is clearly indicated on the module itself (as 'MM' and 'SM'), as well as the packaging.
Since the light transmission and required cabling differs, Multi-mode modules can only be used reliably with other multi-mode MADI devices. The same applies to Single-mode, which is less common in MADI systems.


Connector
The RME MADI SFP module accepts fibre optic cables with LC (Lucent Connector). As the majority of MADI devices requires SC (Square Connectors), this module comes with an adapter cable and SC-SC coupler. This allows the use of existing MADI cables.


Package Contents
The SFP Module box contains:
• 1 pc. SFP Module with LC connector
• 1 pc. 2 m (6.3 ft) fiber optic cable
• 1 pc SC (female) to SC (female) couple
Usage and Installation
The RME MADI SFP Module can be inserted and removed while an RME MADI device is powered on ('hot-pluggable'). It is not necessary to power down the device.
To insert a module into the device:
1. Remove the dust cap from the SFP port on the RME device.
2. Leave the handle of the module in its locked position (up).
3. Slide the module into the device, label facing up. Press gently until a "click" is heard.4.Remove the dust cap from the SFP module.
To insert a MADI optical cable into the SFP module:
On the top of the module, just behind the handle, two small triangles indicate the MADI output ▼ on the left and the input on the right ▲.
Hold the device and gently slide in the LC connector(s) until it islocked in place.
To remove a cable from the SFP module:
LC connectors are locked in place to prevent accidental disconnects.
1.Press the upward-facing plastic clip on the LC connector down. A 'click' can be heard to indicate a successful unlock.
2. Gently pull out the connector from the SFP module.
To remove an SFP module from the device:
The device does not have to be powered off to remove the device.
1.Remove the cable from the SFP module.
2. Gently unlock the handle of the SFP module and rotate it outwards.
3. Pull out the SFP module using the handle.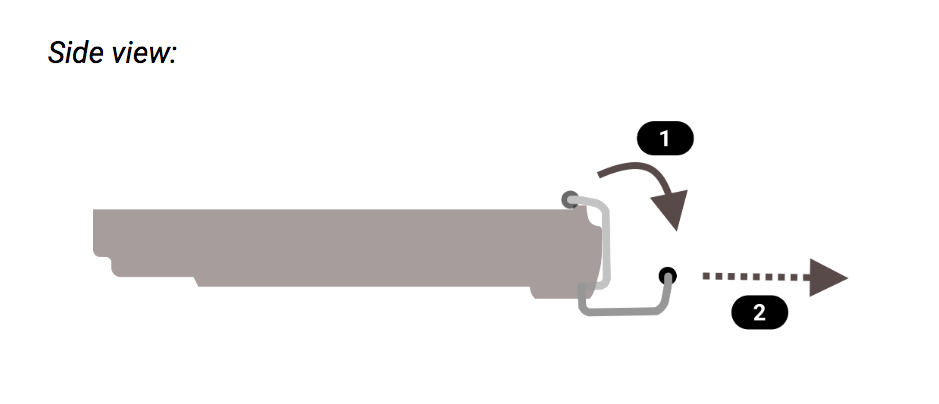 Please note: Never use too much force when inserting or removing the SFP module. Do not pull the SFP module in its locked state (handle up) - doing so may damage both your device and the module.
This item currently has no reviews.
Purchased this product?